TheatreSquared to open new home with 'Shakespeare in Love'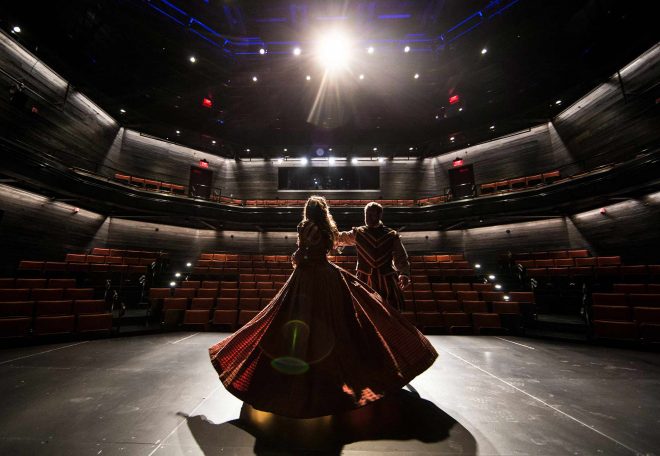 As if the opening of architecturally riveting TheatreSquared wasn't exciting enough, the state-of-the-art home for professional theatre will unfold with the stage adaptation of the Oscar-winning film, "Shakespeare in Love," on Aug. 14.
Featuring a cast of 18, the acclaimed production brings an epic-scaled romantic comedy to an intimate theatrical setting. "Shakespeare in Love" is a comedy about "the greatest love story almost never told," according to a press release. The stage adaptation of the film arrives fresh from its critically acclaimed debut in London's West End. It follows a young Will Shakespeare who is struggling with writer's block and fears he will never finish "Romeo & Ethel, the Pirate's Daughter" — that is, until he meets Viola. Against a bustling backdrop of mistaken identity, ruthless scheming and backstage theatrics, their forbidden romance inspires a masterpiece, according to a press release.
"The first show in the new facility had a high bar to clear," said Robert Ford, T2 artistic director. "Shakespeare in Love is a love letter to live theatre—joyfully written with hilarity, romance, and swashbuckling adventure."
Co-directed by T2 Associate Artistic Director Amy Herzberg and Southern Repertory Theatre Artistic Director Aimée Hayes, "Shakespeare in Love" will be on stage August 14–September 8 at 477 West Spring St. Tickets are now on sale from $17-$54 at (479) 777-7477 or theatre2.org. Founding Subscriber packages for TheatreSquared's Grand Opening Season are also on sale. Subscription options include seven-play packages starting at $110, with four- and five- play flex packages starting at $69.
Showtimes include 7:30 p.m. Tuesday–Fridays, 2 p.m. and 7:30 p.m. Saturdays, and 2 p.m. Sundays.