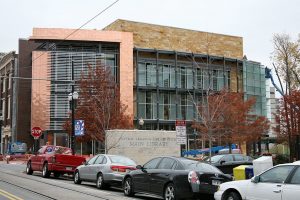 The Central Arkansas Library System's (CALS) Arkansas Literary Festival will hold a Banned Books Week writing contest beginning
Thursday, September 1
. The contest is based on the classic book, 
A Thousand and One Nights
, also known as the 
Arabian Nights
. All entries must be received by
Monday, September 19
.  Contest entries will be accepted via mail and e-mail.
This year's Banned Books Week is
September 25-October 1
.
The rules and submission guidelines for the Banned Books Writing Contest are as follows:
Pulaski and Perry County residents are eligible.
Entries should be in the form of a short story and no fewer than 50 words and no more than 500 words in length.
All stories should include the character of either Sindbad the Sailor or Shahrazad.
One entry per person.
On the first page of each submission, include the author's name, age, address, email, and telephone number, and, if under age 18, a parent's signature. Please submit entries to Arkansas Literary Festival Arabian Nights Contest, c/o Brad Mooy, 100 Rock Street, Little Rock, AR 72201
Please submit e-mail entries to LitFest@cals.org. If the writer is under age 18, please include a parent's name, phone number, and email address.
Entries will be accepted beginning

September 1

. All entries must be received by 

September 19

.
Handwritten entries will be accepted from authors under age 12. All other entries must be  typed.
The contest will award one $300 grand prize and three $100 honorable mention prizes. One honorable mention prize will be awarded for each age group: under 12 years, ages 12 to 17 years, and 18 years and above. The grand prize winner can come from any age group. Winning entries will be selected based on creativity, flow, style, originality, and their fit with the rest of the tales.
Arabian Nights is a collection of nearly 400 folk tales, short stories, parables, fables, and morality tales including the characters of Aladdin, Sindbad, Ali Baba, and the framework story of King Shahryar and Shahrazad. Protest against the book have occurred as recently as 2010. In Egypt, it has been challenged for sexuality, offensive language, and "passages which posed a threat to the country's moral fabric." Even in the United States, U.S. Customs delayed English imports of the book during the 1920s. 
Banned Books Week celebrates the freedom to read and the importance of the First Amendment. The week highlights the benefits of free and open access to information while drawing attention to the harms of censorship by spotlighting actual or attempted bannings of books across the United States.