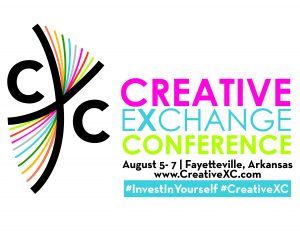 WORDS / KELSEY FERGUSON
NWA Creative Arts Network, in collaboration with New Design School, is proud to announce the first ever Creative Exchange Conference, a multidisciplinary arts conference focused on professional and business development within the creative community in Northwest Arkansas.
"The creative industry is now the third largest employer in Arkansas, yet it is woefully under represented in terms of access to affordable professional development opportunities," Conference Director Lauren Embree explains. CXC plans to change that. "The Creative Exchange Conference is a one of a kind event for artists of all kinds to connect with other creatives as well as business professionals who can help you take your talent to the next level."
Catch the action on August 5th-6th in Fayetteville at the Town Center and surrounding locations. Then, head north to Bentonville on August 7th for programming at 21C Museum Hotel. The weekend promises to deliver with 14 workshops, 3 community panel discussions, and 6 speakers covering marketing, funding, legal issues and entrepreneurship. Hands on workshops like "Marketing Your Art Beyond the Gallery," "Website Basics," "Creating an Artist Residency," and "Meditation for the Creative Process" introduce you to tools unique to navigating the creative industry. Scheduled speakers feature notable business leaders from organizations including the Arkansas Arts Council, Crystal Bridges, Startup Junkie Consulting, New Design School, Modthink, the City of Fayetteville, Unexpected Festival and RopeSwing Group, as well as several creative artists and entrepreneurs. Immerse yourself with fellow creatives and get a chance for one-on-one mentoring from business, marketing, and legal professionals around the region. When the days are done, let loose and enjoy art and performance at carefully curated social events set inside two iconic Fayetteville venues, Puritan Coffee and Matt Miller Studio. Want to find out more? Visit www.creativexc.com for the full schedule of events.
Whether you're looking to start or grow your own creative business, get hired for your skills, find freelance work, or simply reconnect with your community, CXC is an opportunity you can't afford to miss. Secure your ticket from the conference's official website. Tickets for CXC are available through July 31st for $125, and increase August 1st to $165. Single day tickets are available for $75. In addition to access to all speakers, workshops, panels, performances, and special events over the conference weekend, ticket holders will also enjoy several meals from Wood Stone Craft Pizza, The Green Goat, Mangos Gourmet Taco Shop, Onyx Coffee Lab, and more. Discounts are available for students, seniors, and military veterans.
To learn more about NWA Creative Arts Network, visit www.nwacan.org and New Design School at www.newdesignschool.org.