New Fenix Gallery exhibition "Kaminsky Family Show" to open next month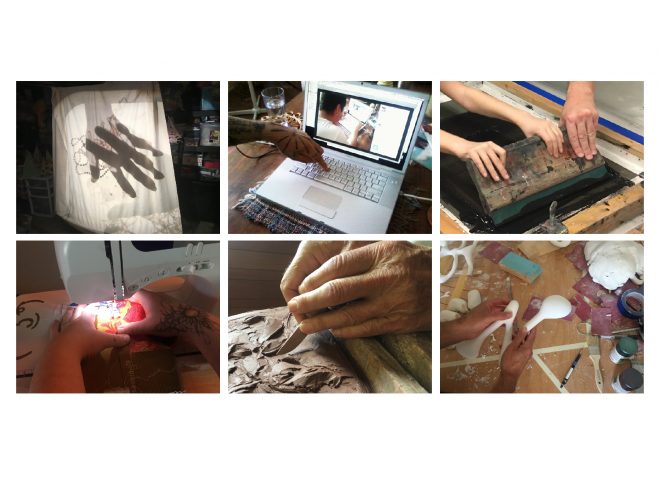 Family dynamics can be complicated, but if every family member is a practicing artist who expresses themselves through painting, sculpture, film and sound, things can be a little different. The art of Isabella Koen, Damir Porobic, JoAnn, Hank, Jesse and Daniel Kaminskys will be on display in the main room of Fenix Gallery on the Fayetteville square. Other Fenix artists will offer their work in response to the theme of family or home.
The show is a visual manifestation of the similarities and differences within one well-defined group, according to a press release. The art in this show was almost all made independently by the individual artists in their studios and reflects each unique personality and interest. When brought into close proximity, the art forms a group dynamic and traces the shared experiences and backgrounds of the artist-filled family. As the third iteration of the Kaminsky Family Show, it adds another chapter to the ever-changing dynamic of this group, according to a press release.
The Kaminskys have been active in the arts in Fayetteville since JoAnn and Hank moved to the city from Eureka Springs in the '80s with their two sons. As a family, they created and taught art and advocated for the arts in the community. They built The Art Experience in 1992 as a place where they could create and teach others the benefits of engaging with art on multiple levels.
During this time, JoAnn began her Art Therapy practice while Hank began his career in public art, according to a press release. Their two sons grew up in this studio environment but have since moved away to pursue individual art practices as the family continues to expand.
The free exhibition will be at Fenix Fayetteville Aug. 1-31 with an opening reception from 5 to 8 p.m. at First Thursday, Aug. 1. Fenix Fayetteville is located at 16 West Center St. Fayetteville. Gallery hours are 10 a.m. to 5 p.m. Wednesday-Friday and 9 a.m. to 2 p.m. Saturdays. Keep up with Fenix on Facebook @fenixfayetteville.