L.A. artist Bumblebee begins mural in downtown Fayetteville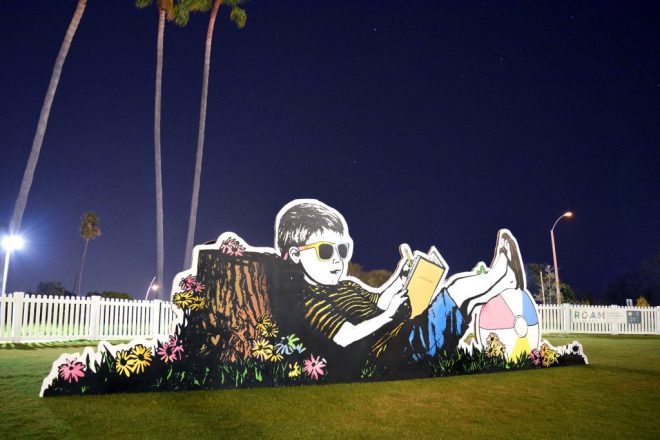 There's a buzz about at South Block Avenue and West Rock Street in downtown Fayetteville. Los Angeles-based artist Bumblebee has started work on a three-story-tall mural on the southwest corner of the Fayetteville Town Center parking garage off the historic square.
Experience Fayetteville, the convention and visitors bureau for the city, partnered with Bentonville-based gallery Fellow Human to curate the project.
Bumblebee's work has been featured in various galleries and exhibitions across the country, as well as Asian and Europe. If anyone happens to be at Google HQ in Venice Beach, California, they'll find one of his murals there, and at Kodak Theater in Hollywood. He uses stencils and mixed media, and his works focus on themes of joy and innocence.
"Fayetteville has a history of supporting the arts, and we are proud to work with Experience Fayetteville to contribute to the richness of public, visual art in the region," said Chris Sparks, co-founder of Fellow Human. "We are very excited to bring Bumblebee to continue the work of spreading art and culture in Northwest Arkansas."
Bumblebee's work will be temporarily featured at the newly renovated Experience Fayetteville Visitors' Center through July 26. The Visitors Center open 9 a.m.–5 p.m. weekdays and 9 a.m.–1 p.m. Saturday at 21 S. Block Ave.