Inverse Performance Art Festival Returns, Bringing Artists from Around the World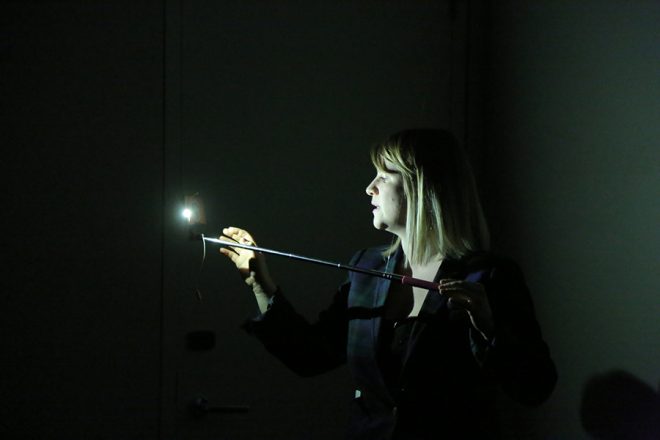 Inverse Performance Art Festival will present three full days of performance in Northwest Arkansas, from Thursday, March 30 – Saturday, April 1, 2017. Organized and curated by Cynthia Post Hunt of Fayetteville, Arkansas, and Emma Saperstein of San Luis Obispo, California, the festival elevates the medium of performance art in the Northwest Arkansas region.
Including artists recognized on local, national, and international platforms, the festival will host a variety of performances with diversity of content and duration. Inverse is a key participant in the already existing and thriving art community of NWA, and exists in part due to the community's generous support.
Events will be held on Thursday, March 30, at the University of Arkansas Jim & Joyce Faulkner Performing Arts Center from 8am – 5pm and Crystal Bridges Museum of American Art from 7pm – 10pm. Events on Friday, March 31, will be held at Foxhole Public House from 12pm – 2pm and at 21c Hotel Museum Bentonville from 4pm – 10pm. On Saturday, April 1, performances will be held at the University of Arkansas Art & Design District from 10am – 4pm. The festival will end with a performance at Feast Gallery from 7pm – 10pm.
Participating artists include:
Emerson Sigman, Chicago, IL, Ion Yamazaki, Tokyo, Japan, Hector Canonge, New York, NY, Paul Rucker, Seattle, WA, Lorene Bouboushian & Kaia Gilje, New York, NY, Darryl Lauster, Arlington, TX, Jil Guyon, New York, NY, Elizabeth Fok & Ally Bortolazzo, Santa Barbara, CA, Patrick Ford, Hong Kong, China, Laurence Myers Reese, Norman, OK, Jessica Borusky, Kansas City, MO, Prison Story Project, Fayetteville, AR, Flounder Lee, Dubai, UAE, Amber Eggleton, Huntsville, TX, Angeli Sion, New York, NY, Justin Zachary, San Antonio, TX, John Chiaromonte, Mountain Home, AR, Tom Maio, Boston, MA, Esther Neff, New York, NY, Erin Peisert and Jared Mimm, Shanghai, China, and Sharon Mansur, Winona, MN.
About the Curators
Cynthia Post Hunt is an artist working in performance, living in Fayetteville, Arkansas. An alumna of the School of the Art Institute of Chicago, Cynthia moved to Fayetteville in the fall of 2014. Since then, Cynthia has performed and shown work locally at Backspace, the Bank of Fayetteville, Crystal Bridges Museum of American Art, Fayetteville Underground, Lalaland, the Shed, Stage Eighteen, and Two25 Gallery.
Emma Saperstein is a curator and practicing artist living and working in San Luis Obispo, California. A graduate of Wheaton College and the New York Center for Art and Media Studies, her experience includes serving as studio manager to internationally recognized artist Titus Kaphar, a variety of curatorial projects in Dallas, Texas, and involvement in the thriving alternative arts and publishing community in Chicago, specifically with ArtWing Contemporary, Public Media Institute, and Lumpen Magazine. Her ongoing experience editing and curating for Hysteria gives her access to significant radical feminist discourse and furthers her ability to engage with critical and sensitive topics. She is currently the curator of the Harold J Miossi Art Gallery at Cuesta College and the Global Portal Curator at the public art initiative Shared_Studios.
Instagram: @inverseperformanceartfestival