Inverse Performance Art Festival Marks Second Year in Northwest Arkansas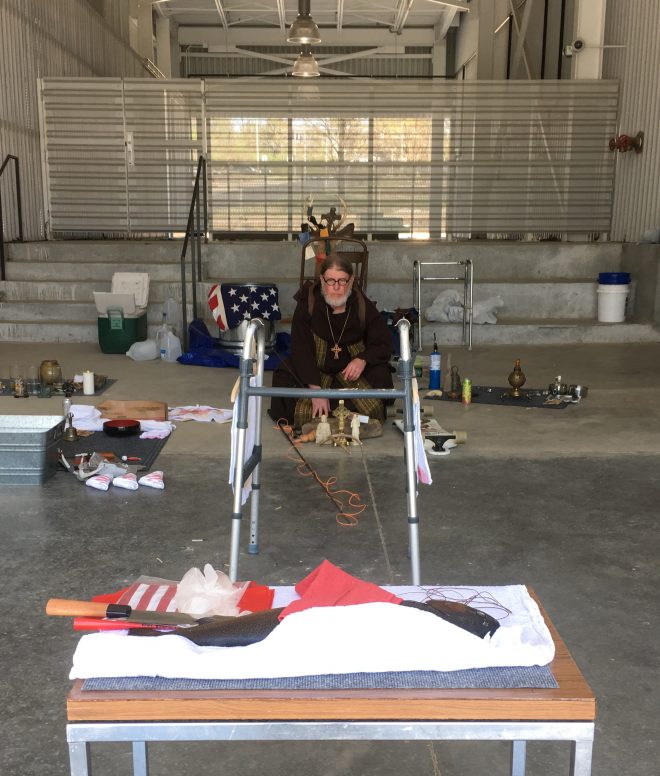 WORDS & PHOTOS / ASHTON ELEY
The last day of this year's Inverse Performance Art Festival in Northwest Arkansas brought a collection of durational pieces to the public at the University of Arkansas Art & Design District all day April 1.
"We want to explore the variety that performance out provides and offering that variety to the audience," said curator Cynthia Post Hunt, a Fayetteville resident and performance artist. "So when we are choosing, we are looking for the vastness that is performance art."
When guests walked up to the grey warehouse-shaped building, Mountain View artist John Chiaromonte (pictured above) and the scent of religious oils and music was the first indication that something intriguing lay behind the glass doors. He sometimes knelt to his knees – sacraments in front of him – as if meditating or silently praying; another time, he stood and walked to a table of fish that he proceeded to cut open and stitch up. One thing was for certain: on the hour, for six hours he held a processional.
"My performance or spiritual practice is rooted in silence, stillness and solitude walked out through rituals or actions within the landscape," he said.
Chiaromonte's was one of eight performances, all of which still had the power to surprise those who had helped prepare the event. University of Arkansas student Amber Eggleton's piece was one of the most interactive, offering hand-poked tattoos to those who would share their stories.
"'A story of a moment that is important to you,'" Hunt read from a slip of paper under an orange. "So, I think I have to carry this orange around with me until I get my tattoo, then based on our conversation, she is going to give me a tattoo.
"What's interesting is that even getting to work with these artists prior to, there is still so much surprise for us and moments of excitement. The beautiful things about performances is that you don't really know what to expect, even if you already know the materials or location or the concept. There is still so much unknown."
Hunt was excited to work with the university and the new space in Fayetteville, which worked for durational pieces with almost every element of the space being activated, she said.
"I think that this art community is very much alive and growing very quickly," she said. "Performance art is still being explored here."
The Saturday performances were not tied to the the physical space, though. Artists Erin Peisert and Jared Mimm live streamed the audio of their performances, simultaneously broadcasting live sensory impressions of their given landscape of Shanghai and Milan respectively.
"Each artist is in a public space asking the question, 'I have the United States of America on the phone. Is there anything you'd like to say?" explained co-curator Emma Saperstein, who is a practicing artist living and working in San Luis Obispo, California.
When observing any performance arts piece, it's important to take some time, even if nothing immediately catches your eye as meaningful. It is meant to be an experience, not one image.
"You see someone digging a hole. OK. They are digging a hole," said Saperstein in reference to the performance by Esther Neff from New York. "But I think the important way to experience durational performances is to sit and watch and really think about their movement and think about the history of digging holes, who digs holes, why is this artist digging a hole …You have to put yourself in that space. You have a deeper appreciation for the work after that."
Other artists who performed at the design district included Angeli from Brooklyn, New York; Justin Zachary from San Antonio; Tom Maio from Boston and Lorene Bouboushian and Kaia Gilje from New York City.
Anyone who missed out on the Northwest Arkansas events can catch the festival in its sister city of San Luis Obispo, California on Sept. 28-30.
For more information about this year's artists and upcoming events, visit the festival's website or follow them on Facebook and Instagram.