"Fracking the Mother:" A Pipeline Protest Art Show by Anne Reichardt with Panel Discussion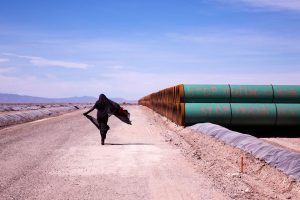 The Artist's Laboratory Theatre will host the art show and reception of the body of work "Fracking the Mother" by artist Anne Reichardt on March 16  from 6-9 PM at The Lab, located at 1030 S. College Ave across from the Senior Activity Center. Parking available there or at Walker Park.  A suggested donation of $5 at the door. A donation bar and light hors d'oeuvres will be available. The evening will also include protest anthems performed by musicians Adam Cox and Candice Houston.
The event which include a panel discussion on the local, regional, and national issues of oil pipeline constructions. The panel will be comprised of local and regional "Water Protectors" who will inform the audience of how to also take action effectively and safely through civil disobedience.
Anne Reichardt is a photo-based collage artist. The event will showcase her work  "Fracking the Mother," a series that expresses the artist's reaction to the damage our Mother Earth and ourselves endure from current oil and gas extraction techniques and reckless use. In the artist's words, " It is her deep hope that the work will encourage our best human efforts toward sensitive and healthy care of Ourselves, Our planet." The exhibit will be the public premiere of the work, which is scheduled to exhibit at Living Arts in Tulsa in 2018.
Arkansas Rising is a "collective of guardians" protecting the natural state against the construction of the Diamond Pipeline through civil disobedience.
Artist's Laboratory Theatre is a company focused on creating theatre for and with the community. Artist's Lab diverse programming includes community-derived, site-specific theatre; community-focused radio shows; and outreach with youth and community partners using arts based practices as tools for learning, personal reflection, and community collaborations. They are based at "The Lab," an old renovated church in South Fayetteville.