Artosphere Arts and Nature Festival announces line-up for 8th year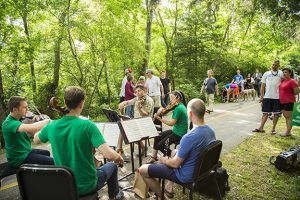 Walton Arts Center is proud to present the 8th Annual Artosphere: Arkansas' Arts and Nature Festival, May 4-20, 2017. Featuring both free and ticketed performances, events and activities at locations across Northwest Arkansas, Artosphere celebrates artists influenced by nature and provides a creative framework to discuss issues of sustainability. Tickets can be purchased in-person at our Box Office, by calling 479.443.5600 or online.
Each year, Artosphere invites the community to celebrate the intersection of art, music and nature with exciting events that are fun for the whole family. New in 2017, Artosphere is launching an app that will be updated throughout the festival with the latest news on featured artists, performances and events. In keeping with Artosphere's sustainability mission, the new app reduces the use of paper programs and maps, helping minimize the festival's impact on our environment. Information on how to download the app can be found below.
A centerpiece of the festival is Trail Mix Weekend, May 13-14. Capturing the very essence of Artosphere, Trail Mix allows the community to enjoy music, art, hiking and biking along local trails and the Razorback Regional Greenway. Creating a one-of-a-kind experience, audiences can visit trailside stages throughout the region and enjoy performances by regional artists and musicians from across the country.
On Saturday, May 13, enjoy a full day of free programs along the Razorback Regional Greenway, from downtown Fayetteville to the Bentonville square and multiple points in between. This festive event will also mark the two-year anniversary of the Razorback Greenway opening. On Sunday, May 14, Trail Mix comes to Fayetteville's Walker Park.
"Artosphere celebrates the intersection of art and nature and encourages all of us to explore new art and new ways to interact with our beautiful region," said Jennifer Ross, director of programming at Walton Arts Center. "Notonly does the festival provide a platform for local talent at its finest, but for outstanding national and internationalartists as well. Each year, we take pride in presenting authentic artistic experiences through dozens of events andactivities for kids, families and the entire community of Northwest Arkansas to enjoy."
The musical cornerstone of Artosphere is the esteemed Artosphere Festival Orchestra (AFO). Now in itsseventh year and comprised of more than 90 musicians from prestigious ensembles, orchestras and musicprograms from around the world, the AFO once again gathers in the Ozarks for a professional music-makingexperience that is unique to Artosphere.
Led by acclaimed Music Director Corrado Rovaris, the full orchestra will perform three concerts. The opening performance, Live from Crystal Bridges: Mozart in the Museum on Friday, May 12, will take place in Crystal Bridges' Great Hall and will be broadcast live on KUAF 91.3 FM Public Radio. Mendelssohn In Scotland on Wednesday, May 17 and the Artosphere Festival Finale concert on Saturday, May 20 will both take place in Walton Arts Center's Baum Walker Hall.
ARTOSPHERE FESTIVAL MAIN EVENTS:
Trail Mix Weekend
May 13 & 14
Trail Mix: Razorback Regional Greenway
Locations throughout Northwest Arkansas
Saturday, May 13, 8 am to 3 pm | FREE
Join us for a festive day of fresh air and free entertainment with artists and musicians along the Razorback Regional Greenway. The day kicks off with a bike decorating celebration in the Walton Arts Center West Avenue Parking Lot, then moves north to Lake Fayetteville and on to Shiloh Square in downtown Springdale. Next, the fun continues at the Mercy Trailhead in Rogers, and then on to the final destination of Lawrence Plaza just off the Bentonville square with a parade commemorating the Razorback Greenway's second birthday and more. Adding to the excitement, Saturday's Trail Mix coincides with the annual Square 2 Square Bike Ride, which also takes place along the greenway. (Fee and registration required for Square 2 Square. Register at www.visitbentonville.com/bike.)
Trail Mix artists include: The Bike Zoo Giant Butterflies, Squonk, Chapel Music Series artists Claire Lynch and The Séamus Egan Project, and local entertainers including guitar/cello duo Rozenbridge, bluegrass and folk trio The Crumbs, folk and jazz duo Melody Pond, acoustic country and bluegrass band The Sons of Otis Malone and more performing during both Saturday's and Sunday's events.
Also during Saturday's Trail Mix from noon to 4 pm, head over to the grounds of Crystal Bridges Museum of American Art for the 3rd Annual Garden Party. Artosphere Festival Orchestra musicians will present a series of site-specific, curated performances that will transform existing structures on the grounds into playable musical instruments.
Trail Mix: Walker Park
Walker Park, Fayetteville
Sunday, May 14, 5 pm to 8 pm | FREE
On Sunday, Trail Mix artists will be featured along the trails of Walker Park in Fayetteville starting at 5 pm. Then, beginning at 7 pm, get ready for the outdoor spectacle of Squonk Opera's Cycle Sonic. These giant, animated human-powered stages that sprout bulb-horns, banners and whirligigs, will joyfully circle the audience, propelled by their own original chamber rock music.
Artosphere Festival Orchestra
May 12, 17 & 20
Performing under the baton of acclaimed Music Director Corrado Rovaris, the AFO is recognized as an important classical music voice by American Public Media's Performance Today – the nation's most popular classical music radio program.
Artosphere Festival Orchestra presents:  Live from Crystal Bridges: Mozart in the Museum
Crystal Bridges Museum of American Art, Great Hall
Friday, May 12, 8 pm | Tickets: $40
From the Great Hall of the world-class Crystal Bridges museum in Bentonville, the AFO performs an exceptional all-Mozart program showcasing the musical talents the orchestra's principal clarinet, bassoon, horn and oboe players as featured soloists. This performance will be broadcast live on KUAF 91.3 FM Public Radio. Seating is limited. Tickets go on sale Wednesday, March 22.
Mendelssohn In Scotland
Walton Arts Center, Baum Walker Hall
Wednesday, May 17, 7 pm | Tickets: $10
This opening AFO performance at Walton Arts Center will showcase Felix Mendelssohn's Hebrides Overture and Symphony No. 3 "Scottish," and Johannes Brahms' Variations on a theme by Haydn. Tickets are on sale now.
Artosphere Festival Finale
Walton Arts Center, Baum Walker Hall
Saturday, May 20, 8 pm | Tickets: $10
This AFO finale concert will present Luciano Berio's Quattro versioni originali della "Ritirata notturna di Madrid," Antonin Dvořák's Symphony No. 7, and Avner Dorman's Frozen in Time featuring guest solo percussionist Malavika Godbole. Tickets are on sale now. 
Chapel Music Series
May 9, 11, 13 & 16
Listen to exquisite music played in local churches and architectural marvels like St. Paul's Episcopal Church, the E. Fay Jones-designed Mildred B. Cooper Chapel, and the Chapel Ruins at Sassafras Springs Vineyard. This year's Chapel Music Series features the Dover Quartet, Claire Lynch and The Séamus Egan Project.
Dover Quartet: An Evening of Beethoven
St. Paul's Episcopal Church, Fayetteville
Tuesday, May 9, 7 pm | Tickets: $10
Noted for their "exceptional interpretive maturity and tonal refinement," the Dover Quartet returns to Northwest Arkansas to perform for a seventh season as founding principal musicians in the Artosphere Festival Orchestra. One of the most in-demand ensembles in the world and dubbed "the young American string quartet of the moment" by The New Yorker, the Dover Quartet will kick off this year's Chapel Music Series with a special all-Beethoven performance in the stunning St. Paul's chapel in Fayetteville. Tickets are on sale now.
Claire Lynch
Mildred B. Cooper Memorial Chapel, Bella Vista
Thursday, May 11, 6:30 pm | Tickets: $10
Artosphere welcomes Grammy® nominee and IBMA Female Vocalist of the Year Claire Lynch to Northwest Arkansas. Long at the forefront of women pushing bluegrass boundaries, Lynch's soulful songs have been recorded by Patty Loveless, Kathy Mattea and others. Lynch's stellar ensemble promises to deliver a comprehensive performance including tender country ballads, hard driving bluegrass, swing and even some Southern Appalachian clog dancing. Tickets are on sale now.
Live from Crystal Bridges: Dover Quartet
Crystal Bridges Museum of American Art, Bentonville
Saturday, May 13, 4 pm | Tickets: $25
The internationally acclaimed Dover Quartet will present an afternoon of exquisite entertainment in the Great Hall of Crystal Bridges Museum of American Art. Promising to be one of the true highlights of the 2017 Artosphere Festival, this performance will feature a variety of classical music including the world premiere of Four Miniatures for String Quartet by Richard Danielpour, which was commissioned for the Dover Quartet by Walton Arts Center and Artosphere. This concert will be recorded live for delayed broadcast on KUAF 91.3 FM Public Radio. Tickets go on sale Wednesday, March 22.
The Séamus Egan Project
Chapel Ruins at Sassafras Springs Vineyard, Springdale
Tuesday, May 16, 6:30 pm | Tickets: $10
Experience the flavor of traditional Irish music by leading composer and interpreter Séamus Egan in the inspirational setting of Sassafras Springs' old Chapel Ruins. A founding member of the seminal band Solas, Egan, along with his special musical guests, will delight with highlights from his immense and influential catalog of music as well as new music exploring the far reaches of Irish tradition. Tickets are on sale now.
OTHER TICKETED FESTIVAL EVENTS:
Manual Cinema's Lula del Ray
Walton Arts Center, Baum Walker Hall
Thursday, May 4, 7 pm | Tickets: $10
Performed with vintage overhead projectors, shadow puppets, actors in silhouette and live music, Lula del Ray tells the story (almost entirely without dialogue) of an adolescent girl who lives with her mother in the middle of the desert. After a chance encounter over the radio, Lula becomes obsessed with a soulful country music duo and decides to run away from home. Inspired by the music of Hank Williams, Roy Orbison and Patsy Cline, Lula del Ray is a mythic reinvention of the classic coming-of-age story, exploring the themes of loneliness, femininity and the iconography of 1950s and '60s Americana through live cinematic shadow puppetry.
Compagnia TPO: The Painted Garden
Walton Arts Center, Starr Theater
Saturday, May 6, 11 am, 2 pm, 4 pm | Tickets: $10
Celebrated Italian children's theater company Compagnia TPO has become known for their visual, emotional and immersive theater that crosses the border between art and play. In The Painted Garden, dancers, performers and the audience itself interact with four virtual landscapes each linked to a different color and inspired by painter Rebwar Saeed's memories of his childhood in Kurdistan. The audience is led into a digitally created world of astonishing sounds and images, where every movement made alters the visual display as the gardens burst into bloom and life. This extraordinary performance will take children on a mesmerizing exploration of culture and space – discovering that their actions and dialogue create a response, which evolves into a shared artistic experience.
MOMIX Opus Cactus
Walton Arts Center, Baum Walker Hall
Sunday, May 7, 7 pm | Tickets: $15-$45
Known internationally for presenting work of exceptional inventiveness and physical beauty for more than 20 years, MOMIX is a company of dancer-illusionists celebrated for its ability to conjure up a world of surrealistic images using creative props, costumes, lights, shadows and the human body. Inspired by the flora, fauna and simple magic of the American Southwest, this multimedia experience brings the Sonoran Desert to life, creating dynamic images of cactuses, slithering lizards and fire dancers. With visual splendor, wit and sheer physical daring, Opus Cactus will leave you breathless.
The Way Back Home
Presented by Teater Refleksion of Denmark
Walton Arts Center, Starr Theater
Sunday, May 14, 2 pm, 4 pm (Relaxed Performance) | Tickets: $10
When a boy discovers a single-propeller airplane in his closet, he does what any young adventurer would do: he flies into outer space. Millions of miles from Earth, the plane begins to sputter and quake. The fuel tank is empty, and the boy must execute a daring landing on the moon. But as it turns out, he is not alone up there.
The Man Who Planted Trees
Presented by Puppet State Theatre of Ireland
Walton Arts Center, Starr Theater
Friday, May 19, 7 pm | Tickets: $10
Saturday, May 20, 11 am, 2 pm (Relaxed Performance) | Tickets: $10
This multi-sensory theatrical adaptation of Jean Giono's environmental classic tells the inspiring story of a shepherd who plants a forest, acorn by acorn, transforming a barren wasteland. As much a touching tale as it is a hilarious puppet show, The Man Who Planted Trees shows us the difference one man (and his dog) can make to the world.
OTHER FESTIVAL HIGHLIGHTS:
Glacial Shifts, Changing Perspectives
Works by Diane Burko
Walton Arts Center, Joy Pratt Markham Gallery
Opens Thursday, May 4 | Admission: FREE
Internationally recognized artist Diane Burko creates large-scale paintings and photographic series that document glacial melt and other dramatic changes caused by global warming. Working in the intersection between science and art, Burko captures the beauty and grandeur of vast mountain landscapes and highlights some of the profound transformations taking place in our environment.
 John Luther Adams' Inuksuit
Botanical Garden of the Ozarks, Fayetteville
Friday, May 19, 6 pm | Admission: FREE
Grammy Award®-winning ensemble Third Coast Percussion returns to Northwest Arkansas to perform John Luther Adams' expansive work Inuksuit. The title refers to the Stonehenge-like structures in the Arctic that the Inuit people used as markers to navigate their space. Inspired by the stones, Adams composed rhythmic layers within this massive, mobile community performance to represent the structures. Written for 9 to 99 musicians, Third Coast Percussion is currently recruiting community performers for this outdoor evening performance.
 AFO: Off the Grid
Downtown/Dickson Entertainment District, Fayetteville
Thursday, May 18, 7pm | FREE
Settle in or move around your favorite local pubs and other gathering places around Fayetteville's downtown/Dickson entertainment district as Artosphere Festival Orchestra ensembles perform casual "pop-up concerts" for your listening pleasure. Download the Artosphere App for an up-to-date list of pop-up concerts.
Artosphere Partners
In conjunction with the 2017 festival, Artosphere is partnering with a variety of regional organizations to host or promote events and activities across Northwest Arkansas during the month of May. For a list of partner activities and events, download the Artosphere App.
2017 Artosphere Festival Supporters
Thanks to Greenwood Gearhart Inc., Tyson Foods Inc., Walton Family Foundation, Fayetteville A&P, Springdale A&P, Visit Bentonville, and Friends of Walton Arts Center. Additional support provided by Lee and Linda Scott. Support for AFO Music Director Corrado Rovaris provided by Mary Ann and Reed Greenwood.