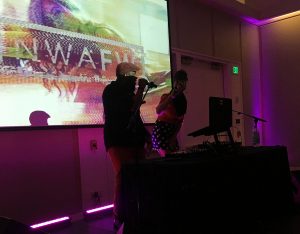 WORDS / ASHTON ELEY
Well-dressed women and men formed the sea of slick black fabrics and pops of color that flooded 21c Museum Hotel in Bentonville on Friday. The NWA Fashion Week Gala was the perfect bridge between of relaxed and extravagant as young Arkansan designers' dreams soared and and guests enjoyed lived photo shoots while funding the cause.
This event was dedicated to raising money to support the development of NWA Fashion Week into a non-profit organization to support fashion design and industry in the area.
"The goal now is to raise funding and interest for designers that live in our area," said Robin Wallis Atkinson, the CEO and creative director.
Atkinson wore a strapless black dress designed by Dallas Musick from Bentonville. This weekend will be the first time any of Musick's work has been shown on a runway.
"She designed it specifically for me tonight," Atkinson said. "Since she was the very first designer to contact me after a rebooted fashion week, I thought it was only appropriate that she get the first chance to dress me."
Musick said her designs are mostly inspired by the people who wear them. She also tries to incorporate and combine nature and history into her works. She is excited to reveal her finale piece that will be shown this weekend was inspired by a white and red tulip, she said.
"I feel like I'm in New York," she said. "It's a dream."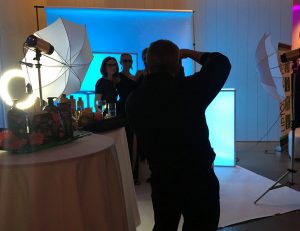 About 300 volunteers helped make this year's fashion week possible under the vision of Atkinson's, who resurrected it after three years of absence.
"And each of them has played an intrical part in every since event," Atkinson said. "The fact that we have been able to get much support is, to me, mind boggling, and I am just so grateful."
Two of the star designers of the night, Ashley Little and Amy Johnson from Material Concepts, stood together in contrasting outfits – Little in a delicately beautiful Chiffon black dress and Johnson's pink hair and bold lipstick matching her lovely flower print – and listened to Sophia-Odelia Bauer and Christian Davis Serrano-Torres play to the premier of the full length Marie Antoinette video project they designed for.
Little designed Community Coordinator Bianca Montoya's dress for the evening, which Montoya said brought her out of her comfort zone of black into a garden of color.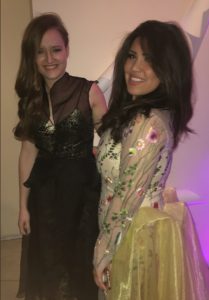 "I feel fabulous, and I love it," Montoya said.
Johnson said they are going for something outside of the norm, and the fact that they will be using real people for their runway show breaks fashion stereotypes.
"It's a challenge and will not be your typical runway," she said.
Later in the evening, Jason Maek & Zaena rocked the room as guests posed alongside models in fully set fashion shoots.
Friday and Saturday show starts at 7 p.m. at Record, which is located at 104 Southwest A Street in Bentonville.
Tonight will focus on Down Right Denim, Label Boutique, Aimz Design, Shop for Mankind, A'Lyece Lenae, She Said Yes, G by Gavin, Vesta's Boutique, Rosie Rose Designer and RiffRaff. The last night will show off the work of Alberti&Co., Label Boutique, Ashley Little of Material Concepts, Elysian Boutique, NA Martin, Chavon Shree, Steamroller Blues, RC by Richard Cotto, Lola Boutique, The Independent and Felix Bui Couture.