The Writers' Colony set to re-open May 11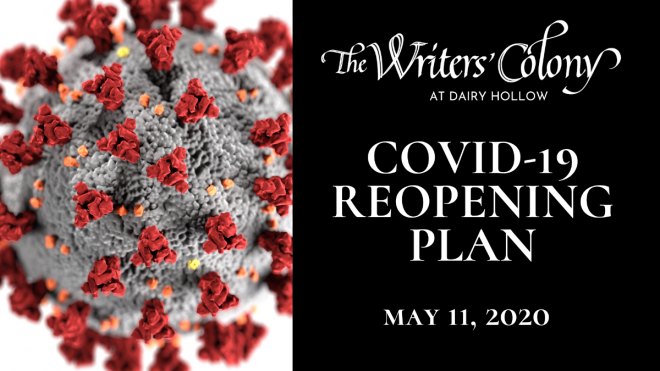 WORDS / THE WRITERS' COLONY AT DAIRY HOLLOW
The health and safety of our resident writers is our top priority. The Writers' Colony has been thoroughly cleaned and disinfected with particular attention taken to high-touch areas. The following protocols have been communicated to staff and will be provided to all residents prior to, as well as upon arrival.
Governor Asa Hutchinson issued Executive Order 10-25 on May 6. This order permits offering lodging to out-of-state travelers; however, social distancing and safety protocols must be followed. Please note, per the Governor's order, "All travelers from New York, New Jersey, Connecticut, New Orleans, and all international locations shall follow quarantine directives." For more information visit the following:
https://www.healthy.arkansas.gov/programs-services/topics/covid-19-guidance-for-self-home-quarantine  
Writers are asked not to travel to WCDH for a residency if they are at risk due to an underlying health issue, are aware they have been exposed to the COVID-19 virus, or are feeling sick. As always, WCDH, does not charge change or cancellation fees for last-minute adjustments to residency schedules.
Social Distancing
WCDH will observe social distancing practices until further notice. Please be courteous of other residents by remaining a minimum of six feet away from residents and staff at all times and by wearing face masks in common areas. Writers are encouraged to spread out while using the great rooms, decks, and porches at 515 and 505 Spring.
Individual writers' suites and common areas have been stocked with disinfectant spray, disinfectant wipes, and hand sanitizer. All frequently touched surfaces in common areas will be regularly disinfected. The WCDH has a limited stock of new, washable, reusable cloth masks available.
Large public gatherings at The Writers' Colony, including Poetluck, are canceled until further notice, although some virtual versions will be offered. We are closely watching how the COVID-19 pandemic may affect future programming and will provide updates as necessary.
Suites
WCDH will use contactless check-in until further notice. A welcome packet containing directions to your suite, current WCDH COVID-19 protocols, and suite keys will be put in a clearly marked envelope in the blue mailbox on the front door at 515 at Dairy Hollow. Each packet will also contain cell phone numbers for Michelle and Chad. Please call or text if you have questions or if there is any way we can provide assistance.
WCDH will utilize a contactless check-out procedure. A copy of your invoice will be provided with the welcome packet. Barring any changes to your stay, Colony Coordinator Chad Gurley will email you the invoice which will enable you to pay online with a credit card. If you prefer to pay with cash or check, please leave it on the desk in the 515 lobby in the envelope provided in your welcome packet. After checking out, please leave your keys in the blue mailbox on the front door at 515 Spring Street.
After each guest stay, suites will be cleaned and disinfected per CDC standards as follows: all frequently touched surfaces including suite keys, chair backs, tables, doorknobs, light switches, handles, desks, toilets, faucets, and sinks will be cleaned with household cleaners and EPA-registered disinfectants appropriate for the surface, following label instructions. Bedding will be washed with detergent and disinfectant. Dishes will be washed in the dishwasher at the hottest setting, and cutlery pre-soaked in a bleach solution.
Meals
We understand that one of our residents' favorite things about The Writers' Colony is the weeknight communal meals prepared by Chef Jana. Due to social distancing restrictions, WCDH will discontinue serving family-style meals until further notice. Monday through Friday, dinners will be left outside Writers' Suites in to-go containers. The kitchen will be disinfected every weeknight after the dinners have been prepared and delivered.
Writers are encouraged to limit their visits to the communal kitchen at 515. Please consider bringing supplies for multiple meals to your suite and storing them in the mini-fridge and kitchenette area provided. Writers are asked to follow the disinfection procedures posted on the refrigerator at 515 immediately before leaving the kitchen with their meals.
Staff
WCDH staff has been advised of health and safety guidelines and are advised to stay home if they feel sick or if they know they have been exposed to the COVID-19 virus. Staff is available by phone or email to assist during residencies. We recognize that writers may have personal circumstances that need special attention. We are happy to offer personal assistance with local (Eureka Springs) errands during your residency such as delivering mail and picking up medications or other necessities. Please provide as much advance notice as possible if these services are needed.
Should you have questions or concerns regarding an upcoming or proposed residency, please contact Michelle Hannon, Executive Director, at 479-253-7444 or director@writerscolony.org.