Six Bridges Book Festival presents virtual conversation with "Pandemic 1918" author and historian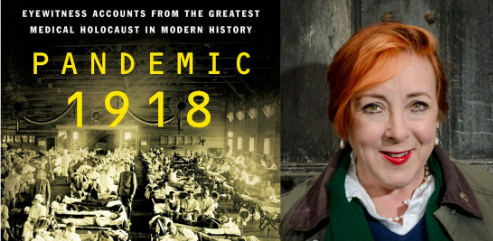 Historian and bestselling author Catharine Arnold will virtually discuss her riveting book, Pandemic 1918: Eyewitness Accounts from the Greatest Medical Holocaust of Modern History at noon on May 21.  Timothy G. Nutt, the director of Historical Research Center at the UAMS Library will moderate, and  Arnold will take questions from the audience after the discussion.
The book follows the worldwide spread of a new and terrifying virus in January 1918. In three successive waves through 1919, influenza killed more than 50 million people. German soldiers termed it Blitzkatarrh, British soldiers referred to it as Flanders Grippe, but world-wide, the pandemic gained the notorious title of "Spanish Flu." Nowhere on Earth escaped: the United States recorded 550,000 deaths (five times its total military fatalities in the war) while European deaths totaled over two million, according to the book's cover description.
Through primary and archival sources, Arnold gives readers the first global account of the terrible epidemic, influenza: "Amid the war, some governments suppressed news of the outbreak. Even as entire battalions were decimated, with both the Allies and the Germans suffering massive casualties, the details of many servicemen's deaths were hidden to protect public morale. Meanwhile, civilian families were being struck down in their homes. The City of Philadelphia ran out of gravediggers and coffins, and mass burial trenches had to be excavated with steam shovels. Spanish flu conjured up the specter of the Black Death of 1348 and the great plague of 1665, while the medical profession, shattered after five terrible years of conflict, lacked the resources to contain and defeat this new enemy."
Arnold is the author of Necropolis London and its Dead; Bedlam London and its Mad; City of Sin, London and its Vices; and Underworld London City of Crime. Globe, the World of Shakespeare's London was published by Simon & Schuster in April 2015. Edward VII The Prince of Wales and the Women He Loved was published by St Martin's Press in 2017. Catharine's previous books include Lost Time, which won a Betty Trask award, and Changeling, both published by Hodder & Stoughton. Catharine's latest book, Pandemic 1918, Eyewitness Accounts from the Greatest Medical Holocaust in Modern History will be released in paperback May 12, 2020, by St. Martin's Press.
RSVP below. CALS will send you access information for this virtual event the week of May 21.
The Six Bridges Book Festival has been rescheduled for Oct. 8-11, 2020. The event will still include popular events such as Author! Author!, Little Readers Rock (in partnership with the Junior League of Little Rock), and the teen poetry competition. CALS Speaker Series author Tim O'Brien and award-winning author Jacqueline Woodson.