The Unexpected and Bentonville Film Festival partner up for visual art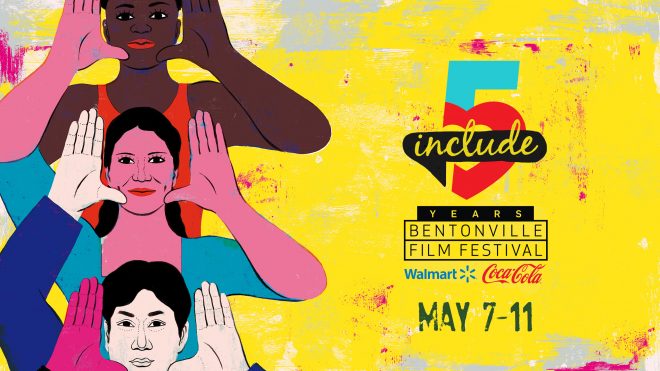 Northwest Arkansas has some cultural goodies within its rolling hills. The Unexpected and Bentonville Film Festival have partnered up this year to bring a movie and a mural to Fort Smith.
The Unexpected team and their curatorial partner JustKids announced the French artist Mantra will paint a new mural on Garrison Avenue. With murals in Spain, Austria, Bogota and France, Mantra is known for transforming building architectures into hyperreal butterfly and insect specimen cases in a series of clever 3D murals, according to a press release. Mantra will begin his mural on May 11 and continue until May 14. Follow his progress and other artwork on Instagram @Mantrarea.
The partnership between The Unexpected and Bentonville Film Festival comes natural to the organizations, bringing diverse and world-class arts and artists to unique settings in Arkansas.
Along with the mural event, BFF will program Friday night with a feature film, "Turnover" and Q&A session with the filmmakers, cast and crew at 7:30 p.m. at The Media Center at 5 Star Production, located at 100 N. 8th Street, Fort Smith. Doors open at 7 p.m. and tickets are $15 online and at the door.
The Unexpected was founded in 2015 by Fort Smith businessman and entrepreneur Steve Clark as a way to catalyze economic development in downtown Fort Smith. The Unexpected brings urban and contemporary art to Arkansas culminating in a weeklong event in downtown Fort Smith, and includes augmented programs of music, thought, culture and more. For more information visit www.unexpectedfs.com or email claire@646downtown.com.
About Bentonville Film Festival
Co-founded by Academy Award® winner Geena Davis & Inclusion Companies CEO Trevor Drinkwater, the Bentonville Film Festival is a one of a kind annual event that champions inclusion in all forms of media. BFF is a year-long platform culminating with an annual six-day festival held the first week of May of every year in Bentonville, Arkansas and includes an impactful Inclusion, Research, and Content Summit.  For more information visit www.bentonvillefilmfestival.com
About Justkids
Justkids is a global creative house that conceives, produces and promotes comprehensive art projects, on an international scale, with some of the most engaging artists, curators, and strategic consultants. Founded in 2014 by Charlotte Dutoit, Justkids supports a diverse team of inspirational legendary artists as well as upcoming talents to meet the demands of a constantly evolving audience by delivering public art, gallery shows, artist residencies programs and brand collaboration projects, offering new creative experiences with top tier visual artists.  Justkids has established itself as a major player on the international contemporary art scene after having crafted and collaborated on several large-scale art events over the years; including Life is Beautiful in Las Vegas, The Unexpected in Arkansas, Urban Nation Museum in Berlin, Pow Wow Hawaii among others. Stay connected on Instagram and Facebook (@justkidsofficial) and visit http://www.justkidsofficial.com for more information.