The Unexpected Announces 2017 Line-up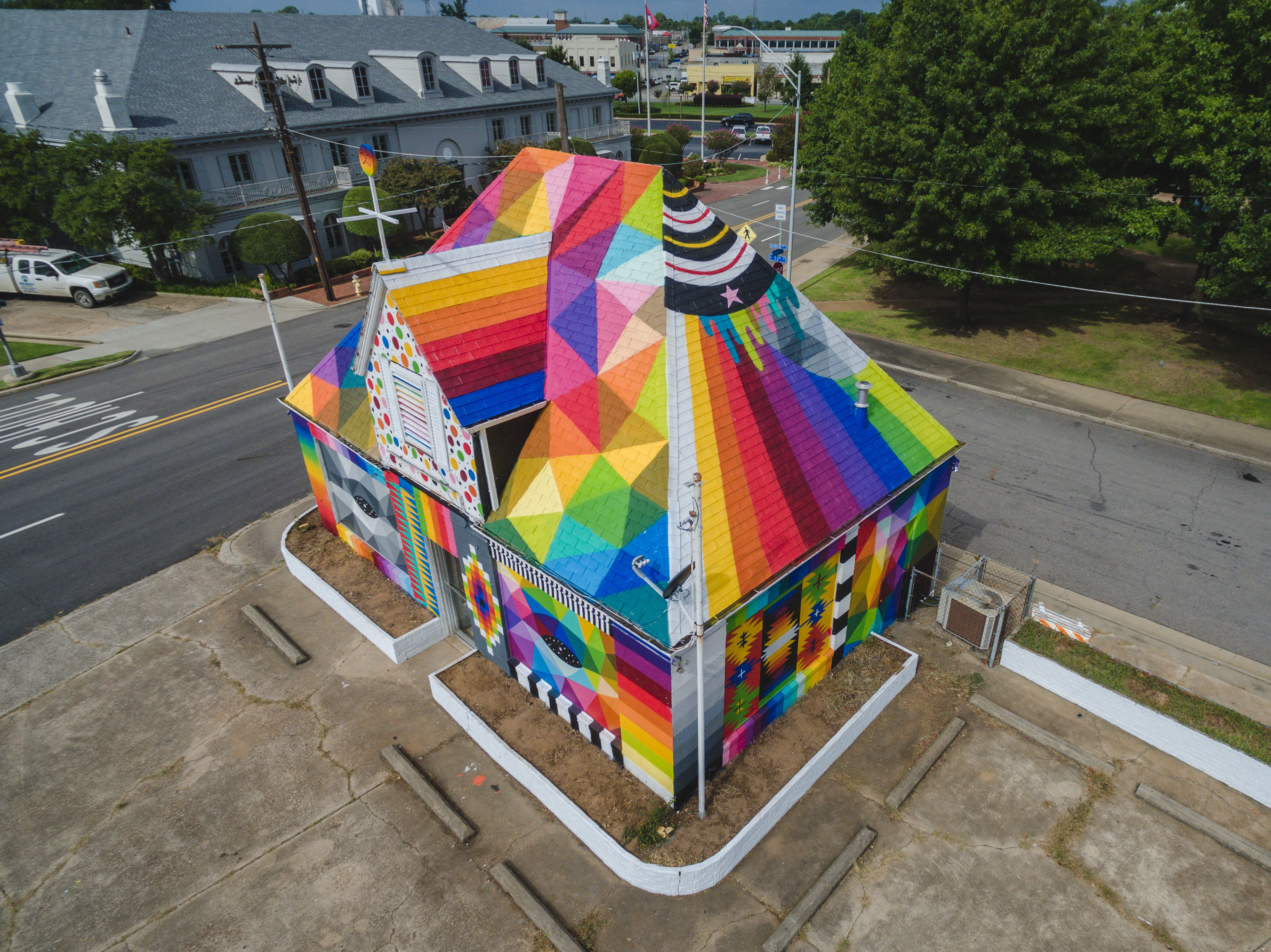 The third edition of The Unexpected  will return to Fort Smith, July 23 through 30th, bringing  engaging urban and contemporary art programming for the downtown area. Coinciding with Peacemaker Music Festival, the curatorial arm of The Unexpected – Justkids – will, once again, bring together world renowned artists to create larger than life art experiences. This third edition of The Unexpected will focus on interdisciplinary and participative art by revisiting some of the historic landmarks and hidden gems of the Downtown area. 
This years artist line-up includes the legendary New York artist Doze Green whose immersive and ambitious "The Divine Sparks Project" revisits the former 1910's New Theater, an Art Nouveau playhouse in the heart of downtown which had remained abandoned and closed to the public for almost 30 years. 
Adjacent to the historic theater, the Amsterdam based audiovisual design collective Circus Family will give new life to a former sign making studio with an immersive light experience in which the audience directs the intensity, audio and colors by simply approaching and or moving around the shapes.  
West on Garrison Avenue, the Philadelphia based American artist Crystal Wagner, will transform the downtown urban landscape  with a monumental  sculptural piece on the landmark Reynolds Davis Facade.
 A few steps away Felipe Pantone (Argentina) will step out of the wall to create a massive sculptural piece that will double as a "pop-up" skate park on the Fort Smith National Historic Site parking lot. 
Adding to this eclectic  scope of artwork, the London based artist Lakwena will bring her vibrant geometric colors and inspiring typography inside the Sebastian County Juvenile Detention Center. Her work will expand from the bi-dimensional limits of the walls, creating a 360º art experience covering the entire courtyard. The artist, who recently opened her solo exhibition  "The Future's Gold" in London, aims to meaningfully engage with the young convicts through her art, bringing some color, wonder and sparks from the outside world into theirs. 
Invited artists also include Mexican master muralist Saner along with Ukrainian phenomena AEC from the world famous duo Interesni Kazki. They join the lineup this year to collaborate in the creation of a large scale mural located between 8th and Garrison. 
In addition to the public art projects, Justkids will activate a "Pop up" Gallery space to house "Feral Kingdom" a solo exhibition by Puerto Rican born and recent Fort Smith resident artist Ana Maria. 
Finally, Peacemaker music and art Festival attendees will be able to enjoy london artist D*FACE  enormous Inflatable art pieces.

The Unexpected will open its quintessential "pop-up" store on 17 North 10th street, featuring  its merchandising and limited edition Justkids goods.