Landscapes and People of the Wichitas: Photography and poetry exhibition at the Winthrop Rockefeller Institute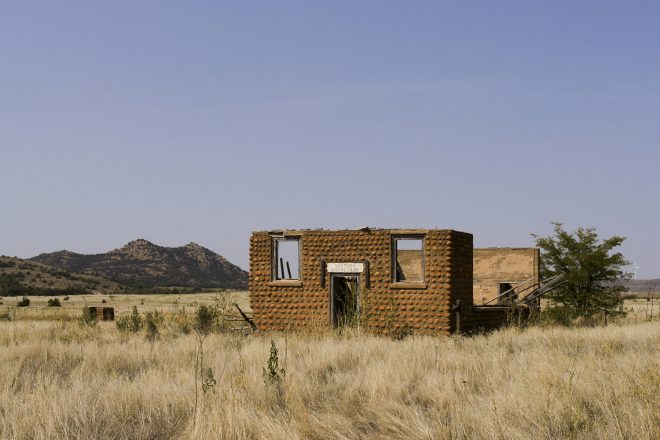 Northwest Arkansas photographers Don House and Sabine Schmidt are showing a new series of works at the Winthrop Rockefeller Institute on Petit Jean Mountain from August 3 to August 31. Their exhibition We're Not Telling You Everything: Words and Images from the Wichita Mountains also features poems by Little Rock poet Sy Hoahwah. There is an opening reception and artists talk on August 3 from 3 to 4:30 pm.
We're Not Telling You Everything is the result of a three-year collaboration. Don House created 16 classic black-and-white portraits and is showing them as traditional silver-gelatin prints. Sabine Schmidt's 13 digital color images of human interactions with the landscape are presented as archival pigment prints. All were made during frequent visits to the Wichita Mountains in southwestern Oklahoma. The poems by Sy Hoahwah offer a different perspective: A member of the Comanche Nation, Hoahwah has a connection to the Wichitas that spans generations.
The photographers were drawn to the area by its history, its landscape, and its people. It is the place where some of the last Indian wars were fought. The first national wildlife refuge was created here to save the bison. It is the home of Army's Fort Sill training base, the location of a gold rush, and the final resting place of Native American leaders Geronimo and Quanah Parker. It is a microcosm of the history of the nation and its westward expansion.
One of the oldest but least-known mountain ranges in North America, the Wichitas rise up from the plains around Lawton, near the Texas border. They stretch only about 40 miles from east to west, but they hold a central position in the history and lives of Apaches, Comanches, Kiowas, and other plains tribes. Fort Sill shares a winding fence through the mountains with the wildlife refuge. Ranchers and wheat farmers, amusement park owners, retirees, soldiers, waitresses, preachers, rangers, locals, and strangers all make their homes in the shadows of the ancient granite mountains.
Don House was born in California and raised in Texas, Germany, Austria, Missouri, and Michigan. He attended the University of Michigan and Wayne State University before being drawn to the rugged isolation and unique character of the Ozark Mountains. For thirty years, he has photographed the human and natural landscape of Northwest Arkansas. Known for powerful and rich black-and-white imagery, his work has been featured in publications as diverse as Boys Life,Backpacker, and The Wall Street Journal, and is collected and exhibited throughout the country. He has authored three books: Buffalo Creek Chronicles, Not A Good Sign, and Otto's Great Adventure. More info at donhousephotoworks.com.
Sabine Schmidt is an award-winning German photographer, writer, and translator. After living in Hamburg, London, Memphis, and New York, she is now based in Fayetteville. She has translated books by Wynton Marsalis and Henry Chancellor and works for the German edition of National Geographic. Her work has appeared in publications in the U.S. and Germany, including Whitefish Review, L.A. Times Online, Audi Magazine, and Rolling Stone Germany. Schmidt received Artist Registry Awards from the Arkansas State Committee of the National Museum of Women in the Arts for 2015-16 and 2017-18. The Northwest Arkansas Democrat-Gazette named her one of Ten Artistic People to Watch in 2016. More info at schmidtphotography.org.
Sy Hoahwah is a member of the Comanche Nation whose family descends from both the Yapaituka/Penatuka Comanche and the Bad Faces band of the Southern Arapaho. Born in Little Rock, Hoahwah was raised in Arkansas and southwestern Oklahoma. He is a direct descendent of Comanche orator and principal chief Ten Bears and of the Arapaho leader Little Raven. Hoahwah earned an MFA from the University of Arkansas and is the author of the poetry collectionVelroy and the Madischie Mafia (2009). Hoahwah began his career as a visual artist. He is considered both a Native American and Southern poet, as his work is heavily influenced by his Southern plains heritage. More information at poetryfoundation.org/poems-and-poets/poets/detail/sy-hoawah [sic].