Trillium Salon Series Brings Classical Music to Intimate Settings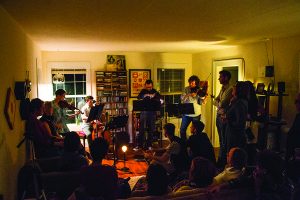 WORDS / KATY HENRIKSEN
PHOTO / MATT FARIES
I'm really excited to announce a brand new house concert series I've launched with locals Ron Chioldi and Glenn France. Trillium Salon Series takes live classical music outside the concert hall into intimate settings, this time at the KUAF studio (9 S. School at the corner of Mountain directly across from the Fayetteville Public Library) this Friday, July 22 from 7-9 p.m. featuring percussion recital from visiting musician, and Fayetteville native, Aaron Ragsdale.
The aim of TSS is to connect likeminded individuals and also celebrate the vibrant local culture in our hills.
For this installment of TSS we've partnered with Apple Blossom Brewing, Blackboard Grocery, Foxhole Public House, Ozark Natural Foods, and Conscious Coco for this concert to offer concertgoers fantastic food and drinks made locally.
The concert, as well as food & libations, are free. It's a rad opportunity to hear vibrant classical music in an intimate setting while enjoying handcrafted libations and victuals made right here in the Ozark Mountains.
Check out the Facebook event.  For additional information you can email trilliumsalonseries@gmail.com.