Justus Fine Art Gallery to Host "Water Works" Exhibit in August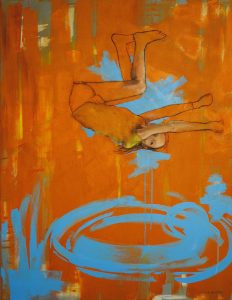 During a month when the temperatures traditionally soar, Justus Fine Art Gallery will offer a cool respite with an exhibit entitled Water Works. The August exhibit will showcase a selection of paintings which include water in the subject matter from selected artists including: Mike Elsass, Matthew Hasty, Dolores Justus, Gerri Much, Laura Raborn, Tony Saladino, and Rebecca Thompson. From the detailed, luminous paintings of Memphis artist Matthew Hasty, to the loosely rendered abstractions of Texas artist Tony Saladino, the show will feature a wide range of interpretations on the theme. The exhibit will open with a reception on Friday, August 5 from 5-9 p.m., in conjunction with the monthly Hot Springs Gallery Walk. The show will be on display fromAugust 5 – 31, 2016.
"The tides are in our veins." – Robinson Jeffers
"Rivers have what man most respects and longs for in his own life—a capacity for renewal and replenishment, continual energy, creativity, cleansing." – (John Kauffman, A Look At Our North Atlantic Rivers)
Suggestive of land, sky, and water, Mike Elsass' strong abstracts are rendered on rusted sheets of steel. To Elsass the steel represents, "strength, life's elements, aging, imperfection, and beauty." Many pieces have over 40 coats of paint and glazing. The artist approaches his work with a spiritual and mediative mindset. Drawing inspiration from nature, Elsass travels throughout the country painting en plein air. Elsass' work has been widely exhibited and collected.
"He (Mike Elsass) is dedicated to landscapes that reflect the moment of the soul; his paintings have emotional and visual connections with places of choice and memories beyond the present.  Elsass expresses his awe for natural elements through color, with a spontaneity and joyfulness that are the main traits of his work.  In his paintings, a memory of the horizon persists as a last thought before space dissolves." – Anna Friedenberg
Memphis artist Matthew Hasty creates hauntingly beautiful landscapes of the South. His mastery of the effects of light in the landscape yields paintings that seem to emanate their own light. Hasty considers his paintings to be influenced primarily by landscape painters working in the Nineteenth Century. Prominent landscape and marine painters of the Hudson River school, the Luminists, the Barbizon school the Dusseldorf school, and notable Russian painters. Hasty's paintings can be found in collections throughout the United States, as well as Russia, Germany, France, and South Korea.
Inspired by the natural world, Dolores Justus' paintings reflect a sensitive and intuitive view that distills patterns of light and form into compositions that engage and inspire. Her painterly style also contributes to the interactive quality of her art. In her exploration of the confluence of optics and painterly abstraction, her work belongs to the "new landscape" movement of contemporary American art. Her work has been exhibited in solo and group shows throughout the nation and abroad for more than 20 years.
"I've always had a strong identification with nature and am continually in awe of the depth of inspiration that it offers. Despite all it's variety, there are essential elements in it and in us all, that we respond to. It is those universal, underlying truths that I seek to communicate in my own work." – Dolores Justus
A selection of Gerri Much's energetic abstracts that are suggestive of the waves that she watches from her Florida home on Sanibel Island, are also included in the exhibition. Dividing her time between Arkansas and Florida, Much's expressive paintings has been included in many corporate and private collections.
Laura Raborn's paintings have been exhibited throughout Arkansas and are in private collections across the United States, including the new CARTI Collection in Little Rock, Arkansas. Her work has earned numerous awards such as the Wilma and Jack Diner Purchase Award at the University of Arkansas at Little Rock and the Juror Award at the Rosenzweig Biennial Juried Exhibition. Raborn was also awarded the Arkansas Arts Council's Sally A. Williams Study Grant and completed an artist residency in Noepoli, Italy.
"I paint and draw the human figure and places as a way to explore modern life. Formal contrasts are important elements in my work: for example, there is representation contrasting abstraction. The abstract layers interrupting the body or place allude to the idea of time, or a frozen moment in time, which is difficult for us to recognize in a visually inundated and fast-paced world. Recognizable forms emerge from obscured layers of paint, which refers to the vast amount of unknown information in everything we see." – Laura Raborn
Tony Saladino is highly respected for his expressive abstracts, landscapes, still life constructions, and printmaking. His work has been included in notable public and private collections including the collections of Tyson Foods, Bicardi Limited, the Michael and Susan Dell Foundation of Austin, Texas, the University of Wisconsin, the University of Dallas, the Museum of Art and Archaeology of the University of Missouri, and the Museum of International Art in Brazil. Saladino has also been featured in The New York Times, Southwest Art Magazine, The Artist's Magazine, American Artist Magazine, the Best of Sketching and Drawing by Rockport Publishers, Enrich Your Paintings with Texture by David Band of North Light Books, along with many other publications.
"Art is about more than beauty. An artist communicates an idea, or feeling, or tries to make connections. I want each piece to possess a spatial energy that compels a viewer to look. I want the images to be universal enough to be compelling. The viewer is either repulsed, pleased, made interested, or stimulated in such a way that they are made to consider other ideas that are not so easily conveyed by printed media." – Tony Saladino
Rebecca Thompson's paintings are inspired from her travels, from ordinary objects that catch her eye in a new way, and from people caught in a pivotal moment. Her atmospheric strokes of color, her washes of light and her sense of place engage the viewer and invite lingering. Thompson prefers to paint on-site. If this is not possible, she relies on site-made sketches, color notes, and journal entries to supplement photographic records. Along with many solo and group exhibitions, Thompson's paintings have also been included in numerous public and private collections including: UAMS, Little Rock, AR; CARTI, Little Rock, AR; St. Vincent P. Allen Smith Garden Home, Little Rock, AR; the William J. Clinton/Thea Foundation Art Across Arkansas Collection, and many others.
Owned by artist Dolores Justus, Justus Fine Art Gallery offers a wide range of original art including sculpture, paintings, ceramics, photography, and more by recognized artists. Opening receptions are held in conjunction with the Hot Springs Gallery Walk held from
5-9 p.m.
the first
Friday
of every month in downtown Hot Springs. Hours are
10 a.m. – 5 p.m.
,
Wednesday
through
Saturday
or by appointment. For more information, call
501-321-2335
or visit online at 
justusfineart.com
.