Stage 18 accepting art exhibition proposals for 2019 through December 1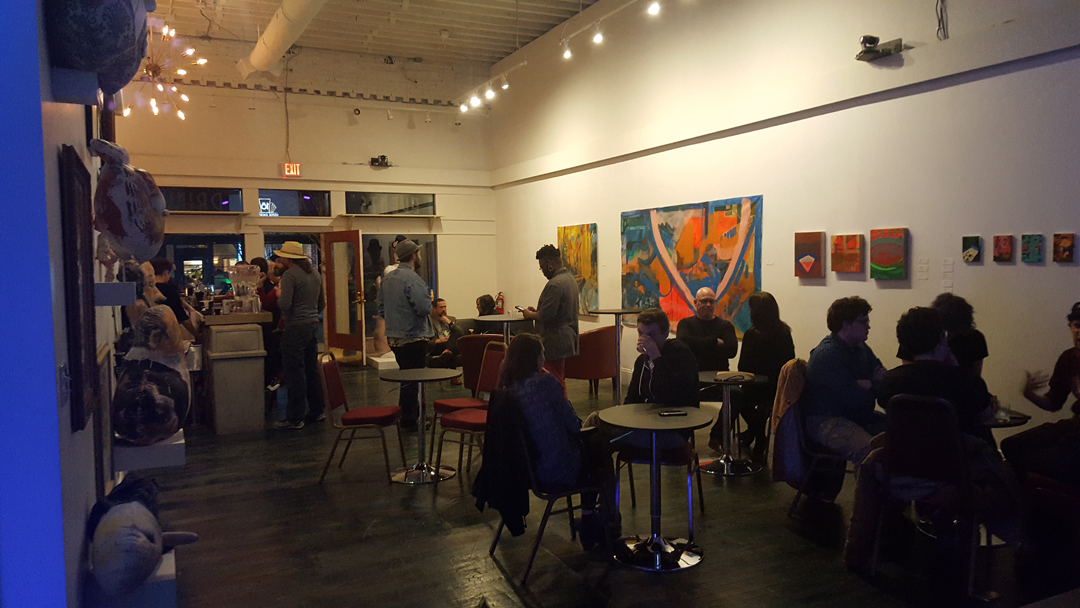 Stage Eighteen invites artist and curators to  submit a proposal for the 2019 solo and group art exhibitions along with guest curators now thru December 1st, 2018. Interested artist and curators can come by and look at the gallery located at 18 E. Center St. in the heart of downtown Fayetteville. Information to submit a proposal can be found here. Exhibitions are usual scheduled 4-12 months in advance.
Stage 18 hosts a new exhibition with an artist reception the 1st Thursday of each month 6-9pm. Publicity is provided and art sales are encouraged. Artists receive 70% of art sales. They will take ongoing proposals throughout the year to be included in next seasons schedule. Artists will be notified December 1st thru January 31st for inclusion in the the 2019 season January-June.
Stage 18 encourages 2D work and/or relief works no more than six inches for monthly shows.  Installations or 3-D work can also be hung higher on the walls and from the ceilings. Pop Up shows can be arranged for 3D artwork, sculpture, installations and performance art. A stage, sound system and video capabilities are available.
Exhibiting artists and guest curators are responsible for hanging show with prior approval of art pieces and placement by the Gallery Director Suzannah Schreckhise, who will work closely to help facilitate the installation of your exhibition.
To submit a proposal email the following information to Suzannah at art@Stage18live.com.
1 or 2 paragraph Exhibition Proposal
CV, Bio and Art Statement, please make sure you include mailing address, phone, email and contact info for each artist or curator
Website, Facebook and Instagram handles
Artist Solo Shows email 10-12 art works photos, Group shows 3-4 of each artist works
Range of prices for your art work
Additional information as needed for publicity, high def photos of works, artist agreement, artist contract must be provided if you are accepted for an exhibition.
A $30.00 application fee is required. Students and financial hardship will be supported. We want all talented artist to apply. This fee will help support cost associated with promoting and hanging a professional exhibition.
Please also include if you would like to be part of a group show if there if we cannot facilitate a solo show for you
About Stage 18 Gallery – Mission Statement
Stage 18's mission is to "Encourage economic growth for creative visual artist in our community by providing a diverse gallery space for emerging artist to show and sell art and engage a non-traditional performing arts audience encouraging art appreciation."
Stage 18 Gallery is located at 18 E. Center St. in the heart of downtown Fayetteville, Arkansas and is open the FirstThursday of the month and one hour prior to Stage 18 events. Admission is free during gallery hours but tickets or cover charge may apply to events. You can find additional event information and times at https://www.stage18live.com/calendar.  Cash bar is available for guests. (479)-310-0153
Suzannah Schreckhise – Gallery Director
Suzannah Schreckhise is a 2D and sculpture artist, and serves as the Gallery Director of Stage 18 in Fayetteville. She holds a B.A. in Art from University of the Ozarks, and was a 2018 Artist INC Fellow. In the last year, her art has appeared in over 40 galleries, including shows at the Woman Made Gallery in Chicago, and the Topanga Gallery in Los Angeles. She has exhibited at the feminist Ceres Gallery in New York City. She has shown her work in several other national and state exhibition venues, and she received the Best Sculpture Award for her piece "Falling to Pieces" in the 2018 Artists of Northwest Arkansas Exhibition. Her work is also featured in the forthcoming issue of the international juried art magazine, Studio Visit. Suzannah is currently authoring profiles of art collectors for the statewide art magazine, The Idle Class.