Justus Fine Art Gallery set to host "Making Waves: Striation Paintings by Donnie Copeland"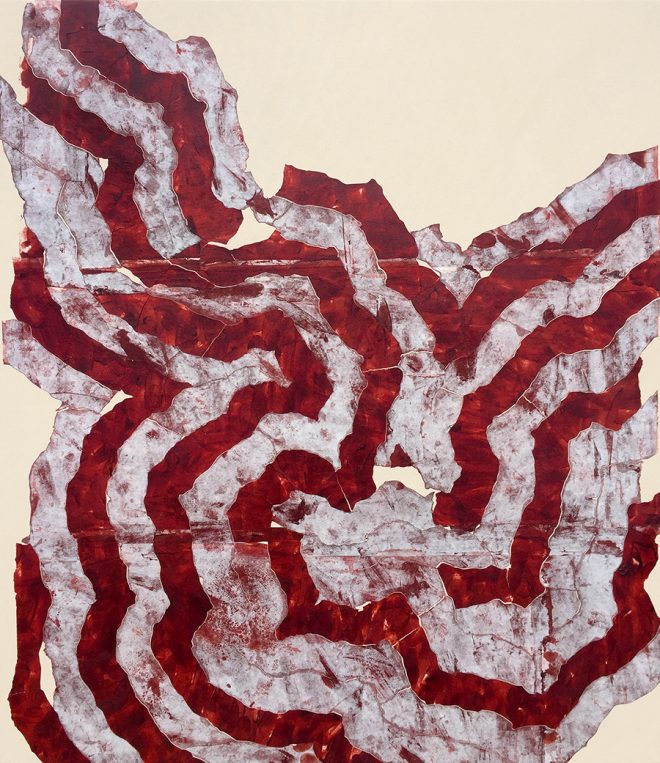 The September exhibit at Justus Fine Art Gallery will feature a selection of the striated collage paintings of Donnie Copeland. Working primarily with painted paper to produce non-objective canvases and works on paper that emphasize pattern, texture, color, and mark, Copeland's pieces are an exploration of material and composition. Entitled 
Making Waves
, the solo show will open with a reception from 
5-9 p.m.
 on 
Friday, September 7
, in conjunction with the monthly Gallery Walk in downtown Hot Springs. The exhibit will be on display 
September 7-30, 2018
.
"The works in this exhibit are an exploration of material and composition made by cutting a pattern from a stack of sheets of painted paper that are arranged and adhered to a substrate," Copeland said. "Relying on an undulating, striated pattern, they are sometimes seen as resembling natural and geological forms while I intend for their flatness, painted mark, and textures to remind us that they are constructions of a painter's workings. As the patterns of stripes make their way across the canvases, the pattern becomes about transitions in color, tone, and texture, making for a more varied and complex outcome."
Art consultant and historian Rachel Golden commented on Copeland's work:  "There is a rhythmic sense of motion in Donnie Copeland's cut paper paintings. The line throbs, and envelops the viewer in its ever-changing motion. The works are entirely non-objective, yet there is a familiar resemblance to earthly forms, to something living and breathing—a magnified segment of an organism, perhaps, or the undulation of land, drawn with topographic contour lines."
While the artist insists that the form itself is the goal, discouraging the viewer from other visual reference points, there is, even in the greatest non-objective visual works, an urge to identify the source of inspiration. From what earthly experience has the artist conjured this visual translation? In Copeland's case, even if he is still at work to reconcile the source himself, he aims to create the same experience in his paintings that music—the most ephemeral and intangible art form—can provide: completely immersive and transcendent to the point of being emotionally moved. "When I look at paintings, I want to be caught up in them—the same way I am with music," Copeland said.
Just as the notes on a page drop into the air when played, the artist composes a unified pattern of line that implies a continuation at either end. The work is complete, but not finite—playfully inviting the viewer to follow the lines beyond what is visible. The form is spontaneous, lively, and without anticipation, which is not easily achieved when working with strips of painted paper cut from the same pattern. To avoid predictability, the artist, in his own words, "intentionally interrupts complacency" [in his process], relying on each band to be different in its placement from the last, though shaped by the previous one. Like the percussive pulsing of music that moves the artist, Copeland is committed to pattern without being formulaic. His is an intuitive, musical work, best executed without rehearsal."
Donnie Copeland (b. 1977) studied art and education at Ouachita Baptist University, earning a BA in Studio Arts in 2000. He continued his education at the University of Dallas where he earned a Master of Fine Art in 2005. His work has been shown and collected throughout the U.S. Recent features of Copeland's work include the following solo exhibits: Donnie Copeland: Paintings at the Texarkana Regional Arts Center in Texarkana, Arkansas (2017); Paths and Reflections at Lyon College in Batesville, Arkansas (2017); Interrupted Paths at Life in Deep Ellum in Dallas, Texas (2017); and Interrupted Paths at the Aughinbaugh Gallery of Messiah College in Mechanicsburg, Pennsylvania (2015). His work was also included in View from the Art Village: Fifty Year Retrospective, Invitational Alumni Show, University of Dallas in Irving, Texas (2017); Abstract AR(t), Alexandre Hogue Gallery at the University of Tulsa in Tulsa, Oklahoma (2016); and many other exhibitions. In 2012, Copeland's work was part of Boundary Hunters, an exhibit featuring seven contemporary painters at Alfred University's Fosdick Nelson Gallery in Alfred, New York. Other showings include exhibits at the Kansas City Artist's Coalition, the Arkansas Arts Center, and exhibits in Louisiana, Minnesota, Missouri, North Carolina, South Carolina and Texas.
Copeland currently serves as Associate Professor of Visual Arts and Chair of the Department of Visual Arts at Ouachita Baptist University where he teaches painting, drawing, and art history. He and his wife and three children live in Arkadelphia.
Owned by artist Dolores Justus, Justus Fine Art Gallery offers a wide range of original art including sculpture, paintings, ceramics, photography, and more by recognized artists. Opening receptions are held in conjunction with the Hot Springs Gallery Walk held from 5-9 p.m. the first Friday of every month in downtown Hot Springs. Hours are 10 a.m. – 5 p.m., Wednesday through Saturday or by appointment. Justus Fine Art Gallery is located at 827 A Central Avenue in Hot Springs, AR. For more information, call 501-321-2335 or visit online at justusfineart.com.