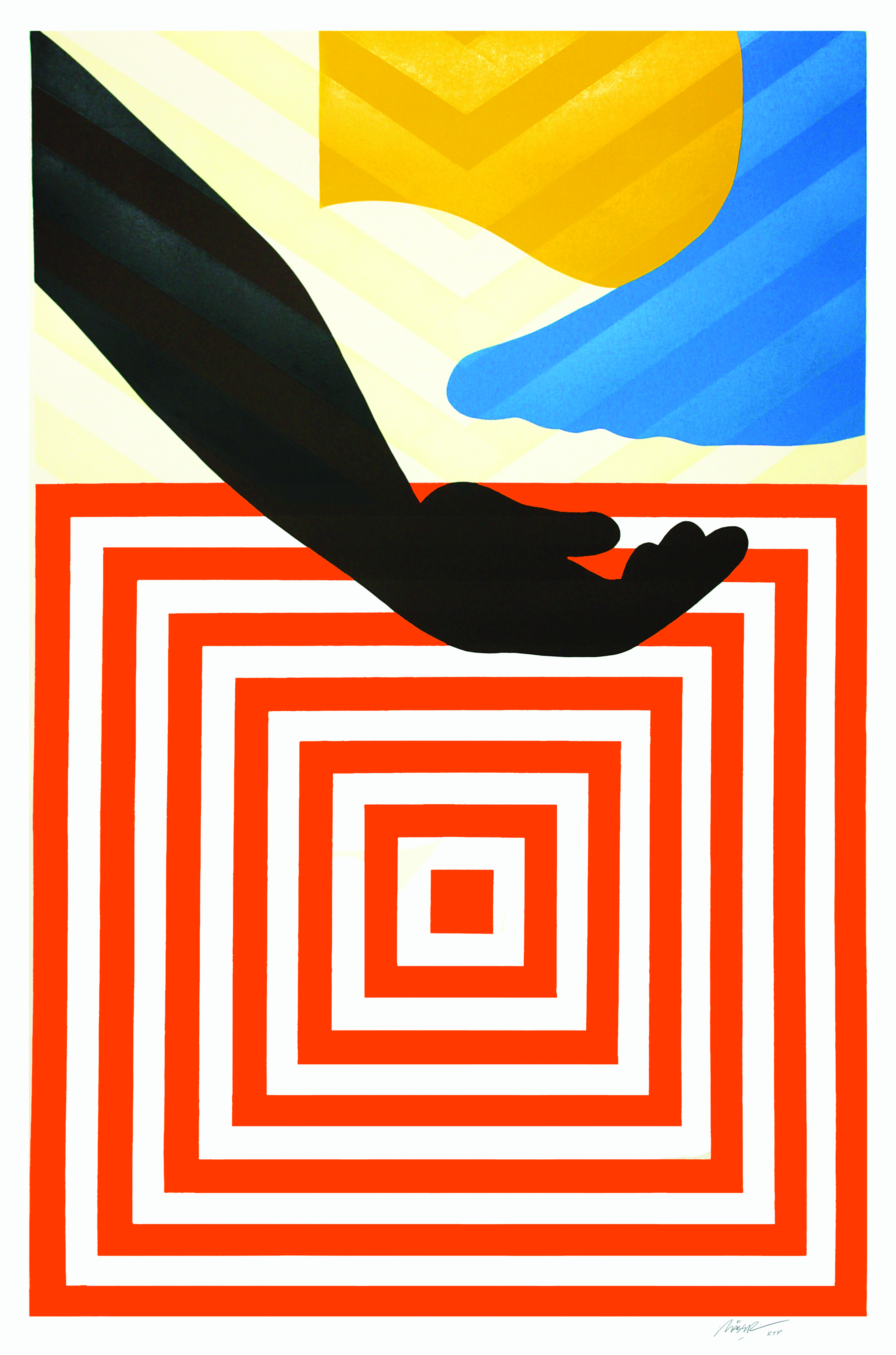 WORDS / K. SAMANTHA SIGMON
April 1-15: Spring Beginnings in the Arkansas Ozarks
April 1 marks the true beginning of spring in the Northwest Arkansas. Much more than plants pop out of hibernation. Outdoor Farmers' Markets open, First Thursdays in Fayetteville and First Fridays in Bentonville bring families to downtown squares and local art galleries. Spring is a active verb; we start doing things with excitement again such cleaning with the windows open and records blaring, sitting out on patios of local breweries drinking craft beers, playing catch with dogs, cooking with friends, hiking mountainsides, picking flowers, the list goes on of all the amazing stuff there is to do in Northwest Arkansas during springtime.
Businesses also start weekly or monthly events. As the executive director of the Fayetteville Underground Art Gallery on the Fayetteville Square, I am personally very excited about our Saturday line-up. Market Yoga is kicking of April 11 from 9-10am in our galleries, and continuing throughout the summer every other Saturday morning, so no more canceling due to weather. Every last Saturday morning of the month beginning at 10am, Carol Widder from Music Together classes, runs a free family sing-along right after yoga. Each Saturday during the spring and summer from 11am-1pm, artist MM Kent will be leading Quick Draws in our galleries where anyone is welcome to bring supplies and create, model, or watch. All work is made in 30 minute spurts and sold right there for under $100. These artworks could be a great and affordable gift to a loved-one. Additionally, every Last Saturday of the month is a variety show and spoken word competition. With all there is to do, there's just no excuse not to participate in something.
Before I get started on the event list, I'd like to also mention some recent updates in the area.
— In case you haven't heard, Nomad's Music Lounge in South Fayetteville hosts music, art openings and a plethora of other events along with vegetarian and vegan fare, craft beers and cocktails, a great patio, the occasional dog-friendly treats and welcoming proprietor and bartender Jeremy Brown, formally of Greenhouse Grille and several years back, the Music Hall. He's a veteran businessman and the perfect person to run this combination event and craft food/drink space.
— May Bell Music is moving into a new location on Block St. in-between world treasures and Little Bread Company. Expect to see more events and concerts and owner Allision Williams as a full participant in Block St. Businesses and downtown Fayetteville. May Bell will still be organizing the square dance at Backspace every last Friday of the month beginning at 8pm.
–War Eagle Mill is one of my favorite places in the area. If you haven't been there, Spring is a great time to see the rollicking waterfalls next to the old wooden bridge. In the three story red building alongside the mill, you can buy War Eagle Mill products, a must for many chefs in the Ozarks, as well as sit around to play chess and other board games, occasionally listen to live music, and of course eat at the Bean Palace Restaurant on the top floor, open until 5 daily. They just began serving breakfast from 8:30-10:30 on Saturdays and Sundays, which I'm pretty excited about.
–Lastly, if you want to feel like you're on vacation, but only have time for a day trip, Eureka Springs is the place to be in the spring. Its downtown is a beautiful, unique, eclectic little haven with surprises nestled in every corner. I go for Chelsea's bar, Ermilio's Italian Restaurant, the view at the Crescent Hotel Balcony, Sparky's Restaurant, the Carnegie Public Library, new craft coffee and beer spots like Ozark Mountain Taproom, and weird little shops filled with antiques, yellowing prints, stuffed wild animals, doll furniture, handmade gifts, and so much more. The historic loop from downtown up to the Crescent Hotel is filled with gardens, bubbling springs, and paths into the hills.
The following are events that I am most excited about in the next few weeks. I will be writing a new column similar to this one for April 16 into the first weekend in May within the next few weeks. Also, something to note, if an event is free, please bring at least $5 for donations, drinks, merchandise, or additional support for the venue, artists, and performers in other ways.
April 1, 6-9pm: April Fools Fest Fundraiser for the Art Experience at Teatro Scarpino, $25
For their annual spring fundraiser, the Art Experience is reveling in the April Fools tradition of mischief making to support The Art Experience, Inc art therapy programs for at risk teen girls and children with chronic medical conditions. The benefit will feature Zydeco music by Jumpsuit Jamey and the Can't Wait to Playboys, and string band Ozark Highballers. Food will be provided by Greenhouse Grille, Woodstone Craft Pizza, Lucky Luke's, Little Bread Company, and Penguin Ed's. Emceed by KUAF's Kyle Kellams, the event will include giant puppetry, an auction, and the opportunity to throw pies in the face of prominent Fayettevillians. Children under 12 get in free.
April 1, 7-8:30pm: Architecture Lecture by Sarah Susanka, $10 for nonmembers
The Not So Big House book series by Sarah Susanka brings to light a new way of thinking about what makes a place feel like home— characteristics many people desire in their homes and their lives, but haven't known how to verbalize. Not So Big doesn't necessarily mean small. It means designed and built to perfectly suit the way you live.
April 1, 7-11pm: The Black Apple Awards Nomination Announcement Party at Backspace, $5 suggested donation
Join The Idle Class, Art Amiss, Ozarka Orkestra, The Artist's Laboratory Theatre, and more to announce the nominations for the Black Apple Awards, a new arts award unique to Arkansas. Pink House Alchemy will be serving up delicious drinks from their hand-crafted syrups. Some drinks and other snacks may be provided, but bring your own as well. The $5 suggested donation will go to that evening's local performers and artists.
The event will open at 7pm. Structural Resistance: Ba'aller Abstraction, a soft opening of new work in artist Louis Watts's mobile contemporary art gallery called Truck/Art which regularly parked outside of 21c Museum Hotels in Bentonville, will be on display throughout the night in the Backspace parking lot before the show has its official opening and reception in Bentonville on April 17th. There will also be a selection of past show and event posters on the walls and an installation by University of Arkansas art student Samantha Hussey inside the space. Event photographs will be taken throughout the night by Allison Griffin.
— 7pm: Local DJ Robe Flax
— 8pm: Artist's Laboratory Theatre will present a sneak peak of their upcoming show "I Can Haz Sheet Fort" which will debut this weekend at the Fayetteville Underground. Artist's Laboratory Theatre is an experimental local theatre group focused on place-based and participatory experiences
— 8:30pm: Kody Ford, editor of the Idle Class Magazine, will lead the announcements of the nominations in the awards categories of best artisan, musical act, 2D artist, 3D artist, creative agency, filmmaker, poet, alcoholic craft beverage, non-alcoholic craft beverage, radio show, fashion designer, fashion photography, theatre company, chef, and jewelry designer. The top few artists or performers in each category, voted on by the public, will be announced in anticipation of announcement of the winner on the awards ceremony April 11.
April 2, 5-6pm, Gallery Conversation with Sharon Morgan and Tom DeWolf at Crystal Bridges Museum of American Art, free with online registration
Join in a gallery conversation with authors Sharon Morgan and Tom DeWolf about their poignant book Gather at the Table that looks at the history and current context of race relations in the United States. Morgan's ancestors were slaves and DeWolf's ancestors were the largest slave owners in the US. The two of them explore how whites and blacks view each other.
This discussion takes part in the Museum's Nineteenth-Century Art Gallery against the backdrop of artwork depicting the Civil War and slavery. The authors encourage participants to explore our country's issues of racial equity and justice through a path toward healing and reconciliation. Free with online registration.
April 2, 5-9pm: April First Thursday at the Fayetteville Underground featuring Maser, Arkansas Arts Academy, Guy Bell, and performance by Cynthia Post Hunt. Music by Ryan Pickop, free with donations suggested
From April 1 until May 3 the Fayetteville Underground is celebrating both widely known professional artists and promising emerging artists. International street artist Maser is showing a collection of recent work in the Adventure Subaru Featured Artist Gallery while high school students from the Arkansas Arts Academy are showing their best pieces made throughout the year in the Kirk Thompson and Brett Burch Featured Artist Gallery. In the front gallery, Guy Bell, one of last year's State of the Art artists at Crystal Bridges Museum of American Art, is displaying multi-media pieces entitled Ascension of Man, evoking historical symbology and ideas of power and vision throughout humanity.
April First Thursday, a free art opening, is taking place during the festivities on the square. Throughout the reception, performance artist Cynthia Post Hunt is presenting her new interactive performance piece, Black Box, which investigates personal coping with grief and loss in the main gallery. The performance set-up will remain throughout the month for others to participate. Local singer/songwriter Ryan Pickop is playing original music for the opening. Other local artists' new work is displayed. Drinks and snacks are served. Donations to the nonprofit organization and to the performing musician are suggested.
April 2, 5:30-8pm: Samantha Hussey — Open Studio in Pryor Center Basement
Hussey is creating a temporary installation for Thursday night only in an old familiar space that she fell in love this two years ago through creating a piece called Bliss in the Abyss. Hussey is now using the space to explore her current avenues of making. Anyone is welcome to visit with the artist and offer feedback about her new work.
April 2-April 5, 7:30pm: The Chairs By Eugene Ionesco, directed by Kholoud Sawaf in Kimpel Studio 404
An ancient couple decides to have a big party, invite a exorbitant number of guests, and manage the party. A tragic farce by Eugene Ionesco comes to life in Kimpel Studio 404.
Due to limited seating, the organizers strongly recommend that you purchase tickets for the Studio Series ahead of time.
April 3, 9pm: NWA Rape Crisis Center Fundraiser at Backspace, $5
Backspace is partnering with NWA Rape Crisis Center, local bands, and one out-of-state band to raise funding and awareness for a very important organization. We are highlighting those bands in the area that woman take a lead role in, such as:
9PM: Dana Louise, beautiful spring folk songs
9:45PM: Witchsister, hard rock ala Led Zepplin/Heart consisting of kick-ass women
10:30PM: RAT BRATS, feminist punk led by Jane Kang
11PM: C-Rex, feminist punk from Springfield, MO
11:45PM: LLinda, rock band featuring amazing musicians and vocal talents of Digby Jukes
All proceeds go to the Rape Crisis Center. Event organizers are also taking donations of clothes of all kinds. Get there early since the turn out will be large.
April 3 and 4, 7:30-11pm: Artist's Laboratory Theatre Presents I Can Haz Sheet Fort at the Fayetteville Underground, $10
The Artist's Laboratory Theatre presents The Sheet Fort Experience: I Can Haz Sheet Fort, a live show comprised of performances of memes, blogs, social media interactions, and internet speak, and performed in a giant sheet fort. Tickets can be purchased at the door or in advance at http://artlabtheatre.com/ The show contains adult language and content, and may be not suitable for children.
I Can Haz Sheet Fort is a new show created for "The Sheet Fort Experience," a pop-up, site-specific performance venue that provides an intimate atmosphere for innovate and imaginative performance experiences. Past "Sheet Fort Experiences" have been installed at Block Street Block Party, Last Night Fayetteville, and Crystal Bridges Museum of American Art. I Can Haz a Sheet Fort is found from internet sources such as Facebook, Reddit, BuzzFeed, and is curated into a rollicking performance of monologues, scenes, songs, and videos—all found on the internet and crafted into an evening of irreverent reflection with lots of "LOLs."
April 4, 10am-3pm: Gina Gallina Crochet Jam at 21c Museum Hotels, $5
This event is a workshop by Gina Rose Gallina on the art of crochet and yarn bombing.
St. Petersburg, FL born artist Gina Rose Gallina plies strings into colorful delights for the ears and the eyes. She perfected her childhood passion for crocheting during long drives on tour as a musician, and before she knew it hats, gloves and scarves became trees, furniture and bicycles. After a stint in Austin, TX Gina returned to Eureka Springs, AR in 2011 to focus on crochet. She is currently yarn bombing her way through the galleries, coffee shops, festivals and street corners of Northwest Arkansas, and enjoys teaching others to do the same.
April 9, 9pm: Qui and Bik Fliqqr at JRs Lightbulb Club
Qui was formed in 2000 in Los Angeles, CA, by drummer/vocalist Paul Christensen and guitarist/vocalist Matt Cronk. Their idiosyncratic blend of punk, noise, and rock punctuated with avant-garde weirdness, coupled with their advanced musical prowess earned them a reputation for intense and often-times antagonistic shows. Later, they worked with band the Jesus Lizard. In 2012 they recorded their third full-length release Life, Water, Living… True to form, (or lack thereof). The new record is in many ways a departure from their earlier work, relying heavily on dual vocal harmonies and employing new instrumentation like bass guitar and keyboards. This album was released in February 2014.
All I can tell right now of the new local band Bik Fliqqr is that it consists of members of Fauxnz and Perpetual Werewolf, both extremely popular bands a few years ago. The guys in these bands have played around in several other projects and I think of them as some of the most talented and experimental musicians in the region. I would guess expect loud, a little dissonant, well-crafted rock music. Can't wait to check it out.
April 7, 9pm: the body and Not on Your Life at JRs Lightbulb Club
the body is not for the faint of heart. It's a loud, buzzing wall of sound that produces a maddening drone, in a good way. The band, perhaps best described as sludge metal, consists of two guys who currently live in Portland. There's not much I can say about the body, except check them out and it will be like nothing you've ever heard.
The opener for the show is Not On Your Life, a hardcore punk band from Fort Smith.
April 8, 15, and 22, 7-8:30pm: Intro to Modern Art with Curator Mindy Besaw at Crystal Bridges Museum of American Art, $30 ($24 for members)
Expand your appreciation of modern art with this overview of the temporary exhibition Van Gogh to Rothko with Curator Mindy Besaw.  In this three-part series, Besaw will present a survey of the exhibition, offering insights on the birth of modern art movement.  The series includes lecture and gallery discussion, as well as experiences of the artists' voices through short readings. Register online or by calling Guest Services at 479.657.2335.
April 10, 5-7pm Creative Cocktails at Cannibal and Craft
New Design School and the Northwest Arkansas Creative Arts Network are joining together to co-present Creative Cocktails 2015, a series of networking events designed to connect creative people with the community and with one another in a relaxed social setting. Taking place from 5-7pm on the second Friday of every month at various locations around Northwest Arkansas, Creative Cocktails offers the opportunity for makers, doers and creatives in the area to unwind, meet other creatives and connect with people who seek their products or services.
Our April event is the first of the year and will be held at Cannibal & Craft in Fayetteville. Bring a friend and come meet the makers, doers and creatives in our region. This event is free and open to the public. We ask that you register via Eventbrite so we can learn if you are a creative offering products or services or seeking creative products or services.
Beginning in 2014, Creative Cocktails was held at various locations in Northwest Arkansas including 21c Museum Hotel, Mermaids Restaurant and XYZ Bar at Aloft. Throughout the year we helped to connect over 100 creative people—strengthening our creative economy.
April 10-11, 8pm: East Hall Recordings 10th Anniversary Bash at Ryleighs
East Hall, the major recording studio in the region, is celebrating 10 years of recording in Northwest Arkansas with a two nights of shows featuring some of the area's best known bands they've worked with. Teenagers, The Chads, The Good Fear, Basement Brew, and Will Gunselman are playing Friday night. Pagiins, Ten High, Hot Shot Karate, Witchsister, and JT Bowen will round of up the line-up on Saturday night.
Beginning April 11, 2-5pm: Wildflower Excursions at Botanical Garden of the Ozarks and Porcelain Workshops at Community Creative Center, free
Be part of Remembered and Rendered: A Ceramic Garden, an Artosphere Arts and Nature Festival Art Installation. This outdoor art installation will celebrate the natural beauty of our region with thousands of handmade porcelain wildflowers conceived and created by Fayetteville artist Katie Sleyman.
The community is invited to participate through wildflower excursions and ceramic workshops. Wildflower excursions at the Botanical Garden of the Ozarks will familiarize participants with the beauty of native wildflowers. Following the tour, participants will gather in the Community Creative Center studios where the artist will help them translate their wildflower experiences into clay.  The porcelain wildflowers created during the workshops will be used in the installation. April 11 will be the first of several of these tours and workshops; the tour lasts from 2-3 at the Botanical Garden of the Ozarks while the Porcelain Workshop lasts from 4-5 at the Community Creative Center.
April 11, 3-7pm: Wines and Vines in the Garden at the Botanical Garden of the Ozarks, $40 for single, $75 for couple.
The inaugural 2015 Wines & Vines in the Garden is a wine tasting festival that celebrates spring and great wines from across the region and country. Tickets include sampling from over 50 wines, live jazz from Block Street Hot Club, great community and an afternoon in the beautiful blooming Botanical Garden of the Ozarks. Local food trucks will be selling their finest dishes.
April 11, 6-9pm: The Pink Epidemic, work by Zoe Eagan at the Shed Gallery
The Shed is excited to host the opening reception of ceramic work by University of Arkansas BFA student Zoe Eagan. Eagan operates within a feminist framework of gender neutrality, with a focus on the 'pink epidemic'. Her ceramic works mock, embody, and challenge the status quo of a gendered society. Some drinks and snacks are provided. The work will be available for viewing upon request throughout April.
April 11, 5:30-9: Black Apple Awards at the Garden Room (afterparty at Cannibal and Craft), $5
The Idle Class Magazine will host the inaugural Black Apple Art Awards, benefiting Art Amiss at the Garden Room, located at 215 W Dickson Street. Doors open at 5:30, followed by a live musical performance at 6. At 7, a fashion show by Art Amiss will begin which will lead into the award ceremony at 7:30.  An after-party will be held at Cannibal & Craft on Dickson Street. The event is sponsored by BLKBOXLabs, KABF 88.3 FM and KUAF 91.3 FM.
April 14, 6-7pm: New Design School Presents Careers in Animation lecture by professional David Kersey at the Fayetteville Public Library, free
David Kersey tells his story of developing from a traditional artist to Digital Animation Artist at the Walt Disney Company. He'll talk about his experience of making animated movies such as The Polar Express to the number #1 grossing animated movie of all time Frozen. He will also discuss how you can build your traditional art skills from sketchbook to digital format and into a career in animation.
April 14, 9pm: Penultimate Poetry Orgy at the Nines, free
One of the last of the monthly Poetry Orgies, a casual group of community members reading short works in succession followed by a featured poet. April's Orgy features all locals with longer works from Taylor Anne Gladwin & Raina Lyons and very short readings from Mary Angelino, Kaveh Bassiri, Parrish Craig, Erin Michelle Davis, Geffrey Davis, C. Violet Eaton, Nicole Fares, Willi Goehring, Pamela Sue Hitchcock, Mehreen Jamal, Michelle Myers, Katie Nichol, Sara Nicholson, Molly Bess Rector, & Eszter Takacs. The event is organized by Matthew Henriksen.
Samantha Sigmon, a Northwest Arkansas native, is currently the Executive Director of the Fayetteville Art Alliance (known as the Fayetteville Underground), a regional artist-centered nonprofit. She also directs a collaborative DIY arts and music venue in downtown Fayetteville called Backspace, is a board member of the New Design School, and serves on several art and local business committees. She received a Master of Arts from Syracuse University's Museum Studies program in Syracuse, New York in Fall 2012, with a focus on curating. Previously she graduated with a Bachelors of Arts in anthropology and a minor in English literature in 2010 from the University of Arkansas.
Places Noted:
— Backspace: 541 W. Meadow, Unit H, https://www.facebook.com/backspacearts
— Botanical Garden of the Ozarks, 4703 N. Crossover Road, www.bgozarks.com, 750-2620
— Cannibal and Craft: 212 W. Dickson, https://www.facebook.com/cannibalcraftbar, 571-4994
— Crystal Bridges Museum of American Art, 600 Museum Way, crystalbridges.org, 418-5700
— Fayetteville Public Library, 401 W. Mountain Street, faylib.org, 856-7000
–Fayetteville Underground: 101 W. Mountain Street, fayettevilleunderground.com, 871-2722
— The Garden Room, 215 W. Dickson Street, gardenroomcatering.com, 966-7132
— JRs Lightbulb Club, 19 N. Block Avenue, https://www.facebook.com/lightbulbclub, 587-9512
— May Bell Music, 120 N. Block, maybellmusic.com, 442-2692
— The Nines, 546 W. Center Street, https://www.facebook.com/thenines99, 521-9999
— Nomad's Music Lounge: 1431 S. School Avenue, https://www.facebook.com/nomadsmusiclounge, 443-1832
— Ryleigh's, 313 W. Dickson, http://www.ryleighsondickson.com
— the Shed, 546 W. Center, Unit E, artattheshed.com,
— sUgAR, 1 East Center Street, https://www.facebook.com/sugaruark, 575-5202
— Teatro Scarpino, 329 West Avenue, scarpino.com, 966-7363
— War Eagle Mill, 11045 War Eagle Road, wareaglemill.com, 866-492-7324
— 21c Museum Hotels, 207 NE 2nd Street, 21cmuseumhotels.com, 286-6500