Paradise Explored Theatre Co. to perform "All in the Timing"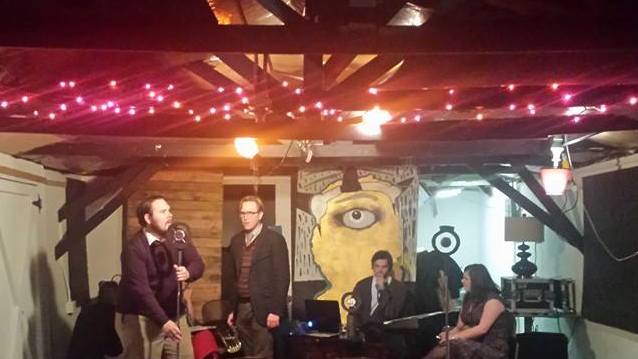 WORDS / JANE URQUIZU
Paradise Explored Theater Company is one of the most passionate theater companies you've never heard of.  But they're out to change that.
You'll have the chance to share their passion for theater at their next performance at Fossil Cove Brewing Company in Fayetteville on Friday, March 6, starting at 7:30 p.m. The performance will consist of selections from David Ives' "All in the Timing," a collection of comedic short plays that focuses on language, existentialist life perspectives and the complexities of relationships.
Arkansas' natives, Brady Ness and Matthew Duncan, started the company as a way to connect and grow with their fellow Arkansan actors. "We happen to be in a place where it's possible to build something small but meaningful." Said Matt and Brady. "We want to create a sort of halfway house for Arkansan actors."
The group is dedicated to learning and growing in the art of theater through intimately staged performances that work both as an intellectual and emotional exercise. As for the future of the group, Matt and Brady have lots planned. "Looking forward, we'd like to begin experimenting with established texts through adaptation in addition to promoting new work by local playwrights." Said Matt and Brady. "As long as we're pursuing the dramatic goal of uncovering truth through artifice and innovation we'll be happy. That could range from adapting a medieval mystery play to address modern problems to working with local musicians to create a comic opera." Matt and Brady continued.
One thing's for sure, you won't find anyone in this group who's only in it for the money. None of the actors are paid, which means Paradise Explored Theater Company's performances are strictly for the pure joy and passion of theater.
If you can't make it to this performance, you can find out where Paradise Explored Theater Company is performing next via their Facebook page.
Photo courtesy of Paradise Explored Theatre Company.