Opera in the Ozarks at Inspiration Point returns for its 64th season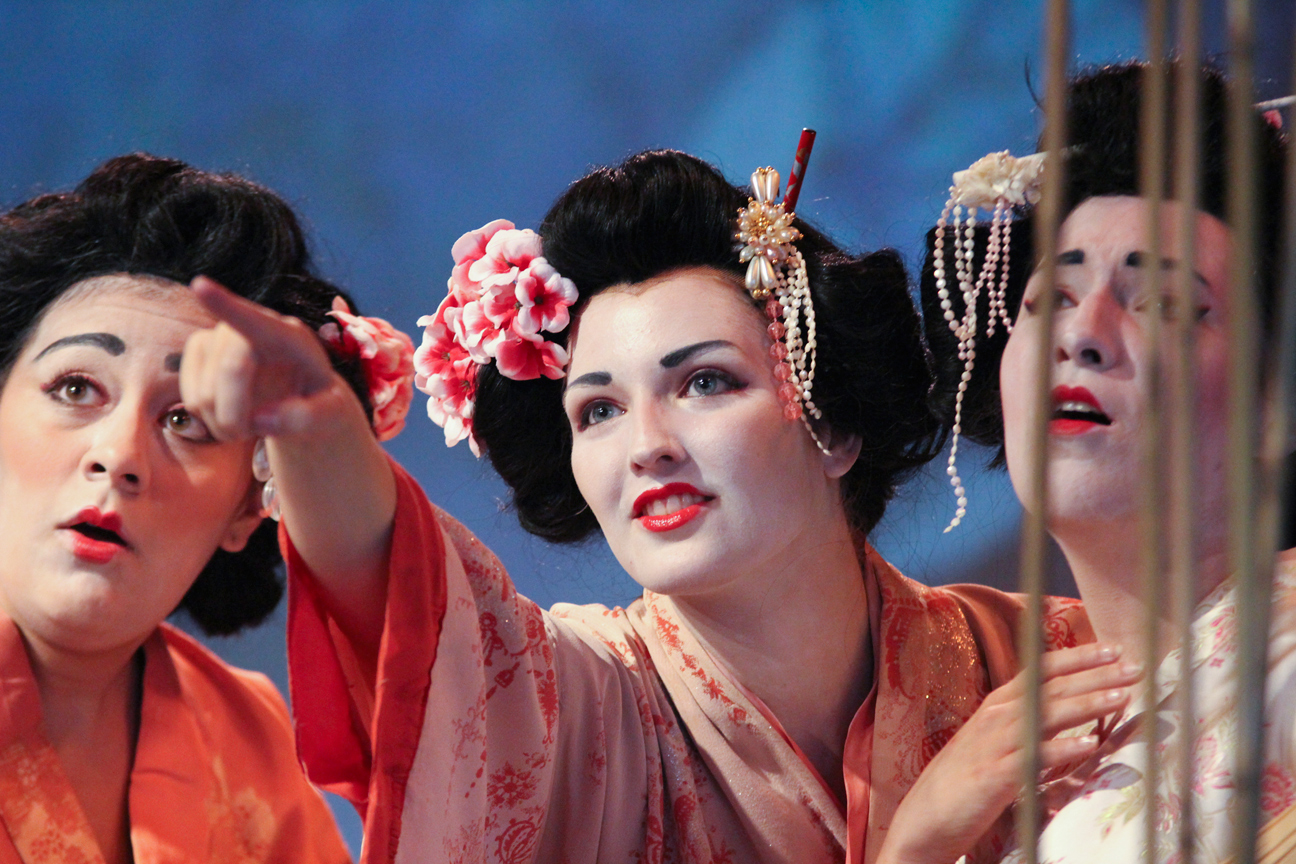 WORDS / SUSAN PORTER
Spoiler Alert: If you're an opera aficionado this story may not be for you.
Believe it: Opera and heavy metal are pretty close cousins. Opera is the human voice at its biggest and best. Opera's dramatic (or comedic) intensity and the supercharged power of the voice really can be compared to the pumped-up intensity of heavy metal. There are differences of course, metal ventures toward the discordant vibe, while opera follows melody, but for one thing, they're both about projection–metal with the biggest amps and electronics and opera with the human voice and an over-the-top mix of costumes and some exaggerated gestures.
OK, apologies to those who are offended by this over-simplified comparison. But for those with an open mind and who might have never ventured to the opera before, it is a point of reference. So we'll continue…
When this writer produced a music show a few years ago, something surprising happened. During sound check, the rock, bluegrass, hip hop, indie and punk bands all wanted the microphones and amps cranked up as much as possible. Then there were theses two young opera students. When they took the stage in their long formal gowns they said "no" to the microphones and any amplification. "It would be really loud, if we used a mic," they chimed in.
No microphones? Everyone involved in the production doubted that these two lovelys would be able to grab the attention of a noisy crowd of 400, but they did. The crowd had come to hear their favorite bands, but when the opera artists hit their first unamplified high notes, the crowd became hushed and intrigued by what these two could do. There was a standing ovation and hoots and cheers rather than "Brava" since most of the audience had never experienced anything quite like this before.
It's not always easy to catch an opera in Arkansas, but from June 20 through July 18, you can become part of the opera experience during the 64th annual Opera in the Ozarks at Inspiration Point, 5 miles west of Eureka Springs at 16311 U.S. 62 West.
This year, Opera in the Ozarks will bring together some of the best rising stars from around the county for performances of "Cosi fan tutte" Wolfgang Amadeus Mozart 1790, "Suor Angelica" and "Gianni Schicchi" Giacomo Puccini 1917 and "Into the Woods" Stephen Sondheim 1986. The orchestra, too, is composed of rising musical talent from around the country.
The Opera in the Ozarks venue at Inspiration Point is unlike any opera venue you would find in an American city. Instead of a grand opera house, the OIO outdoor theater is unassuming and nondescript and fails to convey the quality and grandeur of the productions that take place inside.
The backdrop of the Ozark mountains behind the stage recalls the setting of "The Sound of Music" and while waiting for the performance to begin and enjoying the view, it's hard to believe that your sitting in Arkansas. It's stadium-style seating, so take a cushion. And as we all know, summer nights in the Ozarks can be hot and muggy, although this year the evenings have been cooling down nicely so far. For the past 63 years, the venue has not been air-conditioned, but that has changed. It has been well advertised that the open-air venue will be air conditioned for this year's run and it will be interesting to see how that works.
Shows are nightly with curtains at 7:30 p.m. with a few exceptions. The company will move to the Arend Arts Center in Bentonville, for three Sunday performances, a performance on July 11 and for a special gala concert on July 13 saluting longtime OIO director Jim Swiggart and featuring several Opera in the Ozarks alumni including Metropolitan Opera artist Latonia Moore. The Inspiration Point theater will also be dark June 22, 23 and July 4, 10, 12. For a schedule and tickets visit opera.org or call the box office at (479) 253-8595. Ticket prices range from $20 to $27 and all seats are reserved.
If you've been to the opera in one of America's opera cities, you know that folks dress in their best and don't hold back when they like what they hear. Instead the pumping fist action commonly used by fans at a rock show, opera fans let go with shouts of Bravo, Brava and Bravi. For performances at OIO, wear something cool and comfortable and know when to shout what. Bravo is reserved of outstanding performance by a single male artist, Brava for a single female artist and Bravi for the company.
VISIT: OPERA.ORG
Photo courtesy of Opera in the Ozarks