Arkansas Music Pavilion unveils permanent location for 2014 season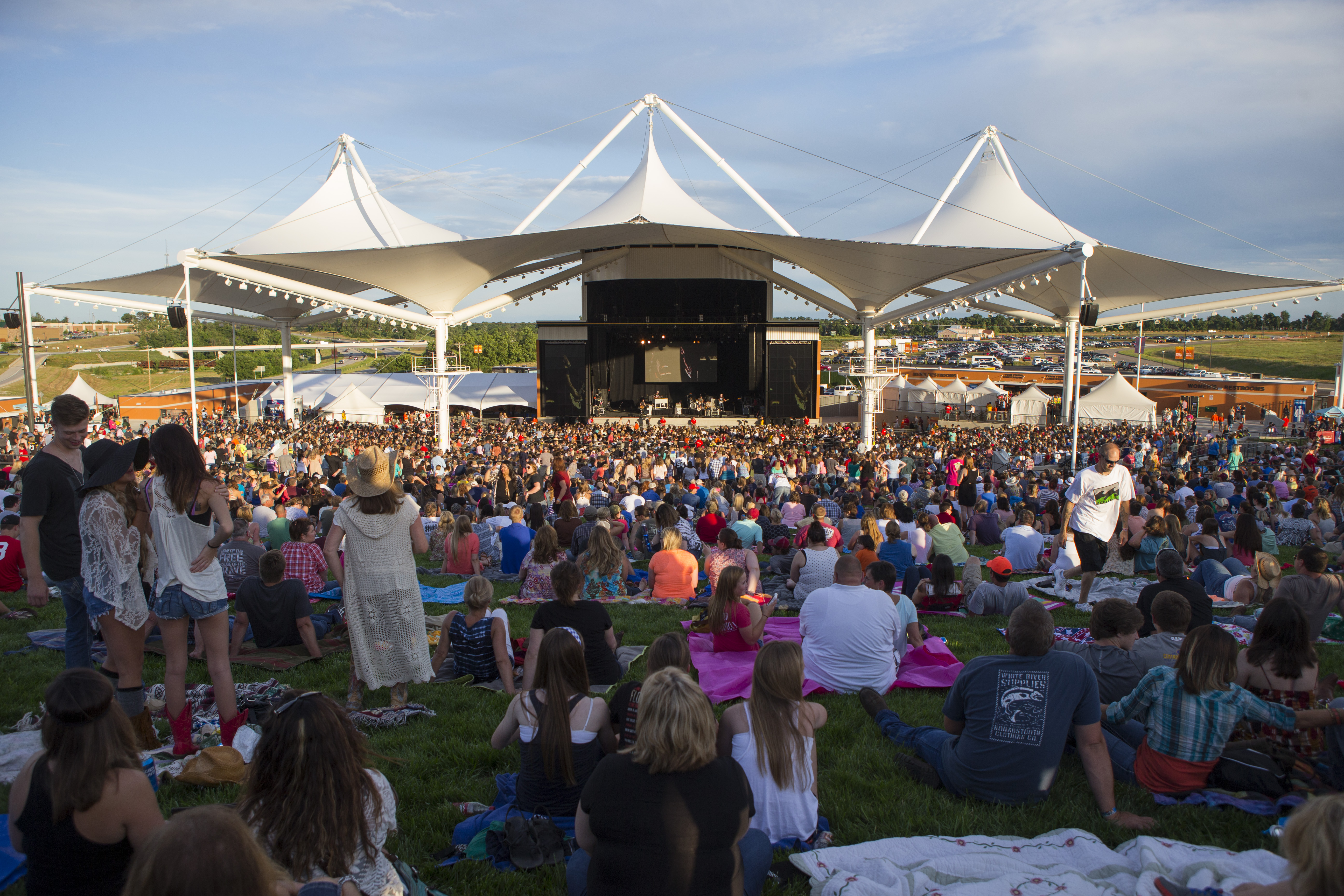 WORDS / MORGAN COOK
PHOTO / WESLEY HITT
You have most likely at least heard about the construction and all of the new projects going on at the Walmart Arkansas Music Pavilion (AMP) lately, and now concert goers have finally been able to experience and enjoy all of the new additions and perks of the beautiful music pavilion for yourself.
According to the AMP's website, the Walmart AMP holds a spot as one of the top 100 amphitheaters in the nation, "and has produced headlining concerts for the past eight years, presenting the best of every genre – from rock and country to electronica and pop". Presented by Walmart, the AMP kicked off this year's incredible summer lineup by hosting its Grand Opening Community Concert featuring country star Blake Shelton with special guest Hunter Hayes on June 7th, 2014.
Fans will notice many differences at the new AMP. Guests can enjoy a 34,500 sq. ft. permanent canopy that is built to last 25 years and with stand snow loads, rain, hail and 90 mph winds. It will have great sightlines, exciting audio/video capabilities, comfortable and covered seats, a bevy of restaurants, parking and shopping options nearby.
Building the Walmart AMP furthers the vision of Walton Arts Center's multi-campus strategy to meet the growing arts and entertainment needs of NWA. With a capacity of 7,000+, 3,000 comfortable chairs under the covered tent, upgraded concessions, air-conditioned restrooms, VIP facilities is what guests will see differently from their experiences from previous AMP locations. There will also be the opportunity to have other community events, corporate functions and conventions here.
"We are excited about opening the largest permanent amphitheater in the state of Arkansas," said Erin Rogers, interim public relations director for Walton Arts Center and the Walmart AMP.
"The venue will attract big-named artists that will draw many tourists into our region and help fuel economic activity for the entire region. These guests will now travel to NWA to experience a true entertainment destination, instead of traveling to cities like Tulsa, Kansas City, or even Dallas for concerts."
Tickets to see Blake Shelton and Hunter Hayes quickly sold out earlier this month. There are still a large number of other great artists scheduled, helping to make this coming summer the most eventful and exciting summer at the AMP thus far.
Following the grand opening, on June 20th the AMP will host country artists Darius Rucker, Pat Green, and A Thousand Horses on their "True Believers" Tour. About a week later on the 28th, an already sold-out show featuring Dierks Bentley and Northwest Arkansas' very own country band, Backroad Anthem, will also join in on Walmart's Community Concert series as part of the NW Arkansas Championship Presented by P&G. Other artists scheduled to make an appearance at the AMP this summer include the one and only Willie Nelson, Miranda Lambert, Steely Dan, Pepe Aguilar, Boston, and Steve Martin and The Steep Canyon Rangers featuring Edit Brickell; and that's just to name a few.
To purchase tickets, keep yourself up-to-date with any future shows and any last minute additions to the summer lineup, or just to sign up to become an AMP Insider, you can visit their website at www.arkansasmusicpavilion.com.
Whatever your summer plans, make sure to stop by the Arkansas Music Pavilion and attend one of these great shows before the summer ends. As their website says, "For the best live music in Fayetteville, and all of Northwest Arkansas, the AMP is your destination". We hope to see you there!