New Gallery Director and Art Exhibition "Between and Beyond" at The Gallery at Midtown Associates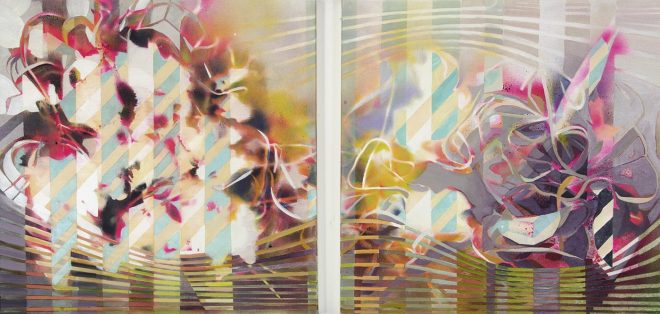 The Gallery at Midtown Associates will host a solo show for their new gallery director and curator, Kellie Lehr. Lehr will be organizing and curating all gallery exhibitions moving forward. "Between and Beyond," an exhibit of her most recent works, will open April 25. Her work will remain on display and be available to purchase until July.
"I'm excited to work with The Gallery at Midtown to showcase regional artists and their art to this community," Lehr said. "Crystal Bridges, The University of Arkansas' School of Art and 21C Museum Hotel are of course the big names driving incredible impact in our area but The Gallery at Midtown is also playing an important role fostering a thriving creative community."
Organic forms interact with geometric patterns and structures in Kellie Lehr's paintings, creating interplays between natural and artificial worlds. The dreamlike atmospheres invoke environments suspended between subjective fantasy and technological reality, simultaneously exploring mental distortion and lucidity.
"I am excited for Kellie to bring in new artists for the community to get to know as well as to show her own work here at our gallery," said Michelle Dearing, Owner of  Midtown Associates. "I love art and bringing people together. I'm most excited about continuing fostering connections between the artists and our community."
Kellie Lehr is an award-winning painter based in Fayetteville with work featured in private collections in Arkansas, California, New York, Texas, Florida, and Canada.  After receiving her Bachelor of Science in Business Administration in International Economics, Lehr lived in Russia and California before returning to Arkansas in 2007. Lehr worked in high tech with companies such as Microsoft and IBM and co-founded a consulting firm called Channel Pursuits, LLC. Her work in high tech influenced her work as a painter. She studied in the paiting and drawing program at the University of Arkansas from 2013 to 2018, according to a press release.
Recent exhibitions include the 59th Annual Delta Exhibition at the Arkansas Arts Center in Little Rock and 21c Museum Hotel Bentonville. Lehr recently had a show in Little Rock at Boswell Mourot Fine Art and a solo show at The Center for Art and Education in Van Buren. She was selected by the Arkansas Committee of the National Museum of Women in the Arts in Washington D.C. for the 2019-2020 registry and was selected for the juried registry "The Art File" by the Painting Center in NYC, according to a press release.
Instagram @kellielehr
kellielehr.com
MEDIA CONTACTS:
Michelle Dearing
Principal Broker/Owner
Midtown Associates
Michelle@Midtown.Today
(479) 268-5170
Kellie Lehr
Gallery Director and curator,
The Gallery at Midtown Associates
Kellie.lehr@gmail.com
714.322.0698