Artist-in-Residence program opens at The Momentary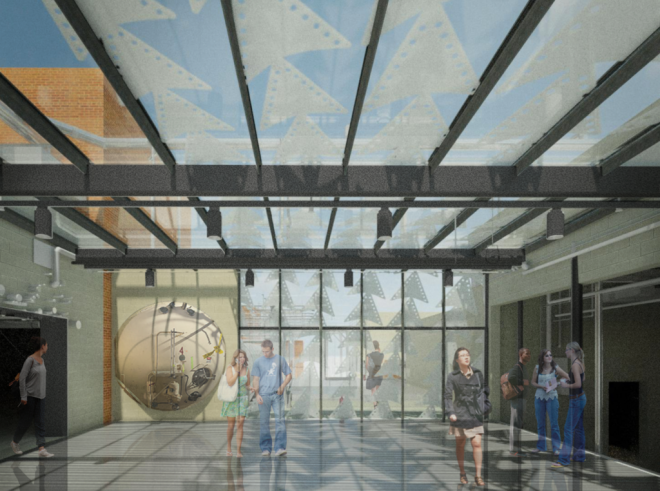 In an expansion of the visiting artist program at Crystal Bridges, The Momentary, a planned satellite for the museum, is launching an Artists-in-Residence program in spring 2019. This will act as a space for artists to have access to studios and creative spaces during the construction of The Momentary.
As of 2016, the Crystal Bridges plan is to turn the 63,000 square-foot space of Kraft Foods plant into a space for the visual, performance, and culinary arts. The space will also hold the AIR program and will provide a place for the community to interact with the artists.
The Momentary will include galleries, studios, theater and concert spaces, as well as a cafe and bar, and three dedicated studio spaces for artists in residence. These spaces include traditional, multimedia, and 3D/sculpture, according to The Momentary press release.
Crystal Bridges started piloting the AIR program in 2017 and with the hope of it opening with the Momentary in 2020. Two of the past visiting artists are Leonardo Drew and Nina Chanel Abney.
"This program focuses on the artists themselves," said Lauren Haynes, curator of visual arts at the Momentary and curator of contemporary art at Crystal Bridges. "During their stay, the artists create a work, process an idea, or develop a project while in dialogue with the organizations and people of our area. Their work expands on our vision of bringing contemporary art to our community."
The four artists for the spring lineup of the program at Ebony G. Patterson, a visual artist; Will Rawls, a choreographer, performer, and writer; and Nathalie Joachim and Allison Loggins-Hall of Flutronix who are both flutists and musical artists.
The program supports artists from six weeks to six months and allows them to take on projects in their artistic field. Artists are chosen based on three aspects: how artists think critically about relevant themes to American art; their connection to nature and architecture, and their degree of involvement with the Momentary's mission to make contemporary art a part of everyday lives.
More information and season announcements on the Momentary will be coming soon.
Facebook: The Momentary
Twitter: @themomentary
Instagram: @themomentary