New Fenix Gallery exhibition Our Universe opens in June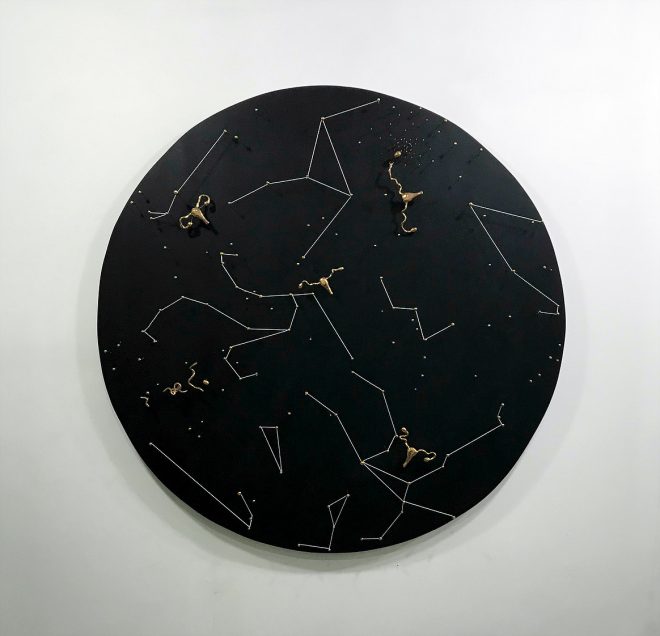 Fenix Fayetteville will partner with Walton Arts Center and "Artosphere" events to present a visual and performing arts festival, "Our Universe," at the gallery. Programming includes art exhibition and installations, staged readings, spoken word, music ensembles and community education workshops.
The pinnacle project of the festival is the live painting of a revolutionary tri-dimensional mural based on a technique called anamorphosis, according to a press release. The mural will permanently transform the space and a have lasting presence and impact.
Artists Octavio Logo and Eugene Sargent will create a unique mural installation on the east wall of the building grounded in the concepts of strength, courage, and transformation represented through a colossal female figure. Artist Craig Colorusso will present "Sun Boxes," an immersive installation of music generated by solar rays and will also share an installation in the Fenix Gallery of the 'CUBEMUSIC' boxes. The Sun Boxes are made of 20 independently operating speakers, each powered by the sun via solar panels, according to a press release.
The exhibition runs from June 6 through July 31 with an opening reception on First Thursday, June 6, from 5 to 8 p.m. and additional reception July 4 from 5 to 8 p.m.
Our Universe is the eighth exhibition to be shown at Fenix Fayetteville's permanent location at 16 West Center Street, just off the Historic Fayetteville Square.
GENERAL INFORMATION
Title: Our Universe
Location: Fenix Fayetteville, 16 West Center Street, Fayetteville, AR 72701
Dates: June 6th – July 31st
Hours: Wed-Fri 10am-5pm, Sat 9am-2pm
Cost: Free
Opening Reception: First Thursday, June 6th, 2019, 5-8pm
Additional Reception: First Thursday, July 4th, 2019, 5-8pm
Details and Updates: Facebook: @fenixfayetteville
Music: Asher Perkins
Opening highlights: Installations by Ed Pennebaker, Aimee Papazian, and Craig Colorusso. Visual art by Fenix artists
OUR UNIVERSE EVENTS:
June 6th: Our Universe Opening 5-8pm
June 7th: Craig Colorusso 'Sun Boxes' installation. Setup during gallery hours.
June 15th: Star Making workshop by JoAnn Kaminsky and Fawn Wonsower-Potter at 9:00am-12:00pm.
June 15th: Sonic Images – Chris Teak and Quintopus at 7:00-9:00pm
June 22nd: Instrument making workshop for children by Craig Colorusso at 10:00am-12:00pm