Q&A: Crystal Bridges brings new Color Field exhibition to NWA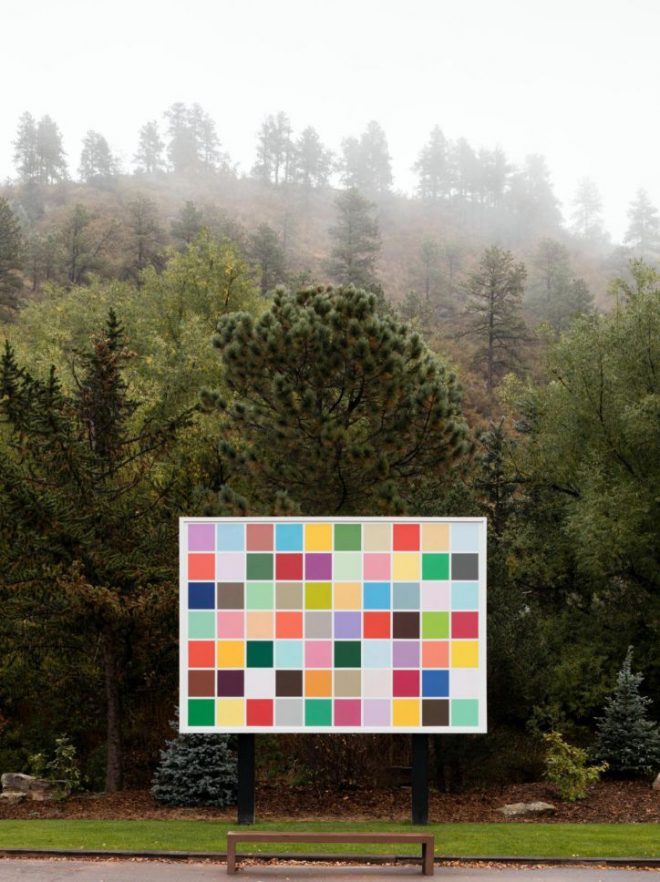 INTERVIEWS / ELLEN GIBSON
Bringing Northwest Arkansas new ways to experience art is what Crystal Bridges Museum of American Art does best. With its many exhibitions and special events, the museum seeks to bring art and the community together. Of all the art that Crystal Bridges is showcasing, one summer exhibition pops out – Color Field.
We sat down with Allison Glenn, curator of Color Field, to learn more about the exhibition.
IC: What is Color Field?
AG: Color Field is an outdoor sculpture exhibition featuring artists that employ lush colors and enlarged forms in an expanded field: Crystal Bridges North Forest and specific locations within the museum. It considers the impact of color and the history of painting through a new framework. Inspiration is taken from a mid-twentieth-century painting style called color field painting. Arkansas sunsets, the dynamic color of late fall Ozark leaves, muted soft hues, rich vibrant tones, Josef Albers's canonical text Interaction of Color, and the Pantone Color of the Year also give inspiration to the style.
Twenty-one artworks by 10 artists will be located in various locations across Crystal Bridges' campus. They are connected by a soundscape composed by Amos Cochran that is available on the website and Crystal Bridges Outdoor App. The soundscape will also be played from speakers positioned in the North Forest at various intervals of the day.
IC: What was the inspiration for putting on an exhibition of this specific art style?
AG: One of the first things I noticed when I started at Crystal Bridges was how many of the more notable color field painters were on view in the contemporary galleries. At the time, I was also researching painter and professor, Josef Albers. After a remarkable teaching career, Albers published Interaction of Color: a limited-edition color portfolio that meticulously displayed the different ways color impacts our perception. The portfolio was originally intended to be a guide for professors and art instructors to teach color theory. I wanted to connect this painting movement and Albers' canonical text to the contemporary moment. Therefore, I began to consider how abstraction, color, light and time were explored through the work of contemporary artists working across media.
IC: How did you decide where to place the different art works?
AG: I work with a team of extremely talented individuals. After conferring with the artist about the specific needs of their artwork, the placement of the works begins with a conversation between me, the Exhibition Designer, and our Director of Trails and Grounds to determine what site is conducive to each work.
IC: How is Color Field personal to you?
AG: Color Field is the first outdoor sculpture exhibition that has been internally curated by Crystal Bridges staff, and the first outdoor sculpture exhibition that I have curated. It is really special to think about the impact that I can have at this new museum in this gorgeous landscape, and that I can share my first with Crystal Bridges.
IC: What do you hope the audience gains from their experience with Color Field?
AG: I hope that guests develop a clearer sense of the impact that color and light can have on their experience of the world. Whether they are a seasoned museum goer, or this is their first time visiting, I would like guests to be intrigued, to have their interest peaked, and to walk away from the exhibition asking questions—and with a desire to return!
 also took a moment to speak with the composer of Color Field, Amos Cochran, to learn more about the soundscape of the exhibition.
IC: What is your involvement with Color Field?
AC: Allison Glenn reached out and asked if I would be interested in creating a soundscape to go along with the exhibition.  I have never done a project like this, but this was the perfect opportunity to find new ways to present sound. Allison gave me free rein to create anything I wanted, and the only conversation we had was on the idea of using texture more than melody.
After assembling everything on my own, the biggest decision I had to make was how long the music should be. In the end, I chose the five pieces that I liked the most which end up being around 25 minutes long. This feels long enough for the casual walker to have different sounds the entire time they are viewing the exhibition.
My favorite part was where I recorded Miranda Baker Burns on Violin and Christian Serrano Torres on Cello.  I knew I wanted a subtle texture of real strings that I could push way back in the mix. Also, one section of the piece is made completely with improvised harp played by Devanee Williams.
Color Field will run June 1 – September 30. Tickets can be purchased online at https://crystalbridges.org/exhibitions/color-field/ or at guest services in the museum lobby. The exhibition is free for museum members, youth ages 18 and under, and veterans.