"Layers. Texture. Color." The Work of Shareen Pruitt coming to The Art Collective Gallery, new gallery podcast in works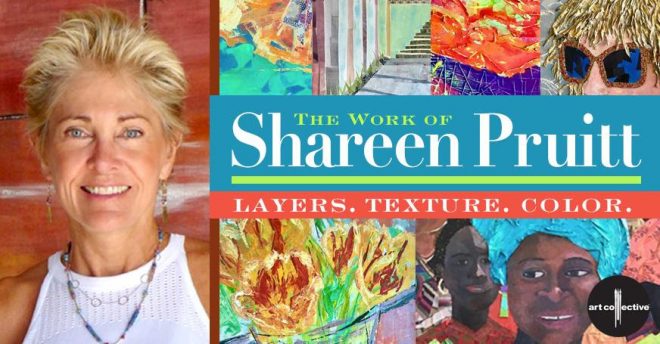 The Art Collective is starting the new year on the right foot with a new podcast in the works and pop-up exhibitions, starting with self-taught artist Shareen Pruitt.
Pruitt has always had a deep interest in all aspects of art. Twenty years ago she began to discover her artistic journey by painting furniture and creating paper mâché sculpture. Ever evolving, she consistently pushes herself to dive deeper into discovering shape, form, texture, and color. Using recycled materials, paper, fabrics and paint results in 3D colorful stories on canvas.
Pruitt's work will be in the pop-up room at The Art Collective Gallery in Rogers. The artist reception is free and open to the public 6-10 p.m. Jan. 11. Refreshments will be served.
A local photographer and recipient of the 2019 Favorite Photographer Black Apple Award is partnering with Art Collective's gallery director to debut the new podcast "Art is Everything."
Marsha Lane Foster and Jim Forman will live tape each episode at the Art Collective Gallery during gallery hours so visitors can be a part of the process. The podcast will feature creative folks from all over the region. The first show is slated for 3 p.m. Jan. 25 and is open to the public.
The Art Collective is located at 228 South First St. Rogers, AR 72756. Gallery hours are 6-9 p.m. Wednesdays through Fridays and noon to 9 p.m. Saturdays.