The Holiday Hangout returns to White Water Tavern (12/6-12/8)
WORDS / SUSAN PORTER
PHOTO / MELISSA BRAWNER
Breaking up the ho-hum of the holidays is a challenge, but Travis Hill of Last Chance Records has ridden to the rescue. Partnering with the grandaddy of Arkansas music clubs, Little Rock's White Water Tavern, Hill has once again pulled together the Holiday Hang Out. The three-day music blowout rolls at 8 p.m. Dec. 6. and Dec. 7 and at 12 p.m. Dec. 8 with "Breakfast, Books & Booze."
More than a dozen acts are on the lineup and there's rumors of special guests each night. On tap are Ben Nichols of Lucero, Glossary, Slobberbone, Red Collar, John Moreland, John Paul Keith, Lee Bains III & The Glory Fires, Mulehead, Kevin Kirby, Adam Faucett & Tall Grass, Jkutchma, and Micah Schnabel and Shane Sweeney, both of Two Cow Garage.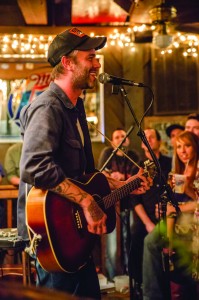 If you've never been to White Water Tavern, you won't find it by driving down Pres. Clinton Avenue. The club has been tucked away at 2500 W. 7th St, for what, 40 years? If you haven't been, it's high time you do. WWT is also having an extra special post-Christmas treat on Dec. 26 with two seminal Little Rock bands, The Big Cats and Mulehead.
Advance VIP tickets are $60 for a three-day pass and are on sale now. Hill has been working on special hotel rates for all the out-of-towners. Get the scoop on tickets and rooms at WhitewaterTavern.com or LastChanceRecords.com.