Last Night Fayetteville gears up to ring in 2014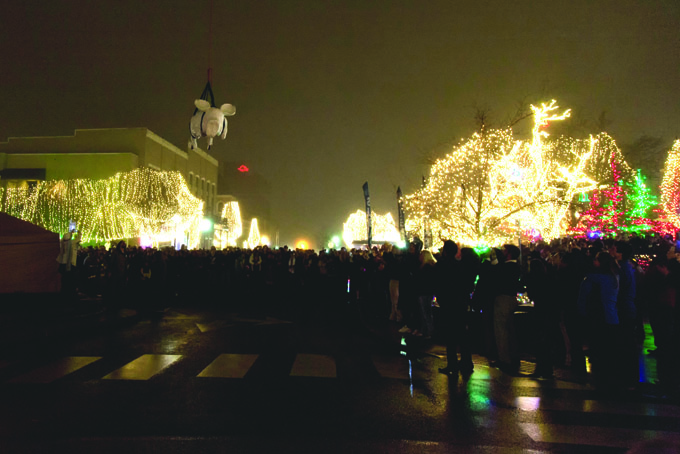 Last Night Fayetteville, Arkansas' largest New Year's festival, will return to the downtown square on December 31 to celebrate the end of the year with local bands Shawn James & the Shapeshifters, The Flipoff Pirates, Swimming, and Surf de Soleil playing the Main Stage. Several indoor venues around the square will host a variety of musicians, performers, comedians and artists, promising to provide a full evening of entertainment for revelers. The tradition continues as Fayetteville welcomes 2014 with the newly designed Hog Drop Countdown to Midnight and a spectacular fireworks display.
"Last Night Fayetteville is growing every year," said Event Director Lauren Embree, who is directing her third festival this year. "We were named by Trip Advisor as one of the Top 10 Most Unique New Year's Eve Celebrations in the US last year, a title we look forward to defending with our 2013 event."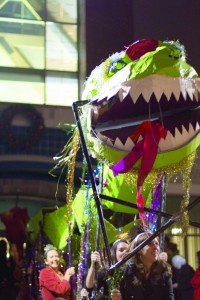 In order to live up to its new title, Last Night Fayetteville is growing the number of performances to accommodate their usual sold-out crowd, including doubling the size of the Main Stage and packing the night full of nonstop entertainment. Other musical acts set to perform include local favorites Messy Sparkles, Shannon Wurst, Still on the Hill and Outside the Lines. Comedy lovers will laugh in the New Year with Phunbags Comedy Improv, Comedians of NWA and the brand new Rodeo Book Club. Theatre fans won't want to miss the Artist's Laboratory Theatre's annual production of "Found Fayetteville," in the giant "Sheet Fort Theater," a unique Last Night tradition. Also joining in on the fun for the first time in the Sheet Fort Theater is Fayetteville's newest youth theatre company, New Threshold Theatre.
Other additions to the evening's festivities include the international award winning juggling duo Jugglology, aerial dancers Ellen Johnson & Shannon Norman, Fayetteville Word Wars, the Terra-Nova Belly Dancers, and an adults-only performance by Violetta Lotus Burlesque. Revelers looking to be treated throughout the night will enjoy a new VIP experience presented by Chef Emily Lawson from The Depot along with handcrafted cocktails from Pink House Alchemy. A local beer garden featuring some of the region's best brews is also planned.
Admission to the event will be $15 in advance for guests 12+ and $5 for children 2-12. A limited number of VIP tickets are available for $65, and include access to the VIP Lounge at the Main Stage featuring catered hors d'oeuvres, desserts and cocktails, along with a champagne toast at midnight. Tickets & more information are available at the festival's website.
VISIT: LASTNIGHTFAYETTEVILLE.COM
FACEBOOK.COM/LASTNIGHTFAYETTEVILLE
TWITTER.COM/LASTNIGHTVILLE
(Photos courtesy of Last Night Fayetteville)