The Little Craft Show returns to NWA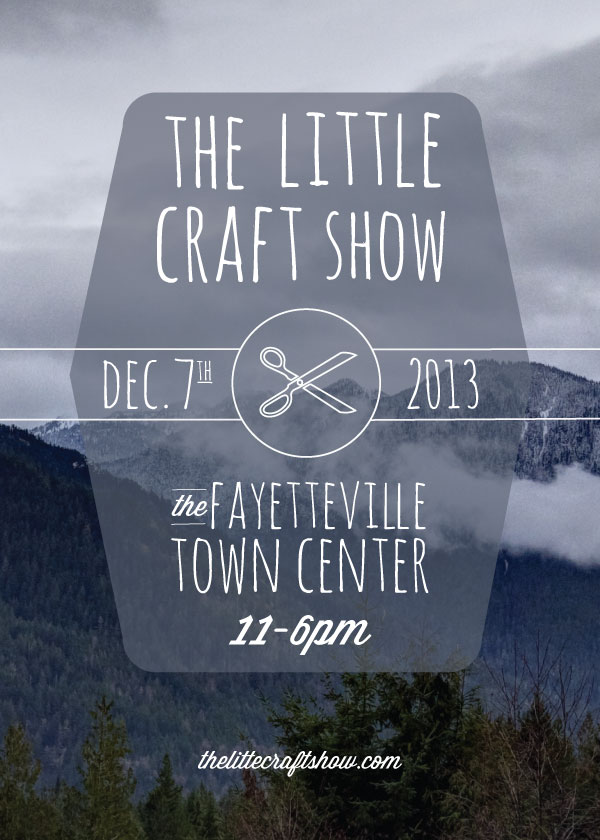 It's time to get crafty once again. The Little Craft Show, NWA's indie craft show, takes place on December 7 at the Fayetteville Town Center. Not only is it the best place to check off your holiday lists by purchasing extraordinary gifts, but it's an art and craft experience unlike any other.  With it's large scale venue, juried indie crafters, phenomenal music, and delightful decor, The Little Craft Show strives to seek out and provide the best of the best for both it's vendors and patrons. Expect high-quality, affordable products with stylish booths.
Only in it's third year, The Little Craft Show was awarded funding from the Fayetteville A&P Commission for the 2nd year in order to be housed at The Fayetteville Town Center. With over 13,000 square feet of indoor shopping space, free covered parking, handicap accessibility and a central location to downtown shops, this years Little Craft Show is set to be the best yet. In addition to the support shown from the Fayetteville A&P, The Little Craft Show has been lifted by over 20 local businesses that have invested in the success of The Little Craft Show as sponsors.
Growing from 600 patrons in 2011 to nearly 4,000 in 2012, organizers are expecting over 6,000 shoppers to come to their event this Saturday. Patrons can expect a wide variety of local, handmade and original goods. The 72 vendors will showcase an array of mediums that might include, photography, printmaking, paper goods, knits, soaps, jewelry, pottery, clothing, foods, vintage finds, accessories, and much more.
Aside from finding something for everyone on your holiday lists, The Little Craft Show will provide an amazing shopping soundtrack, innovative handmade décor by Riffraff, a free photo booth, free craft table, giveaways every hour, an outdoor art and sound installation, all of your favorite locals, and an all around amazing time.
 VISIT: LittleCraftShow.com