Frost Fest Returns with Music, Art and 39 Breweries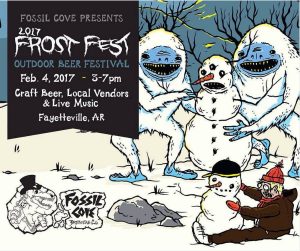 WORDS / JULIA TRUPP
The weekend's chilly weather won't stop one craft beer festival from happening; in fact, it's expected and welcomed. Fossil Cove's Frost Fest is back for its second year of frothy fun in close-to-freezing temperatures, with even more space to indulge in various brews.
Last year's festival was a hit with the beer-loving community, and this year, the minds at Fossil Cove Brewing Co. are bringing in more breweries and offering samples of beers that aren't yet distributed in Arkansas. Brewery representatives will also be in attendance to educate festival-goers on their offerings and the brewery they come from, which will give attendees "a unique experience, and a deeper connection to some of their favorite beer brands," says Fossil Cove's event coordinator Danielle Dotson.
Frost Fest is set for 3 to 7 p.m. this Saturday, Feb. 4. The event will not only host breweries and local food trucks, but local New Orleans-flair band Crescent City Combo and Joplin-based rock band Me Like Bees will perform live music, and there will be live art installations by Brandon Bullette and Dillon Dooms.
"We love the Northwest Arkansas community and craft beer," Dotson says. "What better way to bring all of us together for beer (with a) festival in the middle of winter?"
Along with the growing number of breweries, 2,000 to 2,500 people are expected to attend, Dotson says. Because of this population increase, the festival has even more room for play  than it did last year. This year's Frost Fest will be at 2463 N. McConnell – a space adjacent to the Washington County Fairgrounds – and the 8,000-square-foot tent complete with seating can accommodate every beer enthusiast.
The Frost Fest mascot, the yeti, will lead a group bike ride from West Mountain Brewing at noon Saturday – where riders can have a beer and Phat Tire-provided bike tune-up – to Columbus House Brewery on North, and finally Frost Fest for VIP early access. Each brewery stop comes with a half-pint of beer, according to the Fossil Cove website. If the bike-riding yeti didn't get your attention, I bet that did. Tickets for the group bike ride are $10.
Dotson's last tip for festival-goers: "The beer will still flow, regardless of rainfall. But bring a rain jacket, just in case."
Anyone still in need of a ticket can go to the Frost Fest page at the Fossil Cove website, or the Taproom off Birch Avenue. Tickets for the festival are $40.
Frost Fest 2017 Participating Breweries
Alpha Brewing Company – St. Louis, Missouri

Anthem Brewing Company – Oklahoma City

Apple Blossom Brewing Co. – Fayetteville

Bentonville Brewing Co. – Bentonville

Bike Rack Brewing Co. – Bentonville

Black Apple Crossing – Springdale

Blue Canoe – Little Rock

Bubba Brew's Brewing Co. – Bonnerdale

Columbus House Brewery – Fayetteville

Coop Ale Works – Oklahoma City

Core Brewing & Distilling – Springdale

Crane Brewing – Raytown, Missouri

Damgoode Brews – Little Rock

Diamond Bear Brewing Co – North Little Rock

Earthbound Beer- St. Louis, Missouri

Flyway Brewing Co. – North Little Rock

Fossil Cove Brewing Co. – Fayetteville

Foster's Pint & Plate, Rogers

Lagunitas Brewing Co. – Lagunitas, California

Lazy Magnolia Brewing Co. – Kiln, Mississippi

Lost 40 Brewing – Little Rock

Marshall Brewing Company – Tulsa, Oklahoma

Martin City Brewing Company, Kansas City, Missouri

Mother's Brewing Co., Springfield, Missouri

New Provence Brewing Co. – Rogers

Ozark Beer Company – Rogers

Riparian Ales – St. Louis, Missouri

Saddlebock Brewery – Springdale

Schlafly – St. Louis, Missouri

Springfield Brewing Company – Springfield, Missouri

West Mountain Brewery – Fayetteville

Wise Acre Brewing Co. – Memphis, Tennessee