It's All in the Fingers: Amanda Wathen Paints with the World's Oldest Technique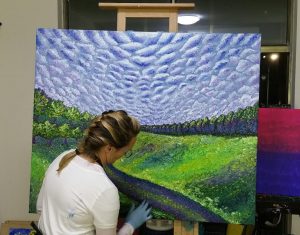 WORDS / ASHTON ELEY
She started painting murals in Hot Springs Village at the age of 13, but world-traveler and artist Amanda Wathen never thought she would end up as a finger painter.
Her bright, bold and impressionistic oil finger painting – implematic of Wathen's personality and the new wave of Instinctualism –  are now available at Two25 Art and Wine Gallery in Bentonville.
While she does not hold a degree in art, Wathen trained under artists like Vladimir London and Natalie Richey, studying the old masters' techniques. She was inspired by the works of  Van Gogh, Dali, Picasso and Monet but it was not until she started following finger-painters Iris Scott and Kimberly Adams  that she considered ditching her brushes.
"I love to play the piano so I really thought using my fingers (for painting) was definitely something that would feel right," Wathen said. "So I cut off all my fingernails, put some gloves on and went to it.
"Having a mediator between you and the paint, like a brush, separates you from it. But when you are touching the paint and moving it into the places you want it to be in and blending the colors with your fingers, it's incredible. It is very much like playing the piano."
Wathen spent the past ten months China with her husband and two teenager children where she taught art and English to all ages.
"They are extremely talented people, but one thing I tried to teach my students is how to be creative on their own," she said. "Finger painting was definitely a really good medium for them… They learn a lot about Van Gogh. They idolize him, but with finger painting, there is nobody to idolize. It's something raw and they have to do it themselves."
Many of her works are nature inspired. Her latest series is called "Magnetism of Trees," include those from her travels and closer to home. The works take on a 3D quality as she heavily laid on the popping colored oil paints to the canvas with the light touch of her fingers. Rather than painting the Chinese cherry or American southern pecan trees from photos or sketches, she takes in the scenes, returning back to the studio with a "mind scape" and shaping the works into what she wants them to be, adding to the sense of enchantment.
Two25 will host an artist reception for Wathen from 5-8 p.m. Feb. 17 before she leaves once again, this time for Thailand. Many of her pieces available for viewing and purchase at the gallery and also on her website.