All-day music festival and celebration for local cancer patient set for Feb. 23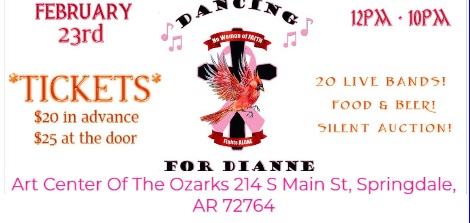 What began as an idea to hold a small benefit concert has blossomed into an all-day festival to support local musician Jenna Lyn Melnicki's mother's fight against advanced Stage 4 throat cancer. "Dancing for Dianne" will take place from noon to 10 p.m. Feb. 23 at the Arts Center of the Ozarks. 
Dianne Melnicki has a massive inoperable tumor that has wreaked havoc on her health. She has had to have multiple invasive procedures just to prepare her for treatment, Jenna says. The Melnicki family recently found out she also has other completely separate advanced cancers that are unrelated to each other.
"Her fight for her life is just getting started, and she is not giving up without a fight," Jenna says.
Although she knew her mother's immune health was out of her hands, she figured she could do something to help take the financial stress of medical bills, a mortgage and everything inbetween off her parents. After gaining community support through vendors, fellow musicians and business owners, the festival of hope deemed "Dancing for Dianne" came to life.
"I have been completely blown away by the out pouring of love and support from the community," Jenna says. "Unfortunately almost everyone's life has been somehow affected by cancer, and I feel this benefit is a beacon of hope for all of those who have fought against it, lost the fight, and those who are continuing to fight on. This festival is in every sense a festival of hope, and a celebration of family, friends and community. It's amazing what can be accomplished when people join together for an amazing cause. No one fights alone!"
The festival will host live performances from Trashcan Bandits, The Candid., The Hill Raisers, Ashtyn Barbaree, The Velvet Crowns, Serpents of Eden, The Day After Sunday, PSS, Tony Alvarez Music, The Traveling Squirrels, The Jeff Horton Band, Mullberry, Buddy Shute & the Motivators, Melody Pond, Dale Stokes, Dominic B Roy, Rackensak, Will Brand, Casmcent, Michael Cooper, Jenna and the Soul Shakers, and Jenna and Friends.
There will be three performance areas for music and a chef's stage hosted by Brent Hale of Big Sexy Food. 
Ticket prices include live music, beer donated from Bike Rack Brewing Co. and food provided by Big Sexy Food, Hapa's Hawaiian Bar & Grill and BluesBoy's BBQ. All proceeds go directly to Dianne Melnicki's medical expenses. 
A silent auction will take place and includes items from Dela Deville's Vintage, Tontitown Winery, Big Sexy Food, Prairie Creek Marina and The Green Heart Festival, according to a press release.
The festival is sponsored by Printova, Point Man Perspective and EMET Promotional Products.
Arts Center of the Ozarks is located at 214 South Main St. Springdale, AR. 72764.