Bentonville Follies to host Bingo at Arkansas Public Theater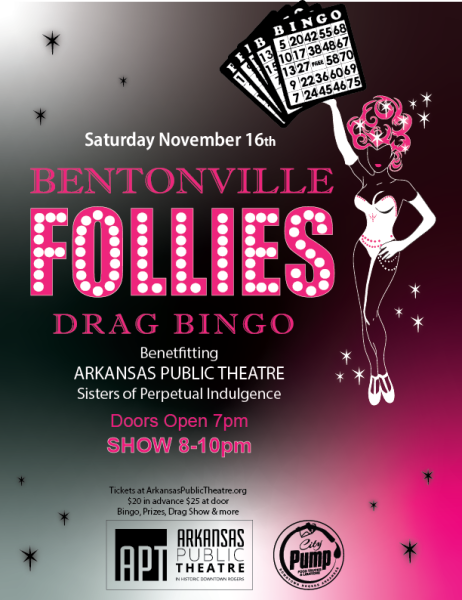 The Bentonville Follies will present "DRAG BINGO" this weekend, benefiting Arkansas Public Theatre and Sisters of Perpetual Indulgence. Doors open at 7 p.m. and the show is slated for 8-10 p.m. Tickets can be purchased online for $20 or at the door for $25.
Last month, the third annual Bentonville Follies Charity Drag Show took place at Bentonville's RECORD. The function raised more than $103,000 for the Arkansas Crisis Center (ACC), whose mission is to restore hope, and empower and save lives through suicide prevention. Pairing drag novices with professionals, Bentonville Follies provided the platform for healthy competition among five Northwest Arkansas community members and their drag mother counterparts raising enough funds to sustain the ACC Suicide Prevention Helpline 24/7.
"The ACC is beyond grateful for the Bentonville Follies' support of our mission to restore hope, empower people, and save lives through crisis intervention and suicide prevention," said Emily Gilbertson, Crisis Services Program Manager for the ACC. "The proceeds from this event will allow us to increase our staff and expand our services throughout the state of Arkansas, including expanding our Crisis Helpline hours to 24 hours a day, seven days a week."
Jason and Jennifer Miller founded the organization in 2017 to celebrate the art of drag and raise money for worthy charities in Northwest Arkansas. The event has raised over $165,000 in  three years, according to a press release. This year, rookie contestant Kurt Berman took the audience's breath away with his crowning performance, raising just over $39,000. His fellow contestants included Rex Warr, Will Ruth, Tucker Holmes, and Ty Volz, who not only provided event-goers stellar performances inspired by 1980's cinema but worked hard behind the scenes raising money within their community by way of auction items and sponsorships.
"We are thrilled this event has received so much support. Not only are we raising money for a great cause each year, but we are also bringing different groups of people together and creating lifelong relationships," Jason Miller said.
To learn more about Bentonville Follies Charity Drag Show and more upcoming events, find them on Instagram or Facebook @bentonvillefollies, or visit www.bentonvillefollies.org.