ArtsFest Showcase celebrates UCA student artists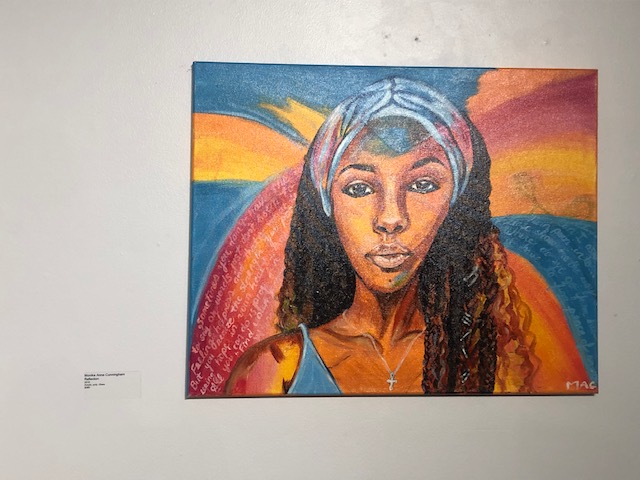 Students and patrons gathered within UCA Downtown, located at 1105 W. Oak St., on the evening of Oct. 5 to celebrate Conway's annual ArtsFest with their own student art showcase. 
The event was advertised as family-friendly and included performances of live music, spoken word, film screenings and clay demonstrations.
UCA Students for the Arts, an on-campus organization, hosted the event not only to allow the UCA community specifically to participate in ArtsFest, but to also promote the importance of local artists.
Pieces on display included those done by junior Monika Cunningham ("Reflection" and "Hushed Apathy"), senior Savannah Pelley ("We Have Risen from the Depths") and junior Madison Conklin ("Hard Pill to Swallow"). 
Peter Bella, a graphic design professor at UCA, served as the juror for art selection. The art exhibit was curated by Nakeya Palmer, a UCA art history student and president of UCA Students for the Arts.
"What an amazing night," Cunningham said on Facebook the next morning. "Thank you to everyone who came out to support and for all the encouraging words."
Cunningham, originally from the Bahamas, not only was present for the ArtsFest Student Showcase, but also had her paintings titled "Queen of Dreams" and "Gotta Find Peace of Mind" displayed at the annual Conway Neighbors Art Show. Cunningham mentioned on Facebook that the painting "Gotta Find Peace of Mind" was her most recent painting — created days after Hurricane Dorian swept through the Bahamas.
"I [am] super grateful for both opportunities and honored to be exhibited in two galleries on the same night," Cunningham said in the same Facebook post.
UCA Students for the Arts is described as a group comprised of students who advocate for the advancement and promotion of the arts, arts education and the creative economy in Arkansas. Its mission is to foster a cross-disciplinary community of students who share a love of art, according to its page on uca.edu.
The student artwork that was displayed at ArtsFest Student Showcase will remain on display at UCA Downtown until Oct. 25.