Quiñones talks journalism career, why kindness matters in today's world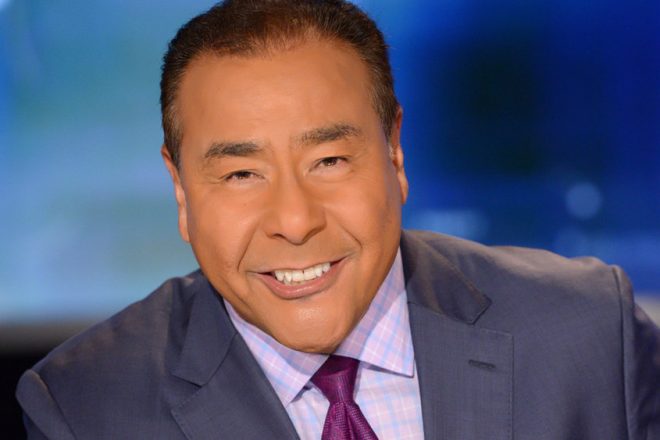 The year was 1965. A young Latino boy of around 13 stooped on the ground next to his father to pick cherries for 75 cents per bucket. The boy's English skills were there, but rough. His family joined a caravan of migrant farmworkers to earn a meager income. But the boy, more than anything, wanted to be a reporter — and all he needed was a chance.
ABC News correspondent and host of the hit TV show "What Would You Do?", John Quiñones, lectured at Reynolds Performance Hall Oct. 3, speaking about his career in journalism and how he became the Emmy-winning reporter that has captivated millions with his hard-hitting investigations, by exploring what it truly means to be a kind person in today's world.
Quiñones, a Texas-native, didn't learn to speak English until he was 6 years old. When he was a teenager, his father was laid off from his janitor position. Quiñones and his family, including his two sisters, traveled around the United States as migrant farmworkers, following whatever crops were in season — whether it was cherries in Michigan or tomatoes in Ohio.
From an early age, Quiñones dreamed of more than a migrant farmer when he was older. This was a daunting task for Quiñones because none of his educators in elementary or high school seemed to believe he could ever succeed and didn't nurture Quiñones' passion for writing and reporting on big ideas. For the most part, he was all alone. That is, until his tenth grade English teacher suggested he join the school's newspaper — and he took her up on her offer.
"I used to look around and watch the news on television in San Antonio — my hometown — and all the stories I saw in my community were so negative," Quiñones said in an interview with The Idle Class. "They were all about crime, drugs and illegal immigration. I knew that there were better stories out there that were positive stories, but no one was telling them."
While attending high school, Quiñones was selected to take part in the federal anti-poverty program, Upward Bound, which prepared low-income high school students for college life.
During his college years at St. Mary's University in San Antonio, Quiñones worked three jobs, including serving as an intern at age 18 for a local radio station — making $2 an hour. His internship duties included tending to the station's horses overnight by feeding them and cleaning up manure. The station's disc jockeys kept the horses behind the building when they weren't being ridden during public events. Quiñones would go into the recording studio late at night and practice perfecting his English. He soon found his way on-air by doing small voice-overs for the station, most of which were for prescription drugs.
Quiñones was given the opportunity to work as an anchor and reporter for KPRC-TV in Houston and then as a reporter at WBBM-TV — the CBS affiliate in Chicago. That, Quiñones said, is where his life and career began to take an impactful turn.
"I wanted to make my mother proud and show her that I was capable of telling stories and writing them and being on television [while] speaking eloquently."
Beginning in 1979, Quiñones covered neighborhood and local Chicago-area news, as well as stories of national and international significance. But his big break came when he went undercover, posing as an undocumented immigrant worker who journied across the Rio Grande from Mexico. He then exposed a restaurant in Chicago where he interviewed immigrants working who were "virtually slaves." They were not getting paid and were threatened with deportation if they complained. 
Quiñones won his first Emmy in 1980 and was hired by ABC News in June 1982.
"[Coming on at ABC] was a big deal," Quiñones said. "My dream was to become a network correspondent [and] that dream came true. It's pretty wild when you think about it and you might say I was lucky [and that] I met the right people along the way, but I also worked really hard."
"What Would You Do?" a hidden camera TV show hosted by Quiñones', first aired in 2008 after Quiñones had the idea to scope out the good in hard or uncomfortable situations. The show has now been renewed for its 13th season. 
"We can't just bury our heads in the sand. [There] are issues that we're all feeling. The victims of abuse, discrimination and bigotry suffer if we don't shine a light on those issues."
Quiñones played a clip for the audience from a "What Would You Do?" scenario that depicted an actor portraying a homeless man in a bar being turned away and ridiculed by the bartender, also an actor, for the way he smelled and for being homeless  — even though he had money given to him by a concerned citizen, another actor. 
There were real customers who ignored the interactions between the homeless man and bartender, others even matched the bartender's negativity — but then there were also those who took action to stop the staged scenarios.
"The fact that, in the end, someone always steps in and gives us a lesson about why we should care about the homeless, or any marginalized sector in America — the LGBTQ community, the transgender community, the Hispanics in this country or life for African Americans in the inner-cities — those stories need to be told and ["What Would You Do?"] is a great vehicle to shine a light on [those stories]."
In the final half-hour of his lecture, Quiñones took questions from audience members about everything from his childhood and family to his most emotional and exciting moments of hosting the hidden-camera show.
"I hope that students, especially students, are given strength about carrying on because many times — I remember I felt like giving up, that things weren't going as well, or that money was really tight," Quiñones said. "I hope they walk away inspired and motivated by the story of my personal journey. But also, I want to enlighten [students] about 'What Would You Do?' and how we all need to come together and sound the alarm when we witness an injustice. Remember that as Martin Luther King Jr. said, 'Our lives begin to end the moment we stay silent about things that matter.'"