ArkansasStaged presents a staged reading of "Collected Stories" by Donald Margulies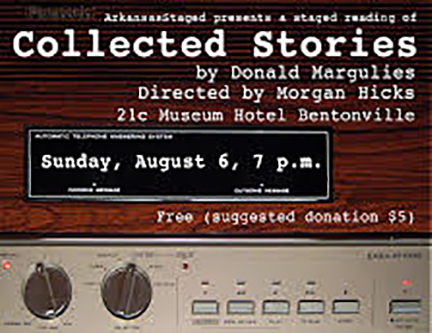 ArkansasStaged will host a reading of "Collected Stories" by Donald Margulies on Sunday, August 6th at 7 p.m.
 at 21c Museum Hotel in Bentonville. It is directed by Morgan Hicks.
The event is free with a suggested donation of $5.
Collected Stories follows the relationship between a writer and her protégée over a six-year period. When successful writer and professor Ruth Steiner shares personal details about her affair with poet Delmore Schwartz, her assistant and mentee Lisa Morrison spins secrets into gold and writes an award winning novel. As the student eclipses the master we are forced to question whether she betrayed her mentor or simply heeded her mentor's own advice. "You can't censor your creative impulses because of the danger of hurting someone's feelings," Ruth tells her student. Collected Stories explores the sticky intersection between creativity and ethics. Collected Stories received its world premiere at South Coast Repertory and was a Pulitzer finalist in 1997.
Collected Stories is directed by Morgan Hicks, who says "the play explores a complicated professional and personal relationship between two women:  a relationship where the balance between admiration and envy is not to be taken for granted and where the line between right and wrong is often blurred.  The play shows us that as delightful and challenging as human interaction can be, we are the sum of our shared experience."