Indulging Our Senses: A collaborative experience in food and art with Sensory Iconoclasts 2017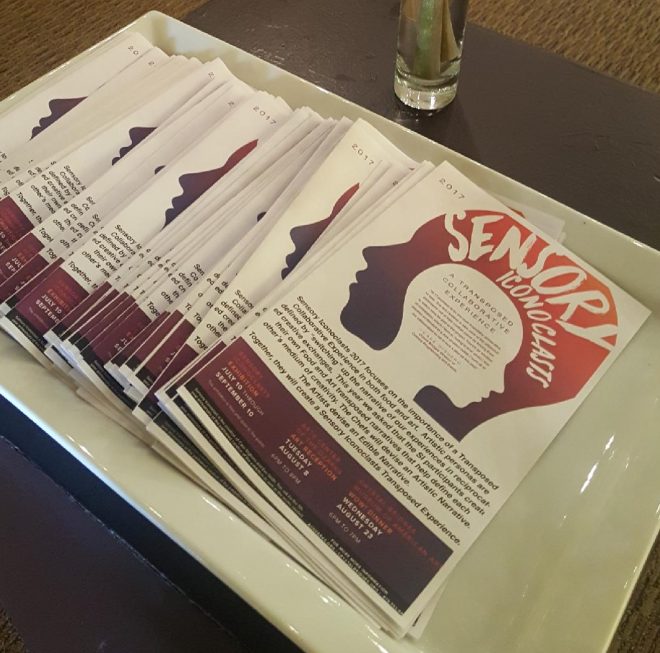 WORDS & PHOTOS / JULIA TRUPP
We've fallen in love with the masterpiece that is the Netflix original, "Chef's Table," but for the past month, Northwest Arkansas has had a taste of its own masterful food-art collaboration over at the Arts Center of the Ozarks. Tuesday night's reception was an indulgence of its own.
Falling in love is one of the goals of Case Dighero, director of culinary programming and events at Crystal Bridges Museum of American Art, and Eve Smith, ACO visual arts director, according to their Facebook event. The pair created "Sensory Iconoclasts" five years ago, and the idea behind it was to have the chef's create a dish inspired by the artist, and vice versa.
But this year, the event focuses on the importance of a transposed collaborative experience in both food and art, according to the exhibition's program. To do so, nine pairs made up of one artist and one chef each switched creative outlets — the chefs in each pair devised an artistic narrative, and the artists devised an edible narrative, which came to life Tuesday night.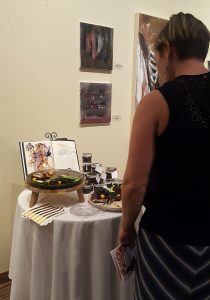 Gabriella Andino, 21, is starting a museum interpretation internship with Crystal Bridges and said she really enjoyed the time-based installation by Paula Jo Chitty Henry and Sara Segerlin. The nostalgic vibes brought by the red gingham table cloth and video portal in the center of the table itself, which showed an artistic presentation of how crepes are made, was complimented by the pair's Rhuby Bites, which were bits of candied and roasted rhubarb with apple compote cream all brought together to create a mouthwatering bite. After working at a farm for two seasons, Andino has grown to appreciate food sourcing and the emotions that go into food consumption. But it wasn't the only thing to catch her eye.
She pointed to a sketchbook splattered with blackberry juice and sauce from one of the plates near Emily Smith's "Not your piece of meat" exhibit. Ribs and halved peppers laid in front of the book on display.
"I did that in my sketchbook my freshman year of college – I was healing from disordered eating and I would mark all my sketchbook pages with the juices of the meals that I would eat to hold myself accountable, so… I love it," she said about the exhibit.
"Later with Jason Suel" namesake Jason Suel paired with Chef Darwin Beyer from Meiji Japanese Cuisine to craft hand rolls, which was featured on an episode of Suel's show and aired July 22 on Fox 24.
One guest thought a featured painting, which was $500, "looked like a paint-by-numbers, but a really hard one," with a chuckle before walking to get a caramelized apple and onion puff pastry from Tammy Varney and Garrett Hunt's corner, and another Michelada prepared by Emily Lawson and Kat Wilson.
"Sensory Iconoclasts" is on display at the Arts Center of the Ozarks, sans savory dishes, until September 10. For those interested in trying one of the plates, check out the WOW! Dinner at 6 p.m. August 23 at Crystal Bridges.