The Farmer's Table Café: "Where Locals Meet and Eat"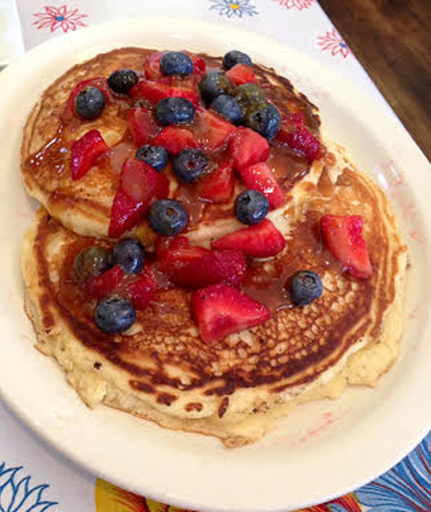 WORDS & PHOTOS / MORGAN COOK
Rob and Adrienne Shaunfield have always believed in the power of eating healthy, so much that they have built their entire lives around it.
The married couple, living here in Fayetteville said that they have always had a passion for cooking and eating fresh, and that opening their own café was just the next step in their attempt to bring these nourishing and delicious meals to the rest of Fayetteville.
The Farmer's Table Café, located on South School Avenue, opened up its doors on May 6, 2014; and for having been only opened for a short five weeks now, owner Adrienne said, "Things are going really well… weekends are packed, and Pharrell even came in to eat last week. We're really happy".
This small café offers a large menu of fresh, locally grown foods, at very, very reasonable prices. From breakfast sandwiches, omelets and pancakes (which are served all day long), to grilled Garbanzo burgers, kale salads, and even kid's lunches, there is something on the menu for even the pickiest of healthy eaters to enjoy.
"Everything on our menu is under ten bucks," Adrienne said, "Trying to show that you can eat organic, local and healthy without it having to be crazy expensive. It's our goal to keep it affordable, we don't think that eating good food should have to be considered a luxury"
And the best part of all is that every ingredient used at The Farmer's Table comes straight from the farms of local producers here in the Ozarks, "those who toil daily to provide our community food- we are creating a robust food system and a healthier community", according to their website.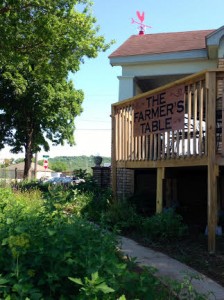 "Rob and I buy locally anyways, so this is basically how we're eating at home," Adrienne said. "We just kind of brought it into a restaurant".
By just simply talking to Rob and Adrienne in the café, you can feel an overwhelming sense of love and passion for the kinds of foods that they're preparing and cooking for themselves and their community, which only makes the dining experience even more filling and gratifying for their customers.
There is even a chalkboard hung on the wall, giving credit to all of the local farms that supply The Farmer's Table with each type of food, and pictures of the families that raise and grow their chicken, eggs, fruits, and veggies for the café.
"We use a lot of farmers from The Fayetteville Farmer's Market on the Square, but we also buy a lot from beginning farmers that cant get into the market yet," Adrienne said. And because of this, the menu at The Farmer's Table Café is constantly changing; as the farmers change the produce their growing each season, so do Rob and Adrienne when deciding what meals they will be serving each day. "This is how we live, and we've always eaten this way since we've been together," Adrienne said.
The Farmer's Table Café opens at 7 A.M. and closes at 4 P.M. Thursdays through Saturdays, and is open 8 A.M. – 3 P.M. on Sundays. Grab a friend and visit this delightful, quaint new café, and find out for yourself just why this is really where the locals meet and eat.