Walton Arts Center and Trike Theatre to present "Sideways Stories from Wayside School"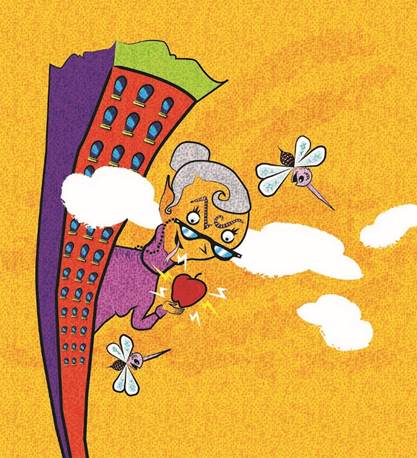 Walton Arts Center has partnered with Trike Theatre to bring eight performances of Sideways Stories from Wayside School to the Studio Theater at Nadine Baum Studios on March 7-21 as part of the Arkansas BlueCross BlueShield Family Fun Series.
Based on the perennial favorite children's book by the bestselling and Newbery Medal-winning author Louis Sachar, this laugh-out-loud performance by Trike Theatre tells the story of a school where all sorts of funny things happen.
Accidentally built sideways and standing 30 stories high, Wayside School is full of the most interesting classes of teachers and students you'll ever meet – especially on the 30th floor. There's Mrs. Gorf, the meanest teacher of all; Bebe, who is the fastest drawer in the school; Leslie, who can only read upside down; and Sammy, the new kid at Wayside School. This wacky retelling of Sachar's classic stories will have you rolling in the aisles, according to a press release.
Directed by Chris Tennison, the cast includes six students from local middle and high schools and five adult actors from the region.
The 2 p.m. show on March 7 is a relaxed performance. All patrons are welcome at these special performances, however in order to make the shows more accessible to people with sensory-processing disorders, autism and developmental or cognitive challenges, adjustments have been made to the production. Sound levels in the production will be lowered, and lights in the seating area will be dimmed rather than full dark during the performance.
Relaxed performances can be more active and feel more casual than typical performance settings; some patrons will speak out and vocalize, while others will leave and re-enter the seating area throughout the performance. The use of mobile electronic devices as a communication device is also allowed during the performance, though no photography or recording will be permitted during the performance.
Walton Arts Center has also provided some FAQs about relaxed performances on the website to help families prepare for their visit to the theater. Tickets for the performance are $14 plus applicable fees and can be purchased in-person at the Walton Arts Center Box Office, by calling 479-443-5600 or by visiting waltonartscenter.org.
The Creative Team and Cast of Trike Theatre's Sideways Stories from Wayside School:
Creative Team:
Director -Chris Tennison
Stage Manager – Katie Little
Props Master – Amber Brown
Costume Designer – Samanthe Burrow
Master Electrician & Lighting Designer – Laura Happel
Head of Production – Shannon Miller
Junior Production Assistant – Maeve Hintz
Apple Cast:
Mrs. Gorf/Mr. Gorf/Mr. Pickle/Sammy/Valoosh – Jaddy Ciucci
Mrs. Jewls – Emily Tomlinson
Louis – Bob Hart
Leslie – Kylie Groom
Bebe – Peyton Lyons – Freshman at Haas Hall Academy
Myron – Jake Lewis
Rhondi – Kate Rockwood – 8th grader at Haas Hall Academy
Dameon – J. T. Loveless – 8th grader at Washington Junior High School in Bentonville
Rat Cast:
Mrs. Gorf/Mr. Gorf/Mr. Pickle/Sammy/Valoosh – Jaddy Ciucci
Mrs. Jewls – Emily Tomlinson
Louis – Bob Hart
Leslie – Kylie Groom
Bebe – Emily Vukin – Sophomore at Thaden School
Myron – Jake Lewis
Rhondi – Uma Kyles – 6th grader at Arkansas Arts Academy
Dameon – Dominick Hardy – Sophomore at Bentonville High School
Show Dates:
Saturday, March 7 at 2 and 4 pm
Saturday, March 14 at 10 am, 2 and 4 pm
Saturday, March 21 at 10 am, 2 and 4 pm