Walton Arts Center announces upcoming Broadway Series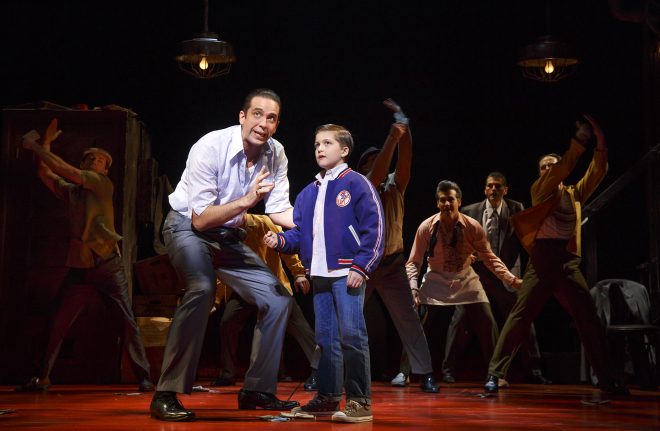 WORDS / JULIA TRUPP
They say there's always magic in the air on Broadway, and that's exactly what Walton Arts Center did for new and returning series subscribers by announcing eight upcoming shows in the 2018-2019 Procter & Gamble Broadway Series on Monday night.
Each Broadway subscription includes at least six shows, with five pre-selected: School of Rock, complete with a full performing kid-led band and 14 original songs by Andrew Lloyd Webber, On Your Feet! The Emilio & Gloria Estefan Broadway Musical, A Bronx Tale, Waitress, and Les Miserables, according to a press release. And the oohs-and-ahhs of the crowd didn't stop there.
The Buyer's Choice options, which patrons can choose from to complete their six-show package or create a custom seven- or eight-show package, include Jersey Boys, the newly revived Falsettos, and CATS, which will run a full eight-show lineup during its Walton Arts Center stay (and was on the Broadway lineup when Walton Arts Center opened its doors in 1990, according to Jennifer Ross, director of programming).
Along with announcements and trailers for the Broadway series, three touring performers flew in to perform hits from their musicals. Grace Stockdale of "Waitress" kicked off the performances with "She Used To Be Mine," a song written by award-winning musician Sara Bareilles (who also wrote the lyrics and music for this show).
Coming from Robert De Niro-directed "A Bronx Tale," John Gardiner flew in to the Natural State to perform a song inspired by a monologue from the original motion picture in true crooner fashion, and "Falsettos" Stephanie Umoh gave a sneak peek of the show with a scene set-up for her passionate performance of "I'm Breaking Down."
Broadway subscriptions, which range in price from $285 to $593,  depending on how many shows are selected for each custom package for which days, can be renewed or purchased by calling the Walton Arts Center box office at 479-443-5600.
Subscription benefits include the best seats for the best price for every show (which means if you like sitting near the back on the right wing, you'll have that seat guaranteed for every show), priority purchasing opportunities for Walton Arts Center events and non-Broadway shows, discounts for tickets and 25 participating local restaurants, a weekly newsletter, and a payment plan so you can budget some playtime after your work days, according to a press release. There are even opportunities to register for pre-show Q&A events, and a Broadway-inspired book club.
For those who are not wanting to commit to a subscription just yet, the show must go on, of course. Single tickets to all shows in the season will be available this summer, and volunteer and other involvement opportunities are around as well. For more information on this magical lineup of Broadway shows, check out the Walton Arts Center website and follow them on Facebook for news and photos.
—
Photo by Joan Marcus from A Bronx Tale