Waking up to Sunshine: 104.9 the X recruits "That's What She Said" performer Sunshine Broder for new morning show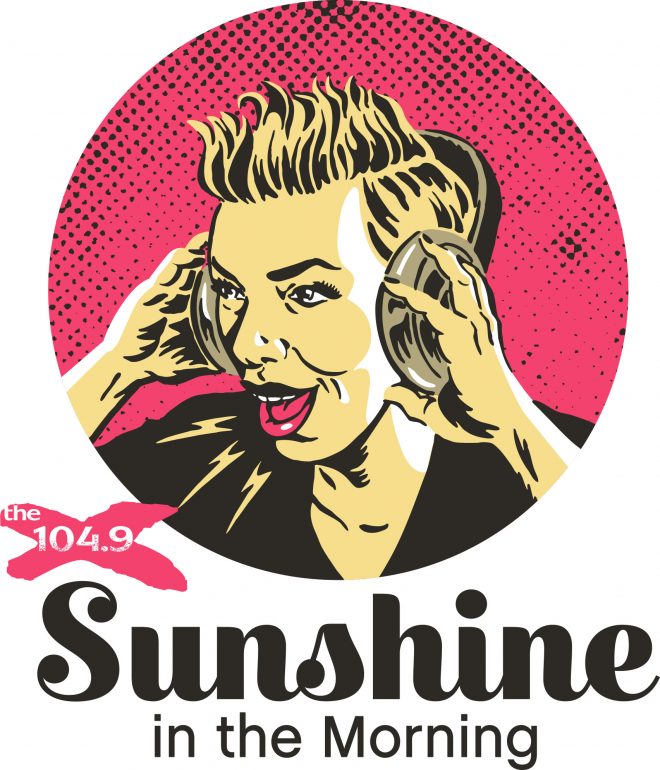 INTERVIEW / JULIA TRUPP
The bold and bright Sunshine Broder was raised in a tiny place called Big Springs, about 11 miles from Mountain View. She graduated with 20 other Timbo Tigers in her class before coming to the University of Arkansas to pursue theater, which she earned her degree in in 2000. Fast-forward through comedy training in Chicago, recording local podcasts, and pursuing cosmetology school, and you can find her in the studios of 104.9 FM from 6 to 10 a.m. on weekdays, waking up with you on "Sunshine in the Morning." Here are some facts about your radio host:
What's in a name? What's your name origin story?
It is my real name. My parents were (and) are super hippies. Originally my mom had suggested Sunshine and my dad was like, "That is ridiculous. You can't name a kid Sunshine." Buuuuuuut, then I was born. Many hours went by and the nurse asked numerous times what they were gonna name this poor nameless baby and my father said, "Just name her Sunshine, at least she will have a good disposition." It worked. Kinda. Luckily, they had the good sense not to get too crazy and give me some terrible middle name to go with it. My full name is Sunshine Caperton Broder, Caperton is my mother's maiden name.

What's your comedy and performance background?
I decided I was going to be an actor when I was 6. I directed, produced, and acted in Hansel and Gretel when I was 6. I made all the kids in my class participate and we performed at school and for all our parents. I got my degree in Theatre from the UofA in 2000. I then moved to Chicago because I wanted to study with Second City.
When you lived in Chicago, did you take classes? What made you come back to Northwest Arkansas?
I auditioned for the Conservatory at SC and went through their two-year program. I lived in Chicago from 2000-04. I knew I had to do something other than wait tables for money, so I went to the Aveda Institute and received my cosmetology license.
I moved back to Northwest Arkansas to be near to my family. I am an only child and my parents were getting older and I wanted to be closer to them.
How did you get involved with the radio? What led you down that path?
I have been performing with That's What She Said (TWSS) for three years. Last year for Valentine's Day, Raj Suresh asked us to perform with him at George's for a fundraiser.  Shortly after that, Raj contacted me because he needed people to help judge an Air Sex Competition. I then got another gig judging the Roast Battles for Comedians of NWA. Branden Lee and I judged a couple of those competitions together.
The short story is: I was laying in bed at a 45 degree angle the first week of January. I was feeling sorry for myself because I had vertigo, when I was getting a call through (Facebook) Messenger. It was Branden Lee. He said the station had a new owner and he had pitched me as the morning person. I was completely taken by surprise. Honestly, I have joked for years that someone should pay me to be a BS artist, and now it's happening.
What all do you do with "That's What She Said" and how long have you been involved?
TWSS started 3 years ago. Amber Tomlinson Forbus and Leigh Wood had this idea and they gathered a few of her favorite funny friends to see if we could make this adult story telling group come to life. We did the first one at my salon for about 35 friends and family to sort of test the whole thing. SUCCESS! I am the emcee for most of the shows, however I also tell stories.
Tell us about "Sunshine in the Morning."
I am trying to keep the show really community centered, bring people on that are doing things in and for the area. Then all the usual shenanigans – mostly just me being ridiculous and having fun talking to strangers on the airwaves. Currently the station is in a temporary studio, so it isn't set up for taking calls yet, but I am definitely going to be talking to listeners.  As a hairstylist, I am someone people come to for advice or wisdom. I really can't wait to have people call in! I'm going to give my daily dose of Sunshine and hope people will call in with theirs.
When you aren't recording for TWSS and the radio, what's your favorite hangout spot in Fayetteville?
I don't know if I will ever get to go out again now that I have to be at the studio before the sun rises! My favorite spot for drinks with my friends is Maxine's. Right now I am getting excited about good weather and going to a patio, any patio!
What's your go-to beverage?
Stoli and soda with a lime, unless I really need a drink, and then it is Bulleit Bourbon and soda with a lime.