"Vice and Virtue" exhibition included in Historic Arkansas Museum's Second Friday Art Night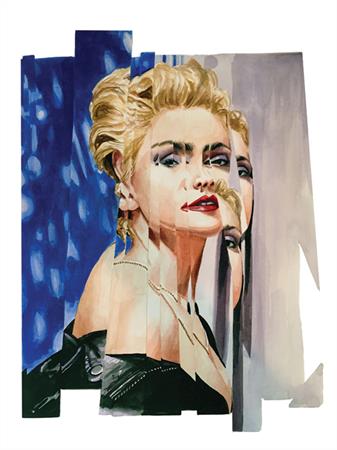 WORDS / CHRISTOPHER BEAUMONT / Instagram @americanrough
With Melissa Wilkinson's solo art exhibition, Vice and Virtue, Historic Arkansas Museum (HAM) hosts their first Second Friday Art Night (2FAN) of 2020 with a reception at 5-8 p.m. Friday, Jan. 10 in their second floor gallery. 
Wilkinson utilizes traditional processes of painting to meditate on issues of gender, identity construction, and beauty by embracing the tactile in an increasingly technological and dehumanizing time. Her work embraces dichotomies, such as obscuring and revealing, attraction and repulsion, good and evil, the past and present, and masculine and feminine. 
Vice and Virtue consists of appropriated images sourced from disco, private Tumblr accounts, and late '70s and early '80s "tomboys" who informed her identity and sense of self as a queer person. Wilkinson's meticulously crafted watercolor and ink-wash paintings straddle the line between abstraction and representation and invite the viewer to consider how gender is perceived and displayed.
With a Bachelor of Fine Arts degree in painting from Western Illinois University and an Master of Fine Arts in painting from Southern Illinois University, Wilkinson serves as Associate Professor of Art-Painting at Arkansas State University. She lives in the Memphis metropolitan area.
Sponsored by the HAM Foundation, with special thanks to 107 Liquor, the reception will provide beverages and appetizers served in the Stella Boyle Smith Atrium. The evening's musical entertainment is The Cons of Formant Instagram @consofformant. The exhibition and reception are free and open to the public.
Vice and Virtue runs Jan. 10 through April 5. Located at 200 E. 3rd St., Little Rock, HAM's hours are 9 a.m.- 5 p.m. Mon. through Sat. and 1-5 p.m. Sundays. Admission to the galleries and parking are free; tours of historic grounds are $2.50 for adults, $1 for children under 18, and $1.50 for seniors. HAM's store opens 10 a.m.-4:30 p.m. Mon. through Sat. and 1-4 p.m. Sun.
Keep up with Wilkinson's work on her website. Keep up with HAM on their website, Facebook, YouTube, Instagram @historicark, and Twitter: @historicark
For more information contact Andrew Vogler at 501-324-9346, 501-324-9351, or andrew.vogler@arkansas.gov.