The Delta Cultural Center celebrates 100 years of women's right to vote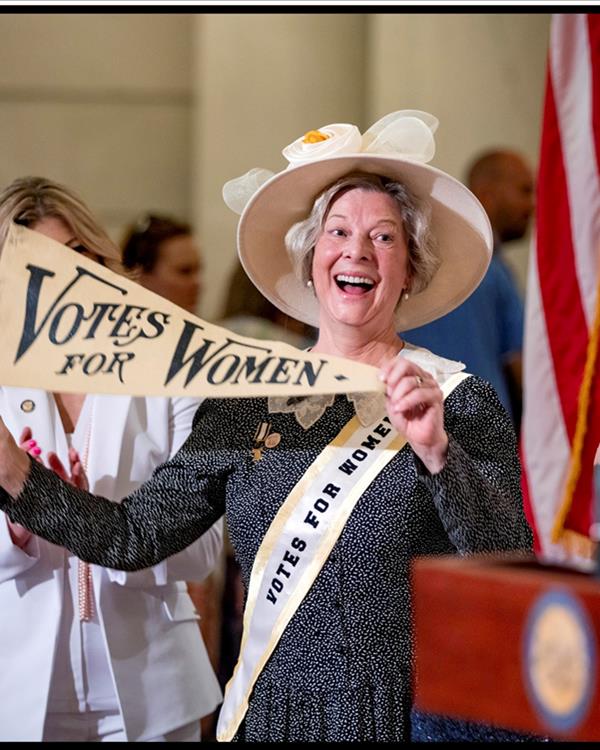 COURTESY / DELTA CULTURAL CENTER
During the early 1920s, the suffragists fought a valiant fight to win the right to vote for women throughout Arkansas and across the nation. In commemoration of the centennial of their great accomplishment, the Delta Cultural Center (DCC) will host a tribute to the Women's Suffragist Movement.  This special program will commence Friday, Jan. 17, from 11:15 a.m. to 1 p.m., at the DCC, located at 141 Cherry Street, in Helena. Admission is free to all.
Nell Matthews of the Arkansas League of Women Voters is the invited guest speaker. Matthews will highlight many of the successes made by the Suffragists of Arkansas, and the cultural and historical impact this movement had on the State– including the Arkansas Delta.  These pioneers were women who championed a cause that helped reshape the American political landscape and redefine the role of women in this country even until today.
Suffragist Reenactor Pat Jordan of the Heritage Theatre Guild, of Wayne, Pennsylvania, will bring to life Carrie Chapman Catt, a central leader of the Suffragist Movement of the 1900s.  Jordan's interactive reenactment is expected to deliver a realistic and memorable portrayal of Catt.  Her presentation represents an important moment in American history which against all odds, finally arrived with the ratification of the 19th Amendment—women's right to vote.
To help illustrate this intriguing piece of Arkansas history, visitors will be invited to play games that underscore the deep cultural impact that the Suffragette Movement had upon society. The program will conclude with the unveiling of a painting recently commissioned by the DCC.  It depicts the Arkansas Republican Convention of 1920, the first in which women participated as voting members of the party.
The Delta Cultural Center shares the vision of all eight agencies of Arkansas Heritage—to preserve and promote Arkansas Heritage as a source of pride and satisfaction.  The other Arkansas Heritage agencies are the Historic Arkansas Museum, the Mosaic Templars Cultural Center, the Old State House Museum, the Arkansas Historic Preservation Program, the Arkansas Arts Council, the Natural Heritage Commission and the Arkansas State Archives. Arkansas Heritage is a division of the Arkansas Department of Parks, Heritage and Tourism.