The Unexpected announces artists and locations for 2018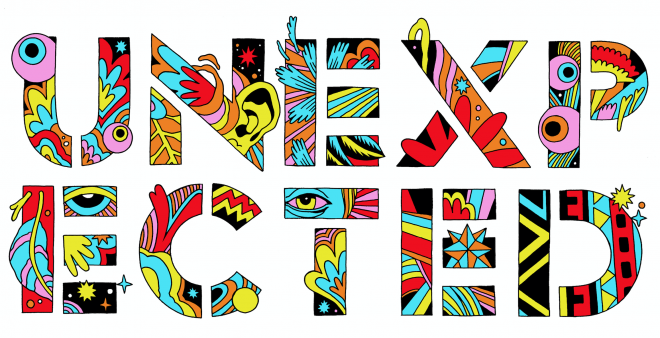 The fourth edition of The Unexpected will return to Fort Smith, AR October 22-28, 2018, bringing engaging urban and contemporary art programming for the downtown area, curated by global creative house JUSTKIDS. Events and artworks will take place in the downtown footprint creating an easily walk-able experience, and will include hands-on activities for both adults and children.
This year's artistic lineup includes legendary Puerto Rican muralist Alexis Diaz, returning for his second installment of The Unexpected. Diaz joined The Unexpected in 2016 completing a satellite mural piece in Fayetteville, AR, named one of the best murals in the world in 2016. Diaz will complete a mural on Towson Avenue and D Street in his trademark, hand-painted cross-hatch technique, giving his mural the appearance of a detailed ink drawing.
Across the street from Diaz, Fort Smith artist Nate Meyers, known by the moniker Buffalo, will add his unique flair to the Habitat for Humanity Restore building. Buffalo is known for his trademark geometric pattern using bold colors and patterns, building optical illusions to create a vibrant façade for the building.
A few steps north on the Jay's Appliance building, British graffiti artist Pref will merge and layer letters into his world-renowned signature style featuring a distinct use of typography to create amalgamations of quippy sayings, often placing one word inside of another to give his artwork piece multiple readings and perspectives.
Adjacent to the Jay's Appliance building, Portuguese artist and master tile pattern painter, Add Fuel, will take on the entire 200 block of Towson Avenue, breathing new life onto the avenue with this monumental project, combining traditional decorative elements with contemporary visual references into new forms that reveal an impressive complexity and an attention to detail.
Directly on Garrison Avenue at the 800 Block, Fort Smith favorite, Puerto Rican artist Ana Maria will join the line-up once again, bringing her beloved mural style of interpretive storytelling with different dimensions of life and time as well as characters with mixed phenotypes — animal, mechanical, and human.
Adding to the eclectic scope of the line-up is Chicago artist Cody Hudson, completing an impressive wrap of the abandoned Tankersley Brothers warehouse across from the newly restored Masonic Temple on Grand Ave and North B Street. His mural will add distinct abstract work and vibrant color to the former unassuming building.
In addition to the public art projects, The Unexpected will activate a pop-up gallery space at Bastion Gallery on Garrison Avenue, featuring work by Tulsa, OK native artist  Yatika Starr Fields, who is also taking part in Crystal Bridges exhibition "Art for a New Understanding: Native Voices 1950s to Now" which features the work of 40 indigenous American and Canadian artists.
Finally, Fort Smith high school students from Northside and Southside will complete their second collaborative mural at North 3rd and A Street. This is an exciting mural bringing the two rival schools together in a cooperative project.
The Unexpected will open its quintessential headquarters shop in the former Town Club building at 720 Garrison Avenue, featuring maps, merchandise and Justkids goods.
Visitors to The Unexpected can expect to see augmented activities through The Unexpected Outlier Series expanding on art, culture, music, and thought closing out the weekend October 26-27th. For more information about the Outlier Series visitwww.unexpectedfs.com
For more details, schedules, artist lineups and more information visit www.unexpectedfs.com.