UALR Gallery announces early 2017 exhibitions
Upcoming Exhibitions
January 14 – March 3, 2017 – Gallery I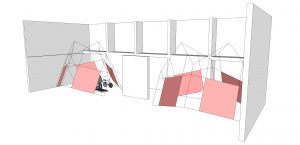 Sigh-Fi, Haynes Riley, Guest Curator
Friday January 13, 2017 – 6 pm – Guest Speaker – Lap Le (FA 161)
Reception: 7 – 8:30 pm
Featuring Hartmut Austen, Aaron Jones, Lap Le, Anne Libby, Sondra Perry, Martine Syms, Tan Zich
Sigh-Fi is a group exhibition that temporarily retrofits a typical gallery space into a user-altered infrastructure that manipulates relationships between architectural volume and contemporary art.
Architect Aaron Jones will infuse UALR Gallery I with a collapsible platform for exhibiting contemporary art that embraces the cognitive dissonance which underscores Science Fiction.  Work by Hartmut Austen, Lap Le, Anne Libby, Sondra Perry, Martine Syms, and Tan Zich will be presented in this transformed space.
Science Fiction is archetypically pictured as fantastical tropes of flying cars and floating islands populating the background of futuristic and utopic/dystopic worlds. This site-specific installation and curatorial visual essay examines and questions those assertions.
The Gallery Program at UALR is excited to present artist Sondra Perry as part of this exhibition.  She recently exhibited the work included in Sigh-Fi at The Kitchen in New York City.  Her solo exhibit Resident Evil (The Kitchen, Nov. 2 – Dec. 10, 2017) received critical acclaim in the New York Times and Art Forum.
About the Curator
Haynes Riley is the curator of this exhibition.  He established Good Weather in the single-car garage of his brother's home in a residential neighborhood in North Little Rock.  Contemporary art is the focus of good weather gallery. Riley received his MFA from Cranbrook Academy of Art.
January 10 – February 26, 2017 – Maners/Pappas Gallery
"I wish I would have hugged them more." Carey Roberson
Friday January 13, 2017 – Reception: 7 – 8:30 pm
Following the 6pm Guest Lecture by Lap Le (Sigh-Fi), FA 161
Carey W. Roberson artwork integrates traditional studio media with new digital technologies and methods to create quiet personal narratives.  Roberson is currently an Associate Professor of Art at the University of Arkansas at Little Rock, where he teaches photography and digital imaging.
Carey W. Roberson has exhibited in over 70 competitive, invitational, and solo exhibitions. His work has been exhibited at the University of North Texas, Ithaca College, Huntsville Museum of Art, Mobile Museum of Art, the Arkansas Arts Center, and many other university and private galleries around the nation. He is a winner of the Arkansas Arts Council Individual Fellowship Award and has works in a number of collections, including the Mobile Museum of Art in Mobile, AL.
Carey W. Roberson's artwork has also been featured in the national publications of New American Paintings and CMYK Magazine. He received his MFA, Louisiana Tech University, 1998 (Photography) and BFA from Henderson State University, Arkadelphia, AR, 1995 (Studio Art).
January 14  – February 26, 2017 – Gallery III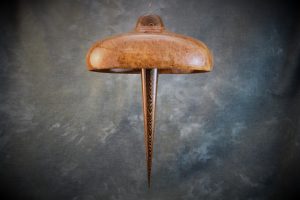 Burlesque Show / Bruce Reed
Friday January 13, 2017 – Reception: 7 – 8:30 pm
Following the 6pm Guest Lecture by Lap Le (Sigh-Fi), FA 161
Bruce Reed's sculptural forms in burled hardwoods are highlighted in this exhibition.  A burl is the result of tree branch gone thankfully wrong.  Reed uses shape and form to bring out the best in an accident of nature.
Bruce Reed has been a wood worker for 30 years. In 2008, he acquired a wood lathe and began exploring the possibilities of this tool.
Future Exhibitions
Gallery III – March 4 – 19, 2017
Scholarship Exhibition
Gallery I – Gallery I – March 18 – April 19, 2017
UALR Student Competitive
Spring Break – March 20 – 26, 2017
Gallery II and III – Late March – May 2017 – TBA
BA Senior Exhibitions and MA Thesis Exhibition
Gallery I – April  – May, 2017 – BFA Group Exhibition
Gallery Hours:  Monday – Friday 9am – 5pm
Saturday 10am – 1pm and Sunday 2 – 5pm
Closed University Holidays
Exhibitions are free and open to the public
Please Note – Weekend Gallery Hours have ended for this semester and will resume in January 2017.