TheatreSquared's "Matilda" takes the stage at new Fayetteville Public Library facility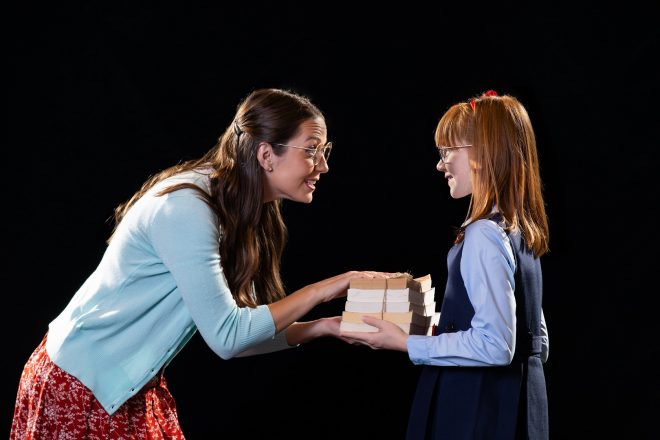 TheatreSquared's "Matilda: The Musical" debuted at the brand new Fayetteville Public Library (FPL) Event Center on June 23. Matilda marks two firsts: with a 33-member cast, nine-member orchestra and more than 15 crew members behind the scenes, it is the company's largest-ever production as well as the first professional theatre production on FPL's new stage.
Based on the beloved children's book by Roald Dahl, the five-time Tony Award winner "Matilda" is an international phenomenon. Matilda tells the story of an extraordinary girl who dares to change her own destiny. A classic underdog story, Matilda's journey sets an incredible example of how to stand up for what is right—no matter your stature. Directed by Aimée Hayes and starring young actors Leanne Parks and Piper Wallace alternating in the role of Matilda, this is an excellent choice for a family's night out in the heart of summer break.
"As Matilda says, 'to change the world, it takes a little genius,'" said T2 artistic director Bob Ford. "Partnering with the library to showcase this award-winning musical felt like a stroke of genius. With the amount of sheer joy, musicality, humor and action in this show—not to mention sticking it to the authority—every human being in this audience will feel something they haven't felt in far too long."
With song, dance and, of course, a little bit of magic, "Matilda" tells the story of a young Matilda Wormwood, a bookworm born into a family who does not understand her. After tumultuous events and some suppressed emotions, Matilda soon learns that it's more than her love of literature that makes her different: she has the power to move objects with her mind. Matilda's life is changed by one incredible teacher, Miss Honey, who takes a special interest in her many gifts. Together they unite against the evil headmistress Miss Trunchbull to discover that love and acceptance can conquer all.
"Matilda: the Musical" has received widespread critical acclaim and box office success, winning seven Olivier Awards, including Best New Musical—currently tied with Hamilton for the most Olivier awards ever won by a single show.  The musical also won five Tony Awards for the Broadway production, including the Tony Award for Best Book of a Musical for Dennis Kelly, according to a press release.
"To see this space lit up for a spectacular musical that celebrates the adventure of reading and the power of imagination—it exemplifies the dream for this space that began almost a decade ago," said David Johnson, Fayetteville Public Library executive director. "And, in keeping with our mission to provide free and public access to a variety of experiences, our patrons and community members can check out one of ten free tickets to any show."
"Matilda" joins a full summer of productions for TheatreSquared after its return to live performance, with productions of My Father's War by artistic director Robert Ford on stage through June 20 and American Mariachi by José Cruz González beginning August 4. This full-force return to in-person performance comes after a year of streaming work featured among the "Top Theatre of 2020" by The New York Times along with recognition as an "outstanding drama company" by The Wall Street Journal.
"Matilda: The Musical" also marks an expansion of T2's long standing collaboration with The University of Arkansas's Department of Theatre.  In order to accommodate a professional musical production of unprecedented scale in the venue, the theatrical lighting system of the Fayetteville Public Library Event Center has been augmented by numerous state-of-the-art automated lighting fixtures, control system components, and rigging equipment on loan from the University of Arkansas Department of Theatre's recently renovated U of A Blackbox Theatre.  "We are thankful to the Fulbright College of Arts & Sciences for their collaboration and vision in this project," T2's Martin Miller said, "We especially want to acknowledge the support and leadership of Todd Shields, Michael Riha, and Weston Wilkerson."
Tickets
Tickets for Matilda: The Musical range from $17-$58. All fees are included, with no additional charges at checkout. Reduced-price tickets are available through the Lights Up! Program, as well as to students and patrons under 30 years of age. Ten free tickets per show are available for checkout through the Fayetteville Public Library.
Subscription packages for TheatreSquared include full seven-play packages starting at $119, with four-to-six-play flex packages starting at $69. Benefits for season ticket holders also include savings of up to 20 percent, free unlimited exchanges, discounted reserved parking, and same-day discounts in the Commons Bar/Cafe and other T2 Restaurant & Hotel Partners.
Through T2's Lights Up! For Access program, supported by the Walmart Foundation, SNAP benefit recipients can purchase $1 tickets, while students and patrons under the age of 30 can purchase $10 tickets. For more information, visit 
theatre2.org/lights-up
. Fully subsidized, free tickets are also available for clients of a number of local community service organizations.