"Intimate Immensity" selection of works to open at 211 South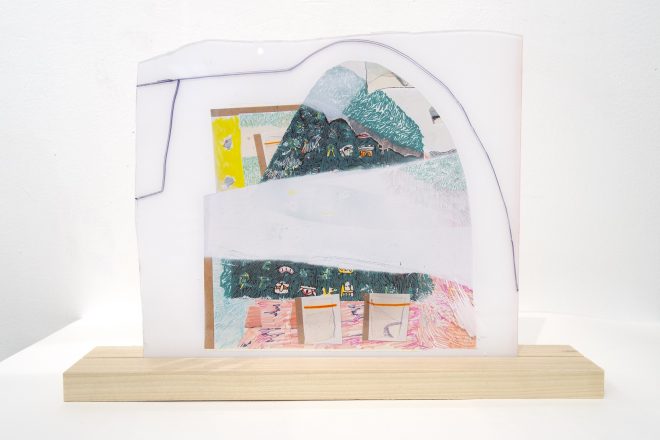 211 South will host a two-person exhibition, Intimate Immensity, featuring a selection of paintings by Adam Fulwiler and drawings and sculptural objects by Christian Schultz. Curated by Kellie Lehr, the exhibition will be free and open to the public from July 28 to Oct. 22. 
Schultz and Fulwiler are the winners of 211 South's first annual "University of Arkansas MFA Call for Art" launched in Spring 2021. New collaborative works will appear in the show, including a 48 x 48 inch sculptural painting that combines the shared alternative collage methods and differing mark-making techniques of Fulwiler and Schultz's practices. Schultz's drawings and sculptural objects investigate states between play and serious engagement and include playful landscape imagery inspired by his childhood backyard. Fulwiler's paintings explore the limits of crossover between fictional and poetic language and painting using dynamic line, shape, and color, painted, collaged, and sometimes sewn onto the canvas, according to a press release.
The exhibition title Intimate Immensity comes from the book The Poetics of Space by French philosopher Gaston Bachelard, which explores the psychological affects of domestic space and how our perception of houses and other shelters shape our thoughts, memories, and dreams. Perhaps now, after spending so much more time at home due to the pandemic, we can more fully appreciate a kind of lyrical exploration of that place we call home.  
ABOUT THE GALLERY
211 South is a contemporary art gallery located at 211 South Main Street in Bentonville within the Engel & Völkers NWA shop. Gallery hours are 9 a.m. to 5 p.m. Monday through Friday, 8 a.m. to noon during the Bentonville Farmers Market every Saturday, and by appointment. Free street parking is available. For more information, please contact Kellie Lehr at kellie.lehr@gmail.com  and visit the gallery website.
Featured photo: Christian Schultz, Big Green Mound, 2021, 10 x 11 inches, Pen, inkjet print, spray paint, hand cut acrylic