Arkansas Cinema Society partners with Fayetteville Public Library to host "Raya and the Last Dragon" screening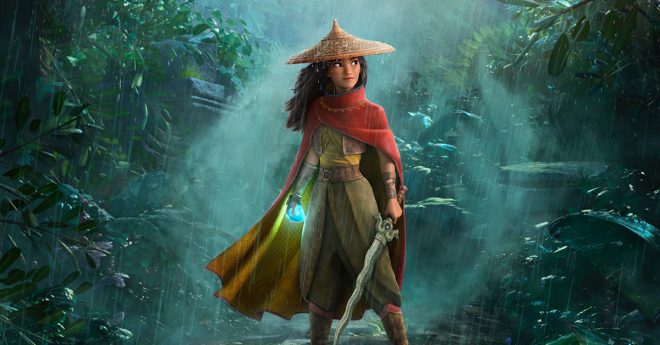 "We have a choice. We can tear each other apart or we can come together and build a better world," Chief Benja says in "Raya and the Last Dragon." Arkansas Cinema Society and Fayetteville Public Library are teaming up to bring a special outdoor screening of one of Disney's newest animated films to Fayettevillians this Thursday, June 24. Dragon nerds unite!
Co-written by Arkansas native Qui Nguyen, "Raya and the Last Dragon" follows Raya and her best friend Sisu as they battle against sinister monsters known as the Druun to find the last dragon and bring peace back to their world. The story begins with a tale of humans and dragons once living together in harmony. But when the Druun threaten the land of Kumandra, the dragons sacrificed themselves to save humanity. Now, 500 years later, it's up to Raya to bring peace back to the world and stop the Druun from returning ever again.
The special screening of "Raya and the Last Dragon" is set to take place at 7:30 p.m. June 24 on the J.B. & Johnelle Hunt Family Gathering Glade at the Fayetteville Public Library. Before the movie begins, a Q&A session with Nguyen and filmmaker Alexander Jeffrey will air.
The event is free and open to the public. If rain occurs, the screening will be delayed to 7:30 p.m. July 1 in the same location.
About the Arkansas Cinema Society
ACS is a non-profit committed to building a film community in Arkansas where film lovers can watch films, share ideas, connect with each other, and nurture the new and existing film talent within our state through increased exposure to filmmakers and their art. Memberships are available to purchase for $50 for anyone that loves films or wants to make more of them. With the membership you are not only supporting the mission of the non-profit, but you'll receive access to educational videos, early access to ticket sales, access to members-only events, movie swag, and more. Those interested in supporting ACS can visit their website at www.arkansascinemasociety.org.