TheatreSquared receives $1.5 million donation, making 2019 an even bigger year for T2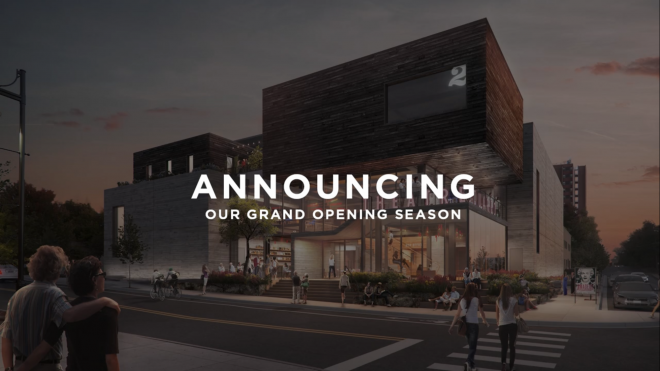 The buzz around TheatreSquared is getting even more exciting. The Willard and Pat Walker Charitable Foundation awarded $1.5 million to T2 to help fund a larger and lasting space for professional theatre in NWA. T2 will commemorate the grant by naming the Walker Rehearsal Room, and performances in the beautiful, brand-new building begin in August 2019.
This grant, among others, has now made the total commitments thus far over 80 percent of the building costs. TheatreSquared and a group of local leaders are continuing to raise funds for the project's costs as well as secure funds for a separate TheatreSquared Trust Campaign to help prepare for the future of the establishment. Named after the Walkers, the Walker Rehearsal Room will feature a cantilevered, 1,700-square-foot open artistic space that looks out over the corner of West and Spring.
T2 Executive Director Martin Miller praised the Walkers and their enduring commitment to NWA.
"We're proud to have the support of the Walker Charitable Foundation to help TheatreSquared inaugurate a space where, over the next decades, millions of Arkansans of every background will discover remarkable live theatre and educational experiences," Miller said.
Architect Magazine featured the project in its recent review of the building and described the large window that allows residents to get a sneak peak of the final product.
"It is exciting to see the momentum as this ambitious project enters its final phases, and we're thrilled to be a part of this new cultural landmark," said Mandy Macke, executive director for Willard & Pat Walker Charitable Foundation. "We hope this gift inspires others in the community to join us in supporting our region's first home for world-class theatre—made here in Northwest Arkansas."
The new TheatreSquared will be comprised of two theaters, the Walker Rehearsal Room, offices, education and community space, design workshops, eight dedicated guest artist apartments, and an open-all-day café and bar. The site was designed by planners from Charcoalblue and Marvel Architects and the final product will be an intimate space that remains open and inviting to the community.
The new building on Spring and West is located conveniently close to restaurants and bars, a few blocks from the university, and is right across the street from a new parking garage. The theater will also connect directly to the regional bike trail, Razorback Greenway, which connects multiple NWA hotpots.
By August 2019, TheatreSquared will host its first performances in the new theater space. Current progress on construction and design as well as the backstory of TheatreSquared and its campaign can be found at ournextstage.org.